Beaux Banks Criticizes Director Chi Chi LaRue And Cast Of Scared Stiff 2 For Lack Of Black Models
Late last night in a series of (since deleted) tweets, performer Beaux Banks called out the cast and the director of NakedSword's upcoming Scared Stiff 2 due to the film not featuring any black models. In criticizing the production (the cast of which was just revealed last week), Banks wrote, "I'm sorry, but I still don't get how a major production company can get away with casting a major project, casting 10 models, and not one of them being African-American," as seen in the tweet below:
In a follow-up tweet, Banks mentioned popular black performers who he thinks could've been cast in Scared Stiff 2, and went on to lament the "10 person ensemble cast filled of Caucasian actors," telling them that it's "time to be accountable":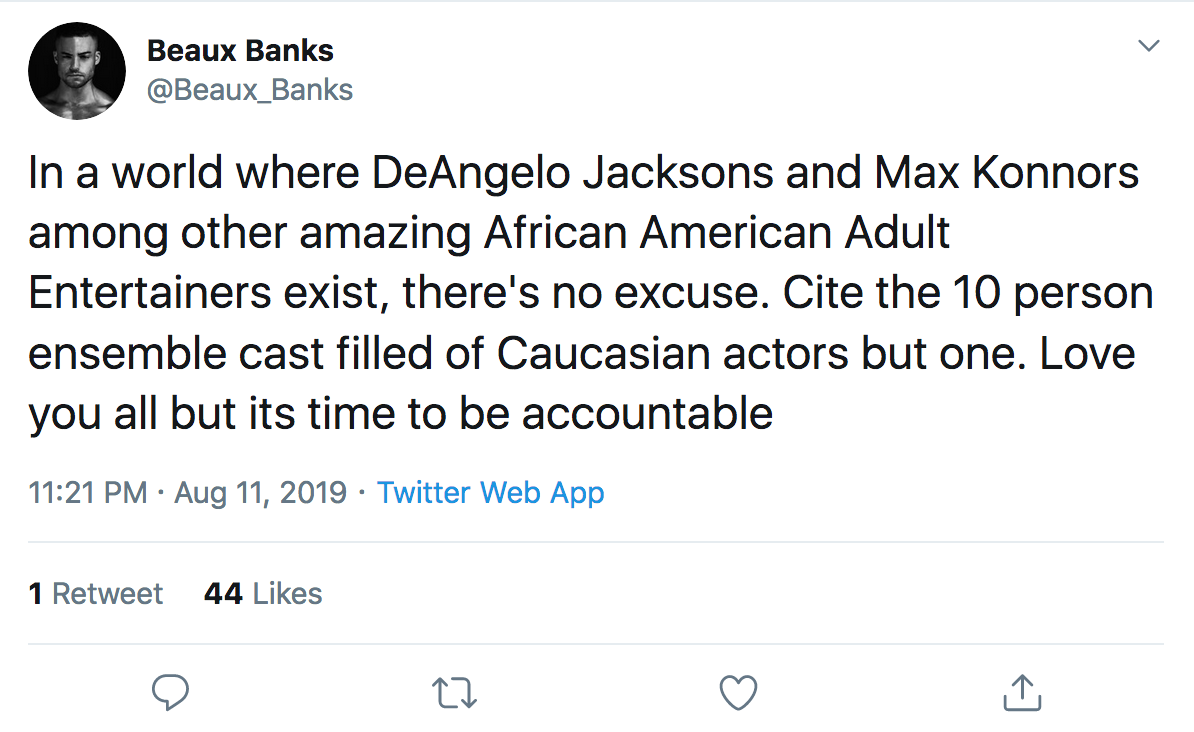 Banks also shared another tweet that he says he had previously deleted, due to fear of losing work. In this one, he asks studios to "try and do better" with casting:
Without using their names or mentioning the movie directly, Banks again mentioned the "10 boys" in Scared Stiff 2 (the 10 performers are Josh Moore, Cade Maddox, Adam Ramzi, Calvin Banks, Link Parker, Brock Banks, Drew Dixon, Dante Colle, Colby Tucker, and Taylor Reign), telling his followers that he's "sick and tired of being sick and tired":
Finally, Banks subtweeted Scared Stiff 2 director Chi Chi LaRue, who's also the lead director at Noir Male (a studio featuring black and mixed race models), writing, "We're good enough for your Noir site but not good enough for your feature film…":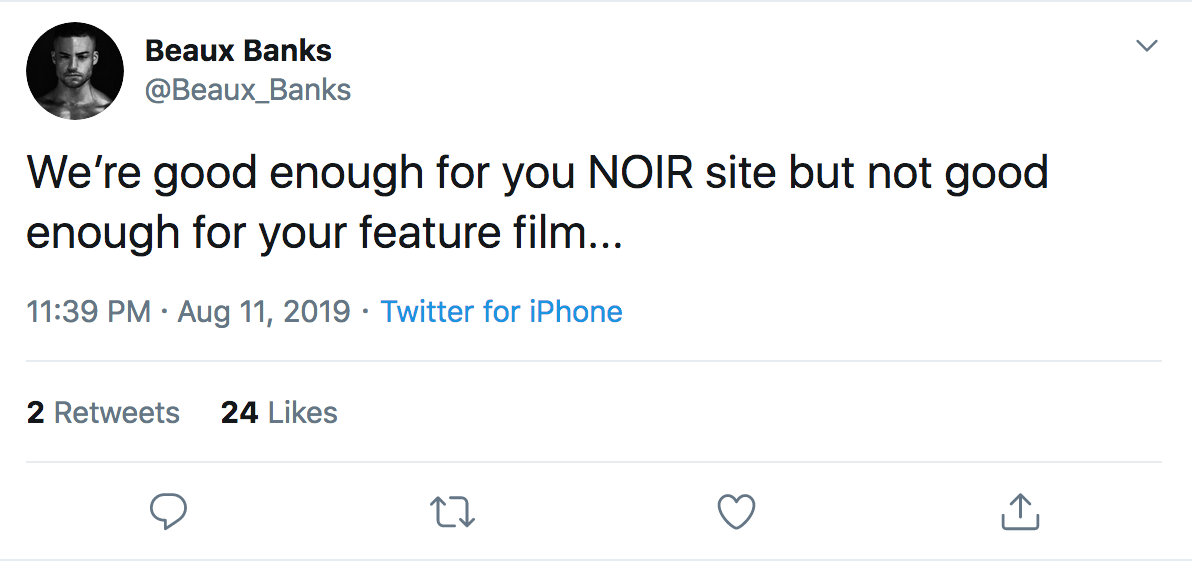 LaRue declined to comment on this story, and while Banks is correct to point out that Scared Stiff 2 does not feature any African-American models, the movie does include two men of color (Brock Banks is Puerto Rican and Adam Ramzi is of Middle Eastern descent).
Banks previously addressed the issue of racism in gay porn last year when he spoke in length on the issue during an interview with director Marc MacNamara, as seen below. With regard to black models not being cast by mainstream studios, Banks suggested that the blame falls on both the viewers for not supporting porn with black models, and the models themselves for agreeing to appear in fetish ("gangster") porn at "whack ass companies." The question on racism in gay porn begins at 4:25 in the clip below: