Halloween In July? BelAmi's Harris Hilton And Dario Dolce Dress Up Like Leather Daddies And Flip-Fuck Bareback
When I first saw these teaser images, I worried that watching BelAmi boys fuck while dressed up as leather daddies might be too silly to be hot.
Harris Hilton appears to have had the same initial reaction:
WTF?
Anyone who's even remotely familiar with BelAmi models and the studio's style knows that kink-themed fetish scenes are not the norm for them. But, as it turns out, this is…great? In fact, it might be one of BelAmi's better duos of 2019.
Blond Harris Hilton and dark-haired Dario Dolce (all of the costumes and toys are actually Dario's) are flip-fucking bareback in a scene today that BelAmi is calling a "radical departure" from their normal offerings, and this duo features four cum shots (two of which are cum facials).

BelAmi's scene description explains how they came up with the idea to get kinky for the day:
We will confess that this is the scene that we vacillated most on whether to include here or not. In fact, we have been holding onto it for quite a while, waiting for the right moment to publish. It is not that we have any problems with either of the boys, but the style is a radical departure from our normal offering. As a bit of whimsy, we wondered what it would be like to add a bit of fetish into one of our videos, so we asked Lukas Ridgeston to pick the 2 boys he felt best suited and film for us a leather themed scene. This was originally shot as a 2 day scene, but to lessen the shock to you all we have edited it to air on 1 day. Neither boy was a total stranger to something a little kinky, and all the gear is actually Dario's, although we are thankful that he didn't actually try out his massive dildo on Harris. Disclaimer: No models were damaged during the filming of this scene.
This could've come off corny or awkward, but the guys appear comfortable in the gear, and they look to have had a great time. And, as noted above, this bareback flip-fuck features four cum shots, two of which are cum facials. Here's a glimpse at one, with Dario Dolce painting Harris Hilton's face with a big load:
Another great moment comes near the end of the scene, when Harris Hilton fucks the cum out of a cock-riding Dario Dolce: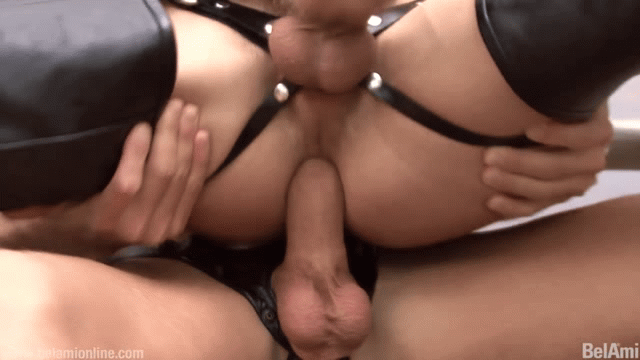 BelAmi took a risk dressing these guys up, but it completely paid off. Trailer (watch full scene here):
[
BelAmi: Harris Hilton And Dario Dolce Flip-Fuck Bareback
]