Year In Review: The Top 10 Gay Porn Cum Facials Of 2018
Continuing Str8UpGayPorn's 2018 Year In Review, it's the annual list celebrating cum facials! One of the best parts (if not the best part) of any gay porn scene is obviously the money shot, and if that hot load of cum happens to be shot onto someone's face and/or into someone's mouth? Even better!
Considerations for this list include: Total amount of cum being shot; strength of cum shot; whether the cum lands on the face, in the mouth, or both; whether the cum was swallowed, spit, or snowballed; hotness of the person's face receiving the cum facial; overall visual/filming quality of the cum facial (i.e., how much of the cum facial was clearly shown on camera).
Here are the Top 10 Gay Porn Cum Facials Of 2018! (Click any link to watch that full movie.)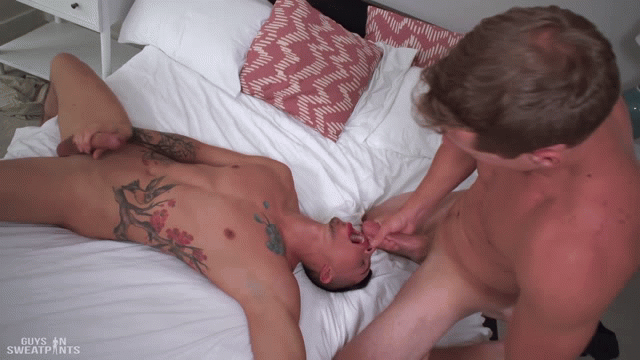 10. Vincent's Weekend Facial [via GuysInSweatpants]
This endless load from Justin Matthews would've ranked higher had more of the cum landed on Vincent O'Reilly's face (as opposed to his neck and chest), but it's still an excellent facial nonetheless.
9. Jack Harrer Busts A Nut On Liam Efron [

via BelAmi

]
A rapid fire facial that's explosive, but unfortunately brief. Luckily, the velocity of Jack's load is as strong as ever.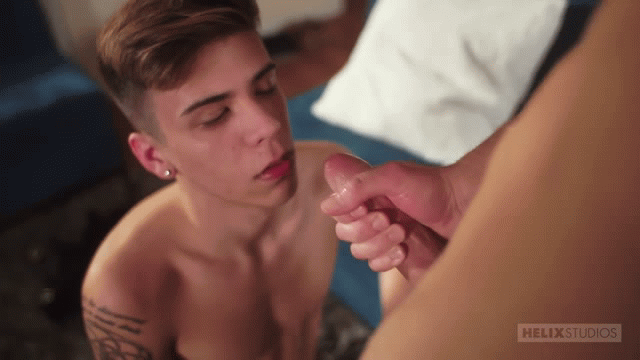 8. Luke Wilder Erupts On Landon Vega [via Helix Studios]
The huge load that made me a huge Luke Wilder fan. So much cum, so expertly aimed, and so skillfully received by Landon Vega.
7. Ty Mitchell's Self Facial [via Men.com]
Ty Mitchell cumming on his own face and into his own mouth while being fucked upside down by Gage Unkut is proof that the cliche is sometimes true: If you want a job done right, you've got to do it yourself.
6. Mateo's Facial [

via GuysInSweatpants

]
Theo Brady's load hit all the right spots, making this a true cum facial for Mateo Vice, followed by some nice swallowing and licking the cock clean, of course.
5. Carlos Garcia's Facial [

via FraternityX

]
Given FratX's history of fake cum shots, I was reluctant to include this one, but the loads being shot appear to be real, and the results (fake or not) are too incredible to ignore. Carlos Garcia's face kind of looks like an iced cinnamon roll!
4. JJ Knight Paints Grayson Lange [

via CockyBoys

]
Perhaps the prettiest and most picturesque cum facial of 2018. JJ Knight's cock shoots an elegant cum fountain that, paired with Grayson Lange's face, is literally a work of art.
3. Sean Cody's Kieran And The Simultaneous Double Cum Facial [

via Sean Cody

]
Kieran's loads are always humongous, so it was smart of Sean Cody to seize the opportunity and have him paint both his face
and
Cole's face simultaneously with a rare
double
cum facial. A lot of skill and a little luck makes this the most impressive and most strategic cum facial of 2018.
2. Calvin Takes Two Loads [

via CockyBoys

]
After pulling off a self facial by blasting all over his face and inside his mouth while being fucked, Calvin lets co-star Finn Carson add to the cum buffet by busting his own nut on Calvin's face. Two enormous cum facials in one scene? Leave it to Calvin Banks.
1. Sean Cody's Asher: Cum Facial King Of 2018 [via Sean Cody]
We're breaking tradition by having two separate scenes ranked equally as #1 (as seen in the clip below), but Asher's work in provoking massive cum shots from his scene partners gave us no choice. No one made people cum more than Asher did in 2018 (including his co-stars and the people watching his scenes), and the facials he took from Kieran and Daniel were two of Sean Cody's best ever. In the dictionary next to the term "cum facial" should be a gif of Asher's gorgeous face slathered in creamy loads. Thanks to Asher and to all the men who flooded his face with cum in 2018, especially expert shooters Kieran and Daniel:
[
Sean Cody: Asher w/Daniel & Kieran
]