[UPDATED] Bi Porn Star Steve Rickz Says He Doesn't Fuck "Random People," Claims Only "10-20%" Of Gay Porn Stars Receive Full STD Testing
Here we go again.
Another non-gay porn star who sometimes appears in gay porn has some issues filming with the gays. This time, it's bisexual performer Steve Rickz, who claims that just "10-20%" of gay porn stars are receiving what he believes is the appropriate amount of STD testing:
Putting aside where in the world he came up with the 10-20% of gays (and then his follow-up remark about how half of that 10-20% are negating their testing by sleeping with non-tested models, which I guess means only 5% of gay male talent are acceptable to Rickz?), and putting aside his deliberate singling out of "bi/pan men" as being the only ones who "prefer safer standards," it would've been so refreshing if he had just said what he really wanted to say: Gays are dirty whores.
Also, his "I don't fuck random people. I fuck professionals" is the new "recreational gays":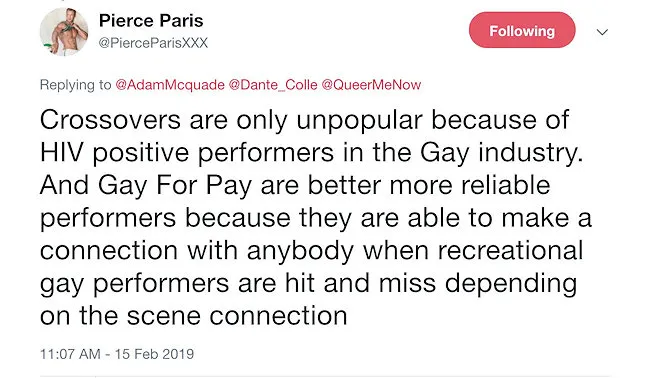 Speaking of worthless gay-for-payer Pierce Paris, he was of course one of the only people to defend Steve Rickz in the ensuing tweet storm, and PP's limp response was aimed at an actual gay performer, Beau Butler, who called out Rickz for his thinly veiled homophobia.
Here are the replies, beginning with Beau Butler's first response to Steve Rickz, which then led to Pierce Paris jumping in and only making things worse, not unlike what he does in all his porn scenes: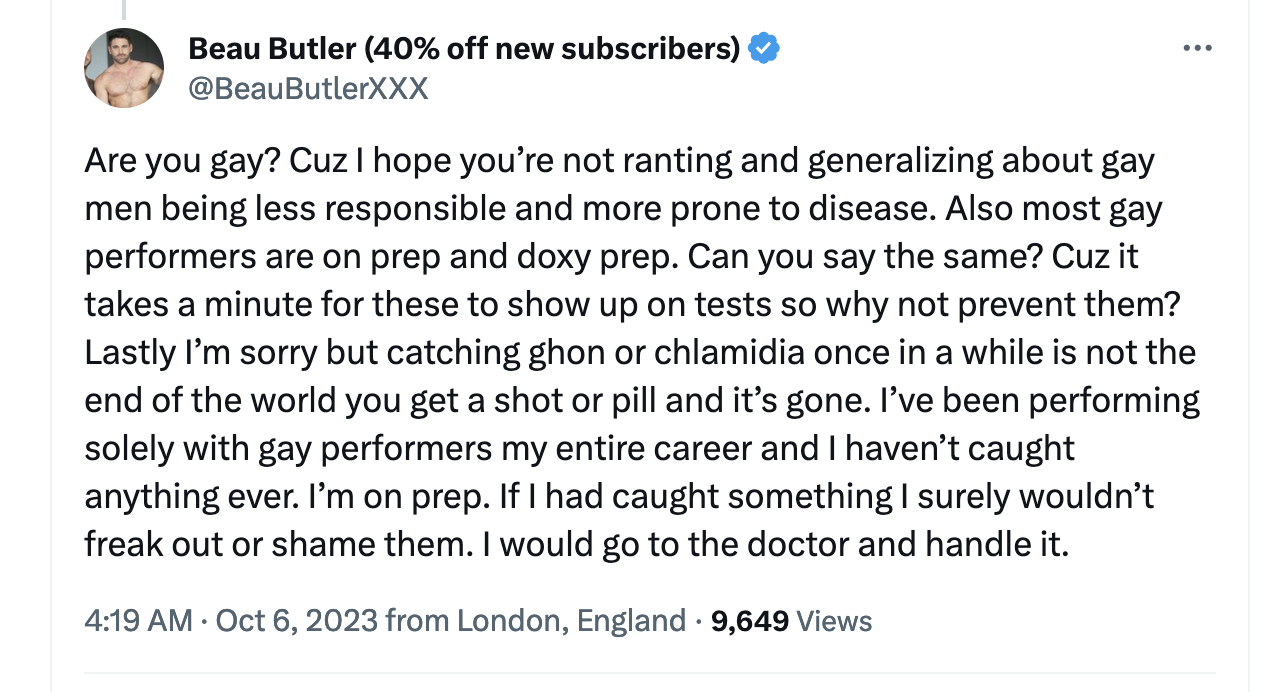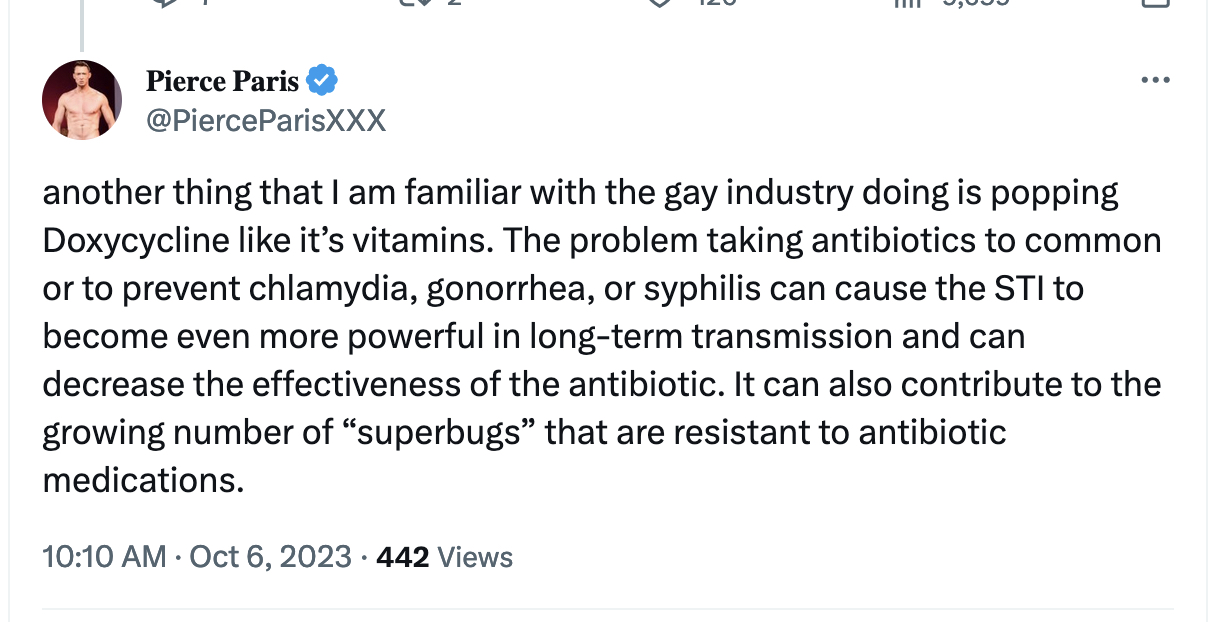 In addition to Pierce Paris, there was one other "performer" who weighed in and agreed with Steve Rickz, and that was, of course, noted homophobic bigot and soon-to-be convicted MAGA rioter "Sergeant" Steven Miles.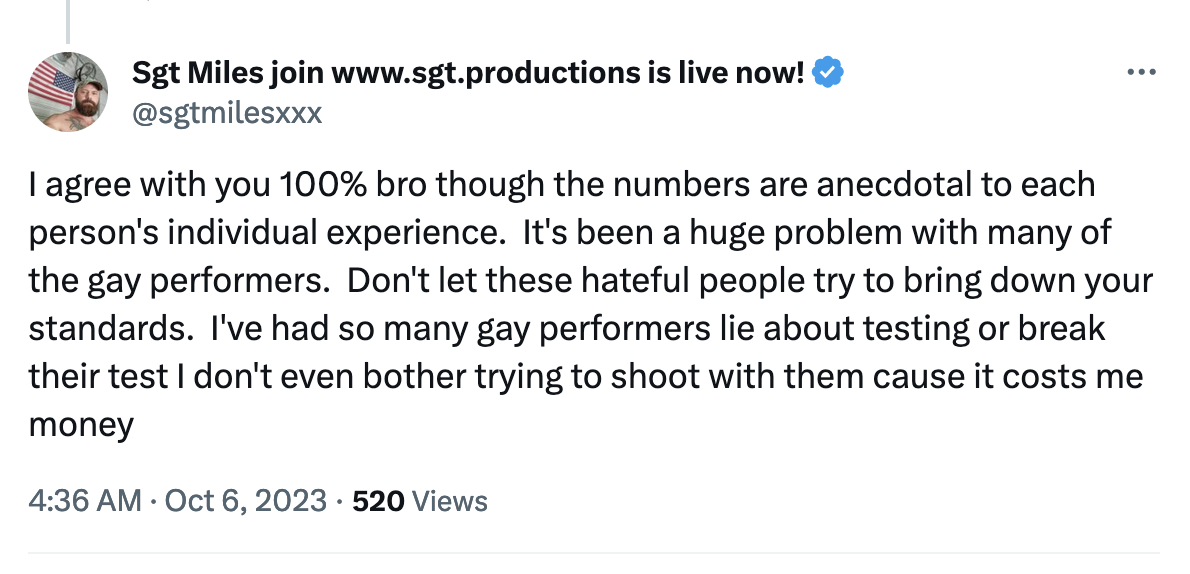 You know things are going well for you when the only two people you have on your side are a domestic terrorist and somebody whose dick looks like a stale marshmallow.
UPDATE:
A little more of the back and forth between Beau Butler, Josh Moore, and Stay Puft: