Performers Speak Out Against Gay Porn Star Sergeant Miles For His Homophobic Interrogation Over Their STI Tests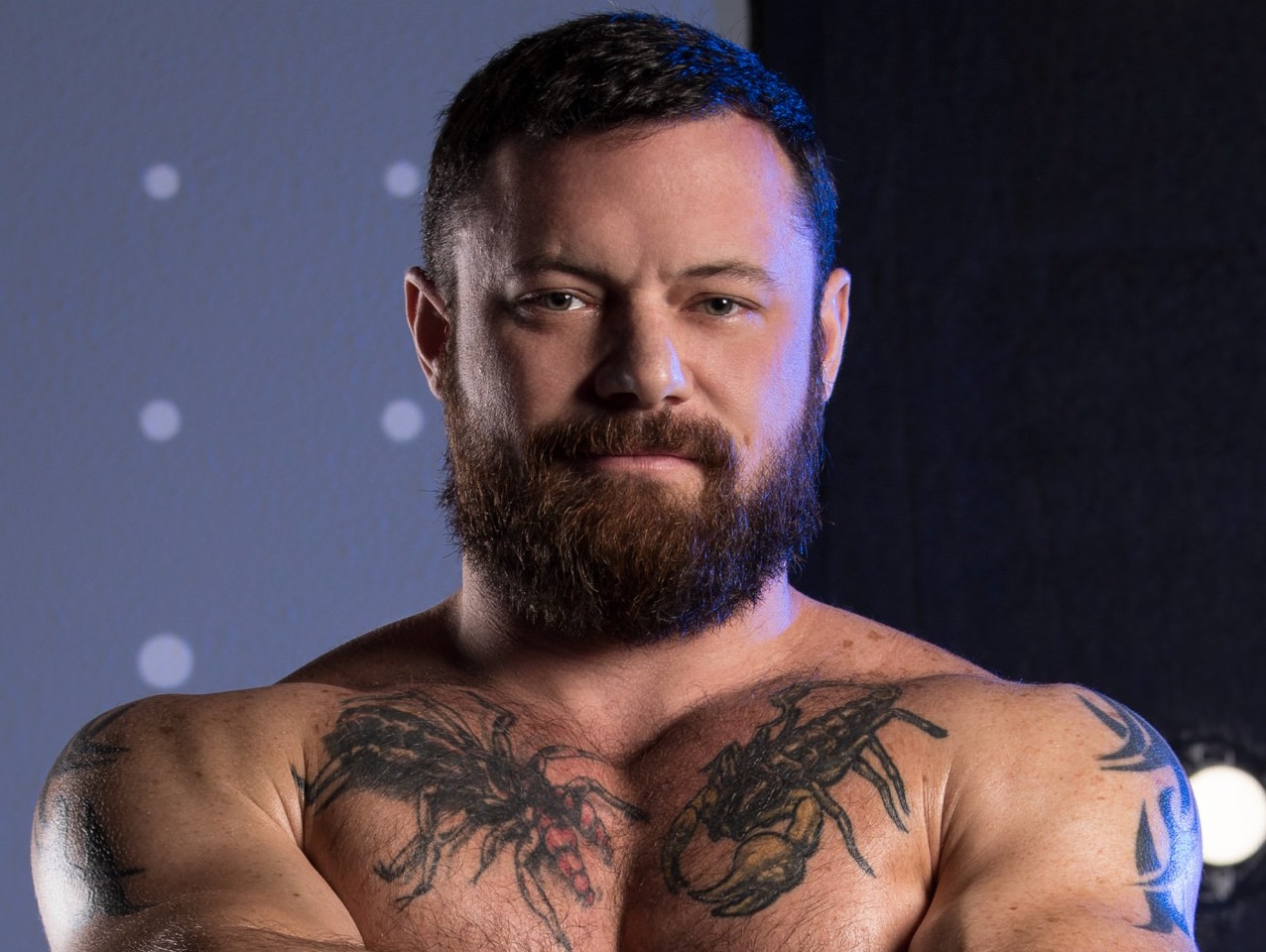 Gay porn actor and Donald Trump supporter Sergeant Miles has made headlines for sharing his far right political opinions on social media this month, but today he's making news for the offensive things he says to people on gay porn sets, not on Twitter. Two performers have come forward to share their stories of what it was like to work with Sergeant Miles recently, and the similarities between their two experiences show that Miles has a pattern of disrespecting his co-stars by sex-shaming them, interrogating them over their STI tests, and even making homophobic remarks.
This first account comes from gay performer Jessie Colter (note: before this story was published, Colter had asked that he not be identified, but he has since decided to come forward and speak openly). Colter's interaction with Sergeant Miles was on a recent bareback shoot for Lucas Entertainment in New York City:
While I was in NYC shooting for Lucas Entertainment, Sergeant Miles asked to see my STI test results, claiming we were shooting together and he needed to make sure I was negative of all STIs, which I am. I was more than happy to allow this as we were supposedly shooting together. After showing him my test results, he goes on to tell me that he hopes I don't hook up with all the other gay models while I'm staying in NYC. I asked him why he thought this. He said, "Well, isn't that what the gay models normally do? I just don't want to catch something, because some model decides to fuck other models and tricks while they're here shooting. I could catch something I don't want."

I responded by telling Sergeant Miles, "Test results are only good for up to the date the test were taken. Do you really expect me or other models not to live their lives because you have some weird phobia about gay models having STIs? I've had sex multiple times since my STI test." He didn't seem very happy about that comment. I then went on to say, "I've caught gonorrhea on set. I go to my doctor, get the shot and I'm all good."

He got a little upset and said, "I don't want to catch something because you can't stop fucking bareback. Have more respect for yourself and other models you'll be working with."

I then replied, "You can't tell people not to have sex before filming with you just because you have a fear that you may catch something. If this is how you feel, then why are you filming bareback content?" He was clearly angry and walked away. However, it turns out we were never supposed to shoot together! He had no business asking to see my test results! I'm still confused to as why he was so adamant to see my test results? For the rest of my time there, he didn't talk to me or really have anything to do with me. Other than mean-mugging me from across the room. He made a big deal out of nothing.
While performers asking co-stars about test results and STI history isn't uncommon, this medical information is supposed to be managed by production staff, not used by performers to attack co-stars just prior to a shoot. This happening at Lucas Studios—which has been accused of not testing performers, or making performers arrange and pay for their own tests—is, unfortunately, not a surprise.
Sergeant Miles—who identifies as bisexual and performs in straight, gay, trans, and bi porn—accosted another gay co-star over his STI test on a recent Raging Stallion shoot, and the co-star that time was Kurtis Wolfe. Despite this being a condom scene that Raging Stallion did not arrange testing for, Miles still approached Wolfe just prior to the shoot, demanding to see his test results. Wolfe explains:
Before even saying hello to each other in the studio, Sergeant Miles demanded to see my most recent test results, for a non-testing scene. Major slap in the face right there. When we were doing cum shots, he made a comment about not getting anything in his eye, because he didn't want to "catch anything." Not like that mattered anyway, because we had to fake my cum shot. This was the first time I ever had to do that.

If he's so paranoid about catching something, then he clearly needs to be in another industry. Also, the test results he showed me aren't even as accurate as the ones my doctor does. Hell, he doesn't even get throat or anal swabs. I should've been the one treating him like he has STIs, because he went cheap on his testing.
Porn stars' health—both physical and mental—is obviously something that everyone in the industry should take seriously. When studios require testing prior to shoots, that information should be disclosed in a respectful manner between production and performers. Performers like Sergeant Miles interrogating and intimidating gay co-stars on set right before filming is disrespectful, and it can easily be perceived as homophobia, not to mention basic harassment and invasion of privacy.
Studios that continue to hire Sergeant Miles can be considered complicit in his behavior, as these studios are responsible for how all of their performers are treated on sets.