Blake Mitchell, Marcell Tykes, And Blake Mitchell's Real-Life Boyfriend(?!) Star In "Long Time Cumming"
Helix's Marcell Tykes has been wanting to do a scene with Blake Mitchell for a long time (hence the title of their scene together tonight, "Long Time Cumming"), and while Blake fucking Marcell bareback is must-see gay porn this weekend, there's also a cameo in this scene (prior to the fucking) that is very fun to watch, and it's from Blake Mitchell's real-life boyfriend, Chad Alec: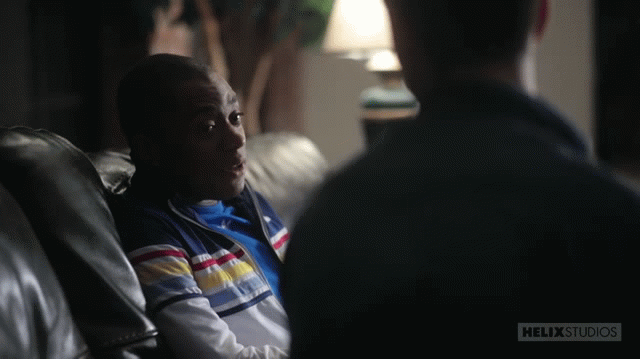 At the start of the scene, Marcell, Blake, and Chad are at a party, and when Blake walks away, Marcell tells Chad that he would like to fuck Blake. That might be an incredibly awkward thing for Marcell to say to Chad if this were real life, but because Chad is playing along as a supportive friend (and not Blake's real-life boyfriend) in this scene, he encourages Marcell to go ahead and fuck Blake! This is probably the most clever, tongue-in-cheek cameo of the year.
And, after talking to Chad, you'll never guess what Marcell does next with Blake…
There is also a cute cameo from Joey Mills in this scene, who actually gets Blake to shake his spit-covered hand. Trailer (watch full scene here):
[
Helix: Blake Mitchell Fucks Marcell Tykes Bareback
]