Blake Mitchell Treats Cole Claire To A Mid-Air Fuckfest In Stunning Gay Porn Return
Prayers have been answered and Valentine's Day dreams have come true, because after a six month hiatus, Blake Mitchell returns to gay porn in a new Helix scene tonight. And as if his return in and of itself wasn't reason enough to celebrate, this duo with Cole Claire features one of Blake's best performances ever.
Cole has been waiting to be fucked by Blake for several months (there was a delay in filming due to scheduling conflicts, and this scene was supposed to be shot months prior to when they finally did film), and his patience has paid off. In addition to this being Blake's best work, it's also the best Cole has ever been, with his deep-throating, balls-deep cock-riding, and signature moaning nearly stealing the scene.
There's a good amount of oral, fingering, and ass-eating prior to the fucking, and Blake (who looks better than ever) does a nice job warming Cole up for what's about to happen.
Blake fucks Cole in several positions, sometimes gently and sometimes rapidly. And because the sex is so skillfully performed and filmed, we see every inch of Blake sliding all the way out, and then all the way back in.
It's a scene full of highlights, but perhaps the biggest one is when Blake asks Cole if he wants to "try something interesting." Cole of course says yes (who in their right mind would say no to Blake if he asked you that), and Blake proceeds to pick him up and fuck him in mid-air:
Most won't be able to make it past this point (not sure how Cole did, tbh), but if you do, the cum shots are a few minutes after this.
They eventually sit back down, and Blake fucks the cum out of Cole. Blake then has to quickly blow his own load, and it's an explosive cum facial, with Blake shooting pretty much everywhere. Cole tries to swallow as much cum as possible: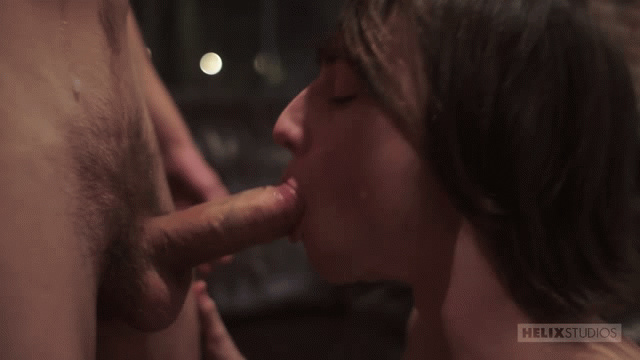 Being a Blake Mitchell stan obviously makes me slightly (completely?) biased, but in terms of performances and production, this can still objectively be considered one of the best scenes of the year. Trailer (watch full scene here):
[
Helix: Blake Mitchell Fucks Cole Claire Bareback
]