EXCLUSIVE: BoyCrush Studio Owner Bryan Schwandt Admits To Having Sex With Model Who Accused Him Of Rape: "I Shouldn't Have Slept With Him…It Wasn't Very Professional"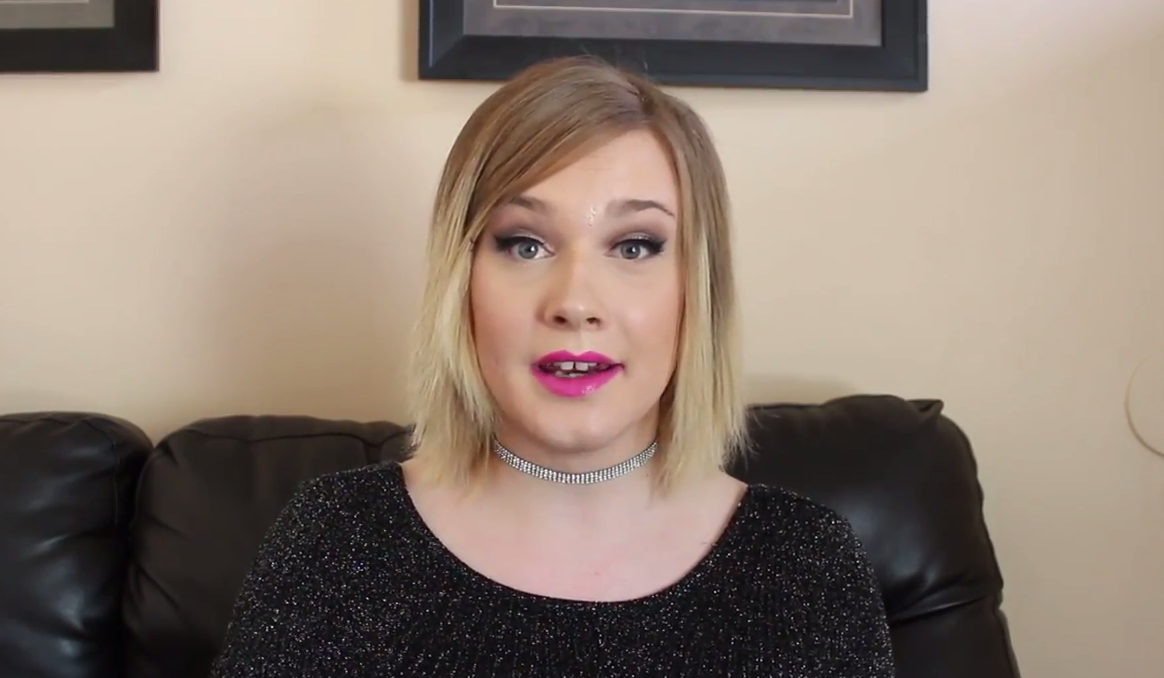 In November of last year, a trans YouTuber named Kadence Pinder (above) came forward with allegations that she had been raped by a gay porn studio owner during what she called a "casting session" with that studio. (At the time of the alleged rape, Pinder had not yet come out as a trans woman, and had not yet started transitioning.) Pinder's story was published by GayStarNews, which did not print the name of the studio or the studio's owner due to what they called "legal reasons."  The alleged rape—which was preceded by the studio owner offering Pinder drugs— was described in graphic detail by Pinder and GayStarNews:
"He told me to turn around and just like do a sexy pose. So I turned around and that's when I heard him pull down my underwear and he put his dick inside of me – and then he just started to go to town. He literally rammed it inside of me and started going. It was really painful, it hurt really bad. I wasn't aroused, I wasn't excited – it was so uncomfortable."

At one stage he left Pinder unable to breathe and gagging as he forced himself on her. He called her a "slut" and "fucking bitch." Pinder's attacker came inside of her while fucking her bareback.
Despite GayStarNews not publishing the studio's name, Pinder released a YouTube video two months prior to the GayStarNews article, and in that September 2017 video, she revealed that the porn studio was BoyCrush. This would mean that her alleged rapist was BoyCrush studio owner Bryan Schwandt, seen below (center) on set yesterday with models James Stirling and Austin Xanders: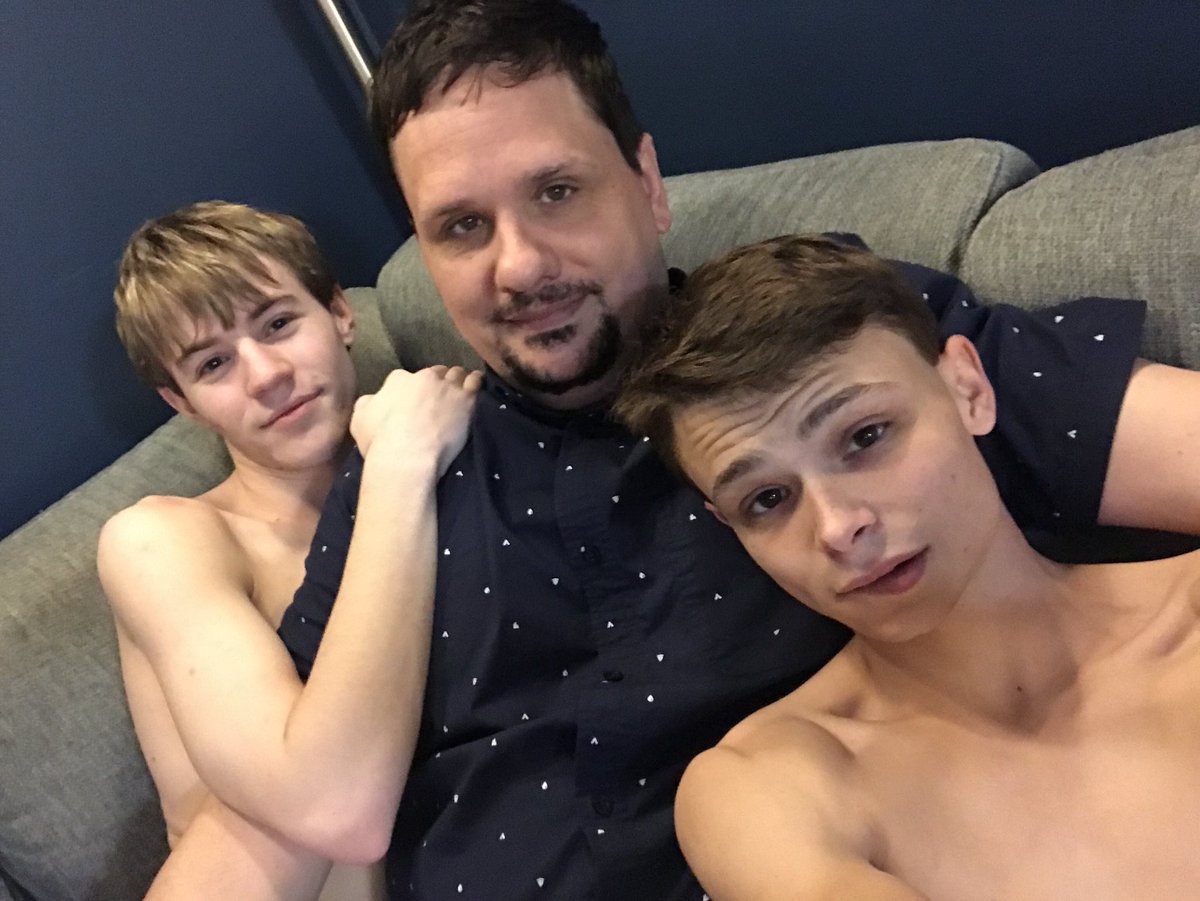 Kadence Pinder's full YouTube video, which goes into many of the same details as the GayStarNews article, is over 15 minutes long, and here's the part where Pinder identifies that the alleged rape happened when she was working for BoyCrush and studio owner Schwandt:
And, here's the section of the video where Pinder recounts Schwandt offering her drugs, and then forcibly having sex with her:
Pinder's story is making headlines again today after another model, Ethan Steele, came forward last weekend with new accusations against BoyCrush and Schwandt. Steele posted the below tweets detailing his experience with Schwandt: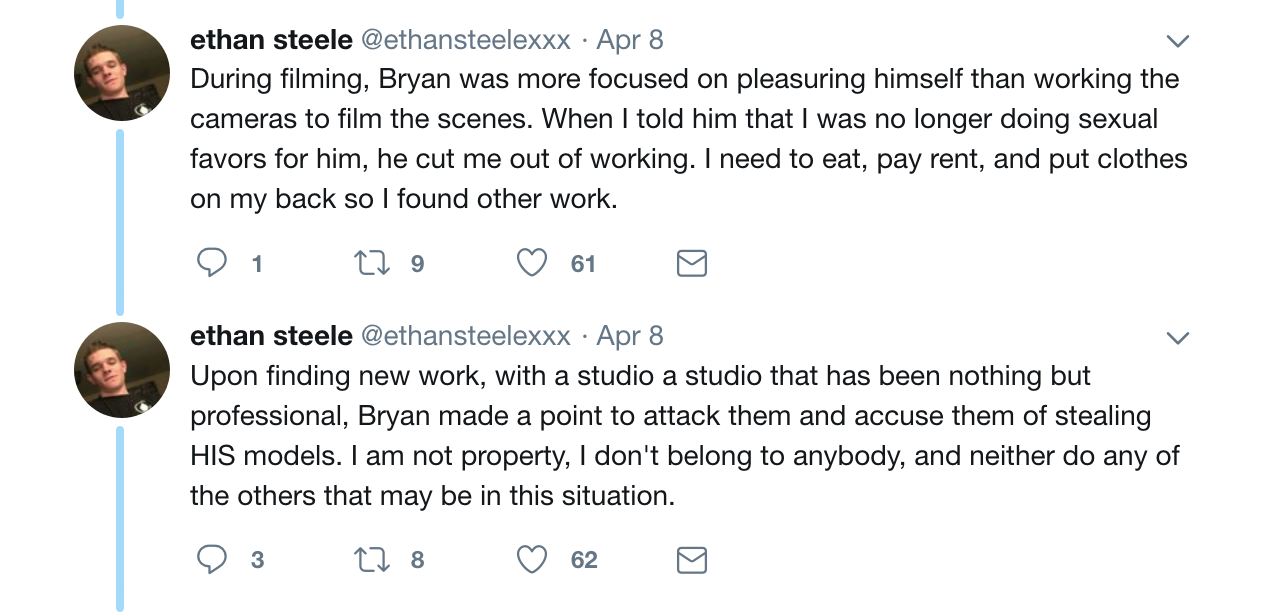 Str8UpGayPorn reached out to Schwandt for a response to Steele's accusations that he performed "sexual favors" on him, and Schwandt replied that his use of the term "sexual favors" was "just a joke." Schwandt went on to add that "Ethan is not attractive," and that his complaint was likely written by "Holland House," which is another porn studio where Steele now works. Schwandt/BoyCrush's reply to Str8UpGayPorn, via Twitter direct message:

Given the nature of Steele's accusations, I went on to ask Schwandt about previous, similar accusations made against him, including the rape accusation from Pinder. In Schwandt's reply to my question, which linked to Pinder's video detailing the alleged rape, he admitted that "parts of [Pinder's] story are true." Schwandt also admitted, "I did sleep with him," but he claimed that Pinder "offered that" before coming to the studio: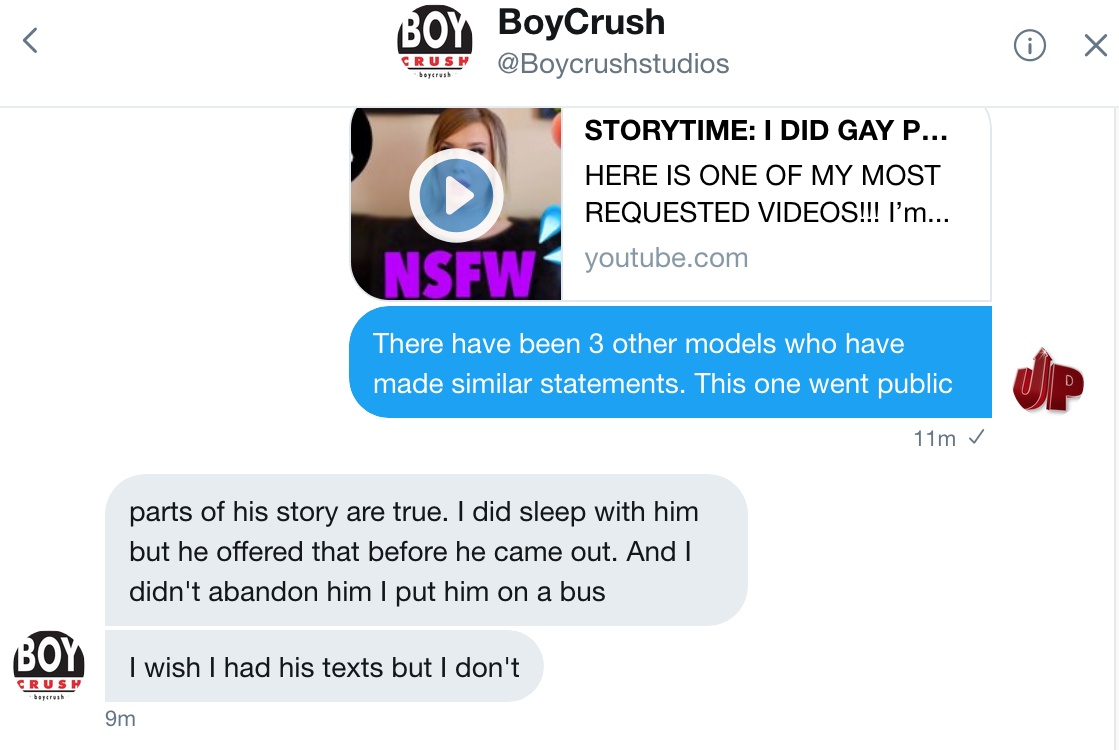 Because there have been different models with different allegations against Schwandt, I asked him to confirm that he was talking about Kadence Pinder, and that it was Pinder whom he was admitting to having sex with. After claiming that Pinder was overweight, he again admits to having sex with Pinder, and says, "I shouldn't have slept with him, but that's all I did wrong":
Schwandt then told me he would be deleting all of the messages we sent to each other, because he didn't want his daughter—who has access to the BoyCrush Twitter account—seeing the messages:

I continued questioning Bryan Schwandt today on his personal account, asking him if he had any response to the rape allegation, given that he had just admitted to having sex with Pinder earlier this week. According to Schwandt, the rape allegation against him is "not true," and the sex he had with Pinder was "consentul" [sic]: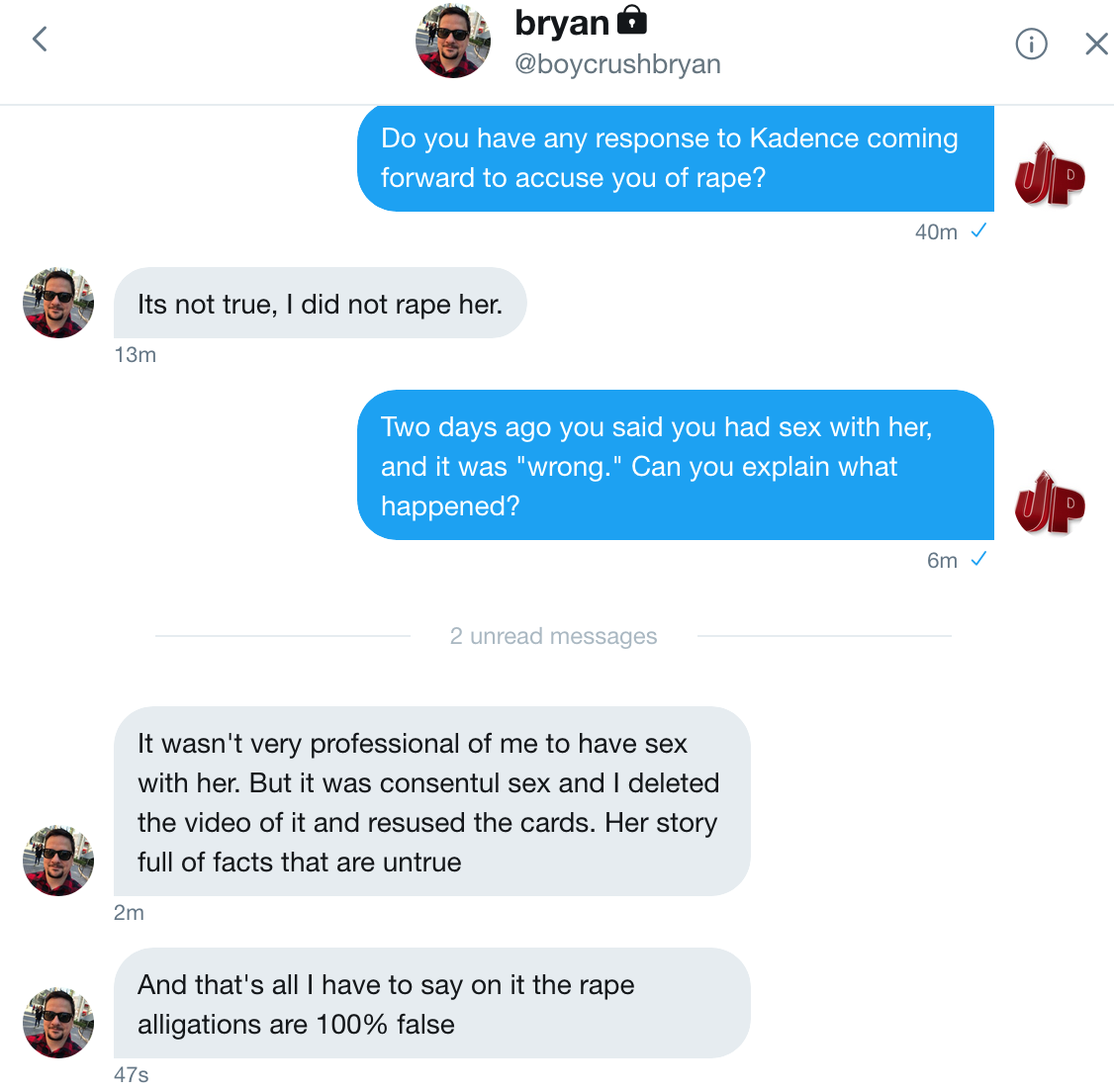 Whether or not Pinder's accusation is true (and based on the latest, similar accusation from Ethan Steele, it might be reasonable for many to assume that it is), the owner of any company choosing to have what he views as "consensual" sex with his 18-year-old workers is unbelievably stupid, wrong, and unethical, and it only opens up that employer to being accused of doing something far worse. And although Schwandt claims he "reused the cards," recording that sex on video without consent and the proper paperwork—which Pinder says she did not give and did not sign—is clearly illegal.
It might be 2018, but sleazy porn studio owners having sex—whether willingly or not—with their models is still tolerated by some in the porn industry, thanks in part to owners like Schwandt, who simply label their behavior as something that "wasn't very professional."
No performer is required or obligated to sleep with a studio owner in order to receive work or payment, and any studio owner (or anyone at any workplace who's in a position of authority) making these kinds of demands—whether they're explicit or implicit—of workers is committing a crime. If you've been a victim of Schwandt (or anyone on any porn set), contact your local authorities and/or a local rape crisis center.