Why Did Mason Wyler Give 44 Thousand Twitter Followers To This Newcomer?
Who is Brenner Bolton? You might recognize him as the guy who used to go by "Dalton Pierce," a bareback newcomer who got fucked bareback at DallasReeves.com all the time earlier this year. Or, maybe you know him as Dalton Pierce, the condom newcomer who got fucked by guys wearing condoms on Men.com? Or, if you're like me, Brenner Bolton is the person on Twitter you never knew you were following whose tweets started showing up in your timeline last month. How did someone you never intentionally followed get their tweets onto your timeline? Blame gay porn legend Mason Wyler, of course.
Some sluts can be very generous, and in this case, Mason Wyler decided to hand over his legendarily slutty Twitter account to his slutty friend Brenner—which comes complete with nearly 44,000 followers. So, if you were following Mason, you're now following Brenner.
Why did Mason give up his account, which he could have sold for a decent amount of money, or at least held onto for future use if/when he decides to do gay porn again? According to Brenner, he just didn't want it anymore.
"We were chatting, and he offered to give me his followers since he didn't really want a Twitter anymore," Brenner tells Str8UpGayPorn.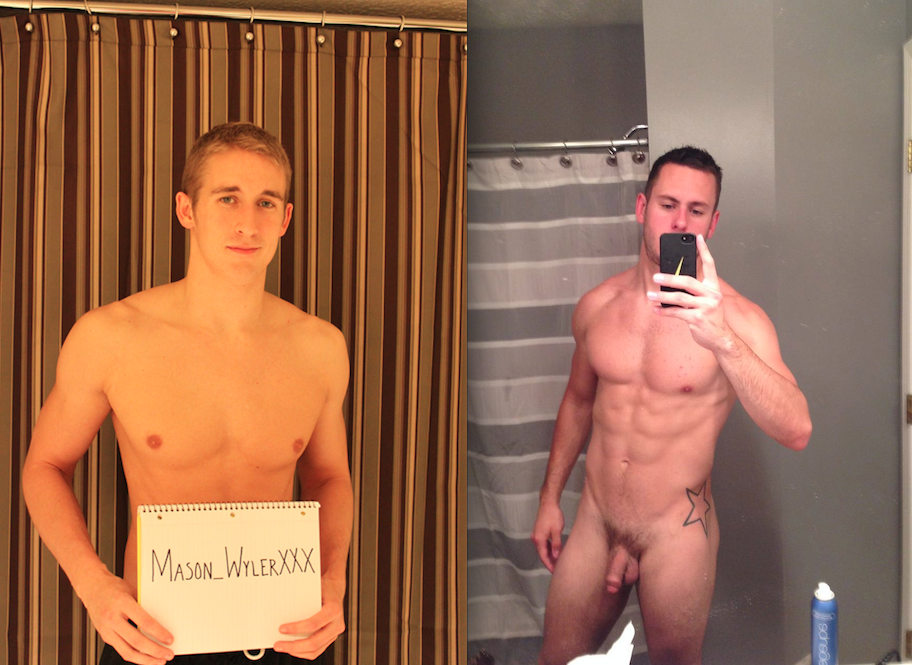 Let's please take a moment to remember Mason's sluttiest and most depraved tweets (which I'm glad I preserved after all these years, since Brenner deleted all of Mason's old tweets):
Goodbye forever, Mason!
Of course, when one whore's legs close, another whore's legs open, and Brenner seems (so far) to be a worthy successor to Mason.
Swallowing a creamy midnight snack pic.twitter.com/cg7o6S5OC9

— Brenner Bolton (@BrennerBolton) July 22, 2014
My hole is so fucking hungry! pic.twitter.com/32lLIWmxx9

— Brenner Bolton (@BrennerBolton) July 24, 2014
Pull your dick out and get ready. I'm Brenner Bolton and I'm a muscle slut with an ass built for pounding. pic.twitter.com/ECOo1p2I1J

— Brenner Bolton (@BrennerBolton) July 30, 2014
Brenner's latest gay porn scene is over at Mason's alma mater, NextDoorBuddies. It has something to do with gardening.
[
NextDoorBuddies: Brenner Bolton & Connor
]