Brenner Bolton Exclusive: Gay Porn's Cum-Loving, Cock-Gobbling Powerbottom Bares All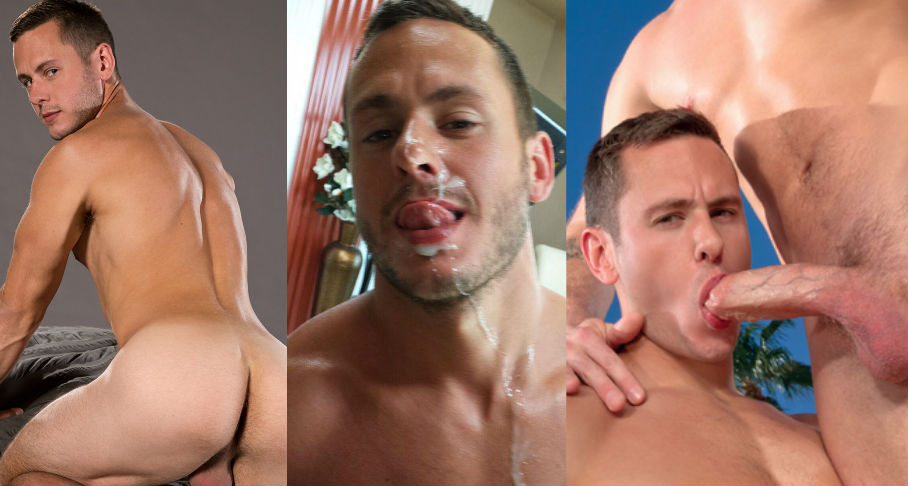 In less than a year, Brenner Bolton has become a wildly popular performer by powerbottoming for some of the biggest cocks in gay porn. This deliriously cock-crazed and cum-starved slut is a gay porn legend in the making, and I'm grateful that he took a few minutes away from his busy schedule of sucking dicks, sitting on dicks, and drinking cum out of dicks to give Str8UpGayPorn this exclusive interview.
Which gay porn star's cum tastes the best, which gay porn star will he never work with again, and is there anything he won't do on camera? All that and much more in this Brenner Bolton exclusive.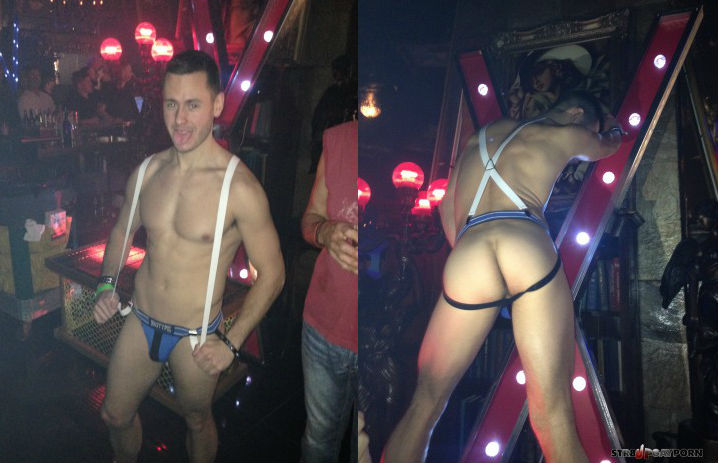 Str8UpGayPorn: Hi Brenner! So, before you were Brenner Bolton, you were known as "Dalton Pierce." How'd you come up with the two names?
Brenner Bolton: I thought of both names actually. Some friends helped me out, but I literally thought of them in about five minutes. Dalton Pierce because "DP" stands for double penetration, and Brenner Bolton because "BB" stands for, well, you know!
You only went by Dalton for your first few scenes at DallasReeves.com. Why'd you change your name?
I changed my name from Dalton because I wanted a fresh start, and nothing to do with Dallas Reeves.
Everyone has heard the horror stories about them. What was it like working at DallasReeves.com? Did they pay you?
Jesus! Where to begin with that studio?! They are sketchy motherfuckers. I wouldn't leave their house until they paid me, and sometimes I had to force them to transfer money into my checking account. Also, they underpay like crazy—like $400 per scene! Sorry to rat them out, but they are fucking gross people.
You did a lot of bareback scenes early in your career, but now you're doing condom scenes. Which kind of sex do you prefer?
I love bareback and I love a nice load in my ass, but I really have no preference. I would actually love to take 30 loads in my ass, but if those 30 guys all wanted to fuck me with 30 condoms, that would be fine, too. I just love a nice big cock in my ass! Especially uncut.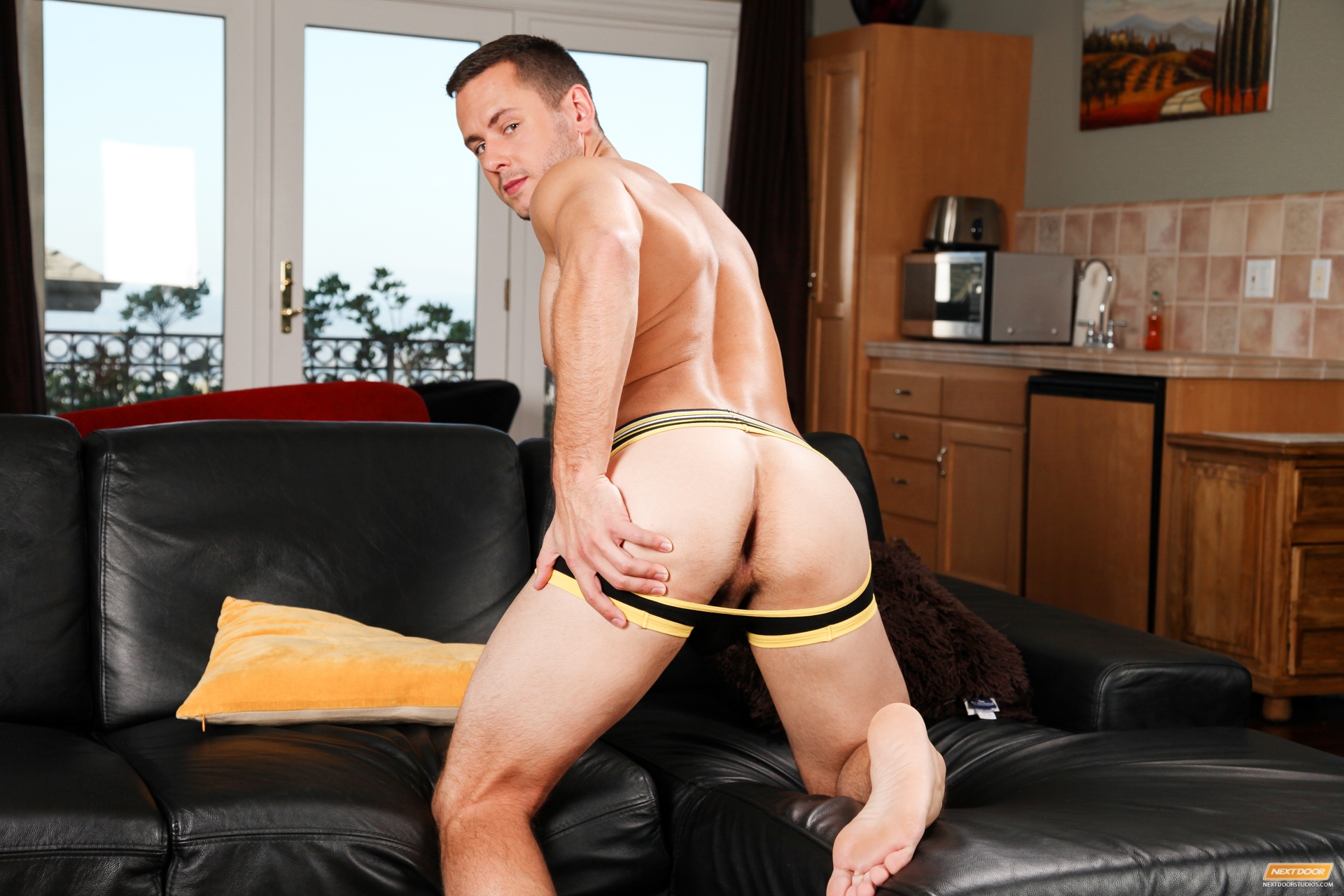 Having worked with so many studios—Men.com, Falcon, NextDoor—which one do you think has the best productions?
That's a little tricky. Honestly, all those studios are great to work for. They all have their shit together. Falcon is like a family to me. [Photographer] Kent and Adam in production are so fucking amazing. Men.com is great, and Tee Gates and James Edwards are awesome. Daddy Stephan at NextDoor is great, too. I go into every shoot with a positive attitude, but it does suck staying in hotels half the month.
Do you think studios do enough to minimize STD risks for performers?
I feel some do, but some don't. Shooting condom scenes, I feel all studios still need to [test] their models, but they don't. Will that change? Probably not since many studios are cutting back on spending. I'm currently on PrEP, and I feel the bigger studios should help support models with stuff like this, especially their exclusives.
So since you're on PrEP, you must be pretty sexually adventurous in your personal life. Are you as slutty off camera as you are on camera?
100% yes—I am the role I play in porn. I cum at least three times a day when I'm not shooting. I'm on Grindr way too much and have gone through all the guys in my entire city and zip code. It might be time to move.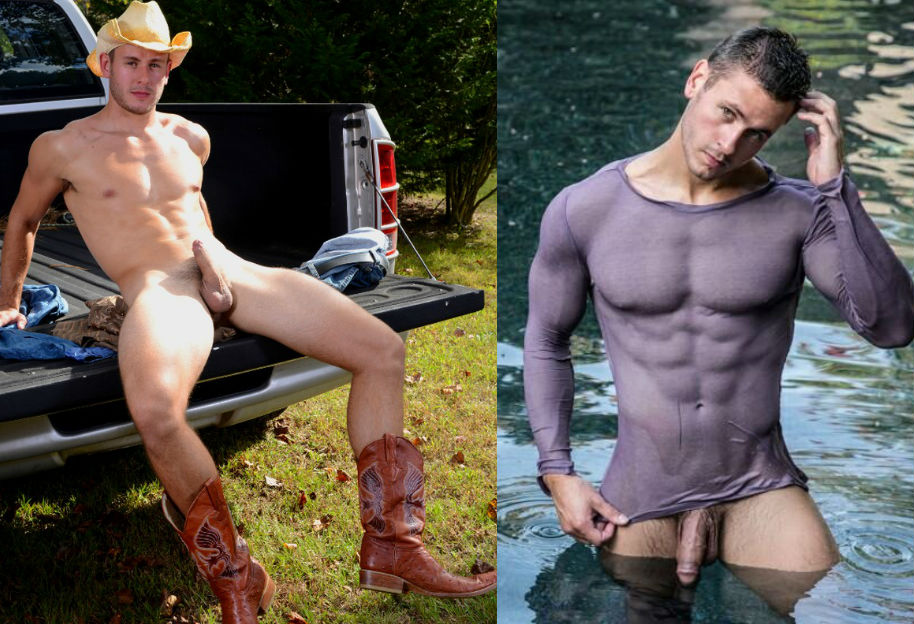 How much sex would you say you have in an average week, and with how many different guys?
I'm a big slut. On average, I would say I have sex with five people each week. Some are regular hook-ups and others are from Grindr and Scruff.
And you also work as an escort. Which is easier: Doing a porn scene or meeting with a Rentboy client?
Neither, actually. Sometimes I don't know who my scene partner is, and it's the same with Rentboy. I like the fact that I'm meeting new people, and I prefer not to know who they are. It's more fun.
OK, do you ever do anything that isn't sex-related?
Ha! I did work for Abercrombie, but right now I would say camming for Randy Blue is my normal job, when I'm not escorting or shooting porn. I'm a very sexual person, so why not make money doing it?
Do family and friends know about your career?
Yes, my family knows. My parents are divorced, so I'm not sure if [my dad's] side of the family knows. But even my grandma knows. She's like, "Make that money!" They are supportive and I'm a mama's boy, so as long as she knows I'm safe and not doing drugs, she is fine with it.
You've been fucked by some truly gigantic cocks this past year, but whose cock was the most challenging? What's the secret to bottoming for a big dick?
I would say Lucas Knight's was the most challenging, although I took it pretty good. He has a thick cock. As far as the secret, you just gotta relax.
Relax mentally or physically? Or both?
Mentally. Once you're mentally prepared to get fucked, you're all good. And even though my hole is tight, it loosens up when I'm getting fucked, and then it tightens back up again when we're done.
You love getting fucked, and you also love cum. Is there a trick to making cum taste good, and which gay porn star's cum tastes the best?
I've had plenty of salty cum from all these straight guys who do gay porn. It's like, ugh! Eating protein and eating healthy is important, as your cum tastes like what you eat. My cum tastes sweet, and I eat it all the time, but I would have to say Ryan Rose's cum tastes the best.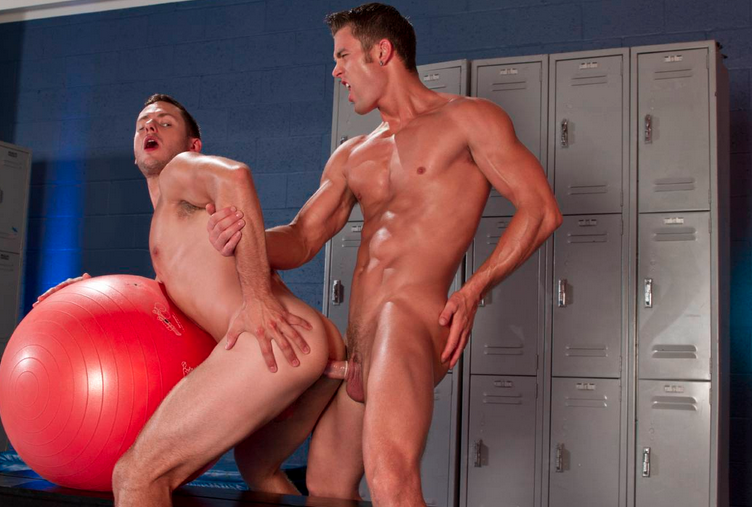 In those recent Men.com scenes where you played a cowboy, you got fucked by Jason Maddox, and he looked like a lazy top. Was he that bad?
He was OK. I was way too experienced for him, but he's a total sweetheart. Some people just can't act while they're having sex, and I pretty much did all the work. But when does a top ever do the work when they're fucking me? I'm a powerbottom, bitch!
One other thing about those cowboy scenes. Is it true they made Dakota Wolfe wear women's cowboys boots?
I believe he chose to wear those boots, or maybe there just weren't any men's boots left. At Men.com, you gotta claim your scene clothes fast!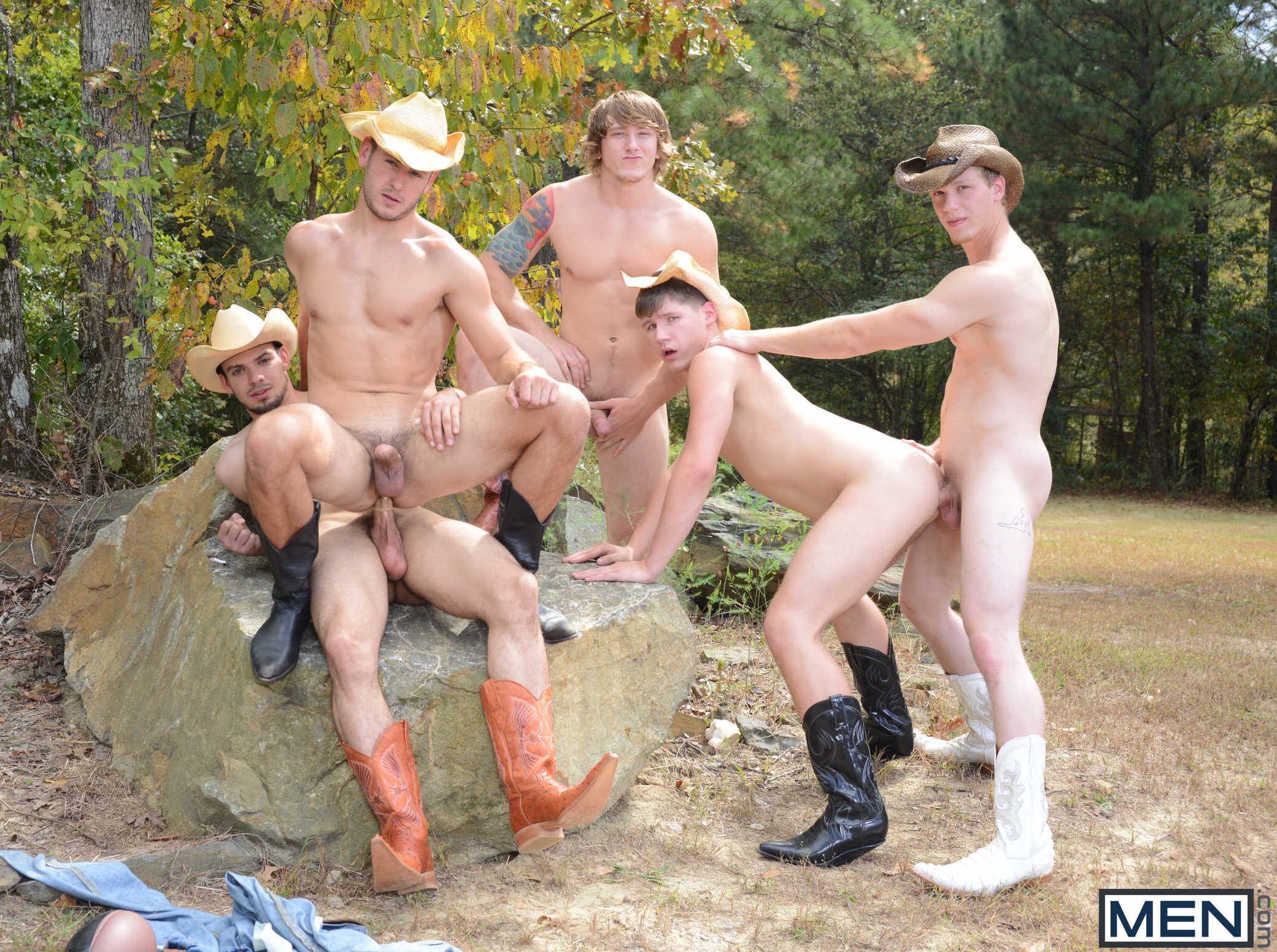 You've also worked with infamous gay-for-pay star Sebastian Young, during a rare time when he wasn't in prison. What was he really like to work with?
Too funny! He is obsessed with himself, and he thinks he's God's gift to the world. When we were shooting, I went to suck his cock and he pushed me away because I spit on it. Hello, we're shooting porn! People usually like spitting, or am I wrong?
No, it's great. And people expect it, especially in porn.
Anyway, then I went to kiss him, and once again he pushed me to the ground and said, "Your mouth smells." Well, it smells cause I was sucking your cock!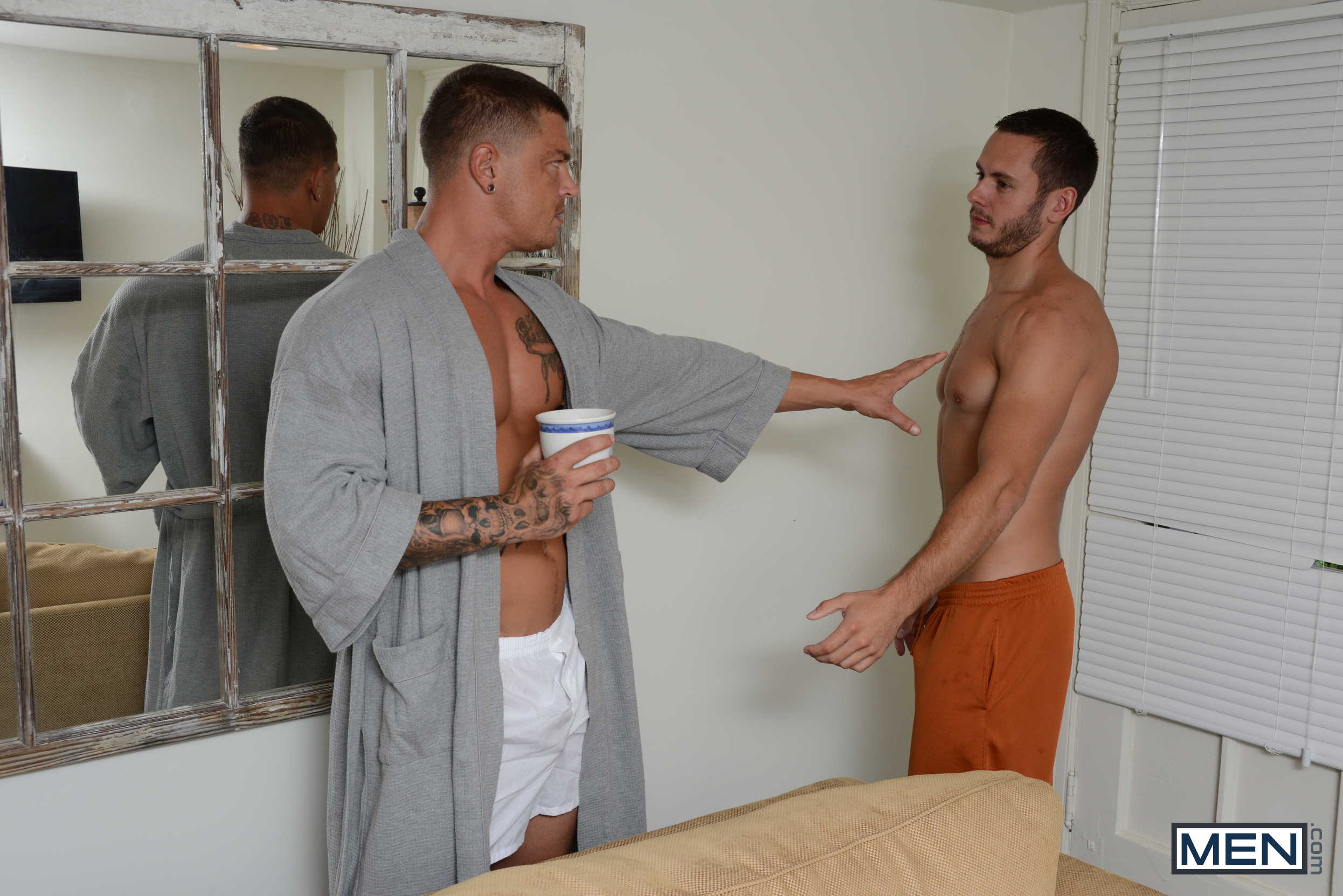 Would you ever do another another scene with him?
Never again!
Is there anything you won't do in a gay porn scene?
I won't ever get fisted. I mean, it looks hot in porn, but having an entire arm up in there is scary! My hole is too priceless.
In this upcoming season of gay porn awards, in which categories do you hope to be nominated?
I have no idea. I don't even know what the categories are. Hopefully best new powerbottom?
What are your goals for the rest of 2015?
My goal is to become an even better bottom. I also might be trying some topping. I just hope to be getting fucked good.
Before I let you go, if you could conceive, produce, and star in your own fantasy gay porn scene, what would be your role in it, what would you do, and with whom?
I fucking love dad-on-son porn. But I also love dad-on-son-on-friend porn. First, I would cast Colby Keller and Adam Russo, and I would be the son, of course. Adam would be my daddy, and Colby would be my friend. It would start off with me in my room with my friend Colby playing video games. We'd be in gym clothes since we just got back from a great workout. Our muscles are all pumped up and we still have jockstraps on. Colby and I have been fooling around with each other secretly for years, but my daddy has never known. As we're playing video games, we look at each other and know we want each other. So, Colby pulls his cock out to the side and I deep-throat it really good—spitting on it and wanting it in my ass really bad, and raw. As I'm sucking Colby's cock, my dad peeks his head through the door and sees what we're doing! My dad starts jerking off his cock through his white Calvin Klein underwear, but he accidentally pushes the door open and we see him. Then, he comes in and I start sucking both my dad and Colby's cocks. We break apart, and me and Daddy Adam start 69'ing—I'm deep-throating his cock as he eats my ass. Colby joins back in, and both he and my Daddy Adam take turns fucking me for about two hours. They both cum in my ass, finger some of the cum out, and then make me eat it. Honestly, I dream about that happening. Fuck, I just turned myself on! Ha!
Me, too! Thanks a lot, Brenner!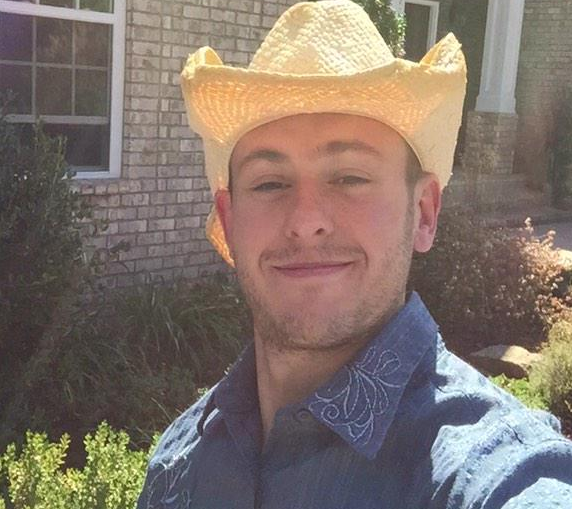 [Men.com: Brenner Bolton]
[NextDoorStudios: Brenner Bolton]
[
Falcon Studios: Brenner Bolton
]