Calvin Banks Exclusive: His Porn Future, His Fans, And Yes, His Big Dick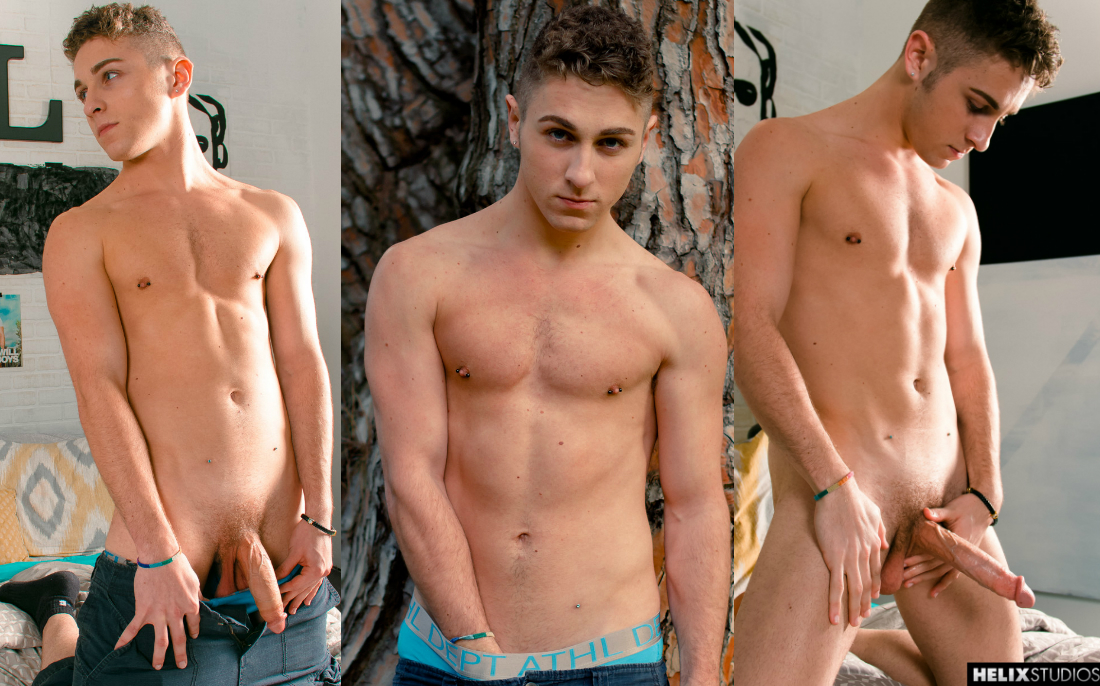 Gay porn newcomer Calvin Banks has just two scenes under his belt—a solo and a duo, with Tyler Hill—but he's already amassed a huge following thanks to his social media presence (and his obvious endowment). Get to know Calvin a little bit more in his first ever interview below.
Str8UpGayPorn: Hi Calvin! I guess we can start with the basics. Where are you from? How old are you? What is your height and weight?
Calvin Banks: I've been a resident of Massachusetts since I was three years old. Before that, I briefly lived in Atlanta. But, I am wholeheartedly a MassHole! I'm currently 18, turning 19 this month on the 21st. I am 5′ 11″ (6′ 5″ in my heels) and weigh 162, but I'm constantly at the gym so I've been bulking up.
Are you in school or working right now?
I work as a CNA (certified nursing assistant) in a local nursing home but am not attending school.
Are you dating anyone special?
I am 100% single. Nobody currently holds my heart, and I wish the best of luck to the one who eventually will. Actually, since getting my name out there, I've been a bit of a whore.
Nice! So what led to you filming with Helix Studios? Were you recruited, or did you apply on your own?
I frequent a bar in Providence called Ego, one that one of my co-stars Gavin Philips often goes to as well. I met him, we began talking, and I heard all about the industry from him. After giving it almost no thought at all, I applied online. A month and a half later, I got the text from my producer asking if I was interested. And now I'm here.
Who was your first sex scene with, and did it measure up to your expectations? Anything happen that surprised you?
The first scene I filmed was with Tyler Hill, and I couldn't say if it measured up to expectations because I wasn't totally sure what to expect. The most surprising thing to me was the reaction I got to my performance. It instilled the confidence I needed to have hopes for my future in the industry.
What was your favorite part about your first sex scene?
While I enjoyed the process entirely, my favorite moment would have to be filming the cum shot. To just reach that climax with Tyler was incredible. And intense. Very enjoyable.
How did you choose your porn name, Calvin Banks?
Calvin was chosen because I was hell bent on having a name that began with a "C." My original desire was for "Caleb" but it was unfortunately unavailable, thus Calvin was born. My last name "Banks" just had a nice sound to it.
Given your size, have you ever accidentally hurt anyone while having sex?
I'd hate to say I've hurt anybody with my dick but I have definitely had a few twinks who couldn't quite handle it all. They'll shy away from it, but I treat them very well and they soon succumb to its euphoric size.
At what age did you realize you had a big dick, and what kind of reactions have you received about it over the years?
The first realization I had of my big dick was when I was 13 and lost my virginity. I bottomed for a guy whose dick just couldn't compare. A bit later, upon my second encounter, I discovered the same thing! Ever since, I've only found one dick that can compare in size to that of my own.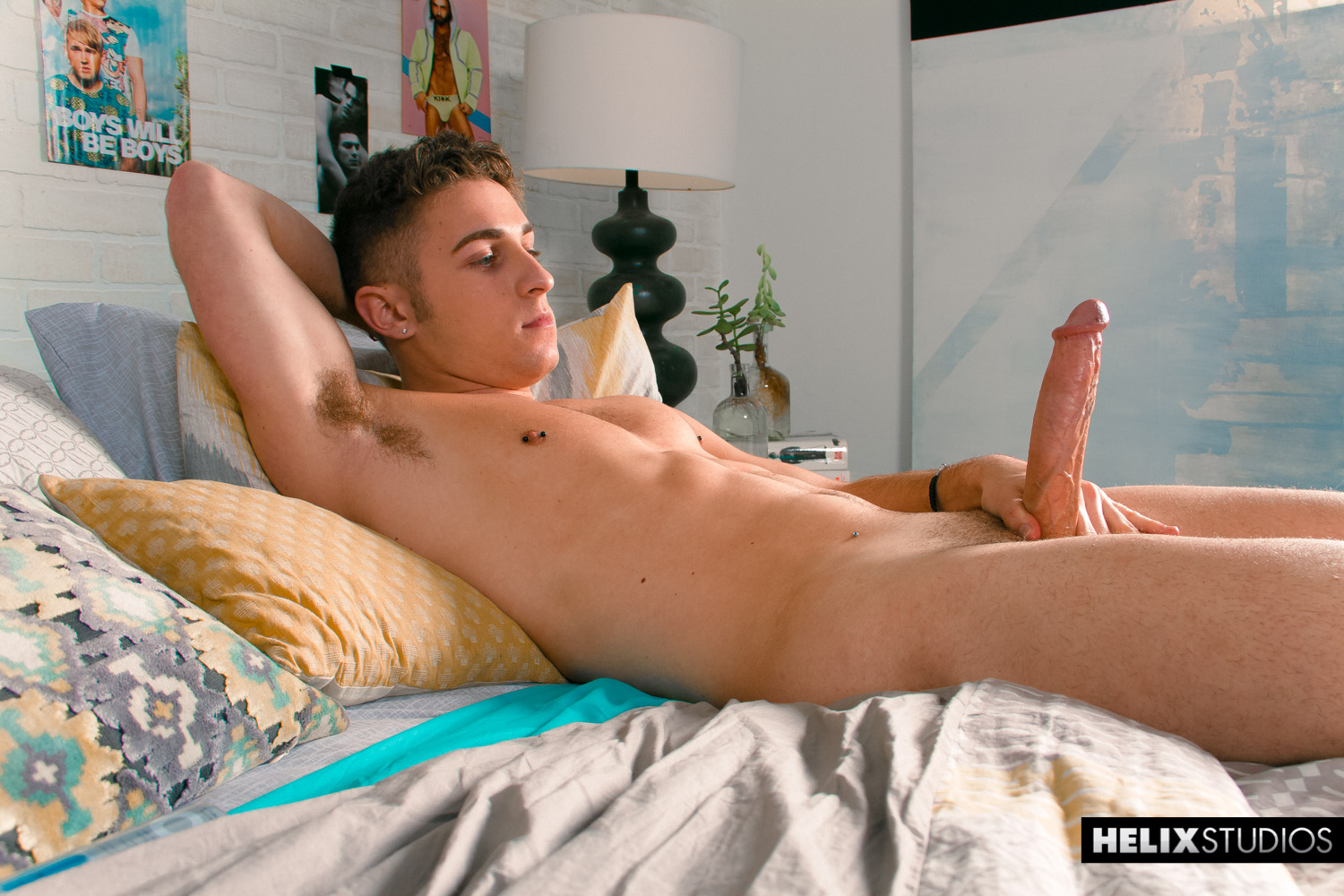 Will we see you topping or bottoming at Helix, and do you prefer one over the other in your personal life?
I am a top. 100%. Although I've bottomed in the past, it's never held the appeal like that of thrusting into a tight ass. Although bottoming in the industry may come at some point, it will take some die hard Calvin Banks fans to convince me.
What kind of porn did you watch before you decided to get into the industry?
Rough gay porn. All the way. I am totally captivated and thrilled by the incessant pounding of a rock hard top into some little bottom bitch's ass.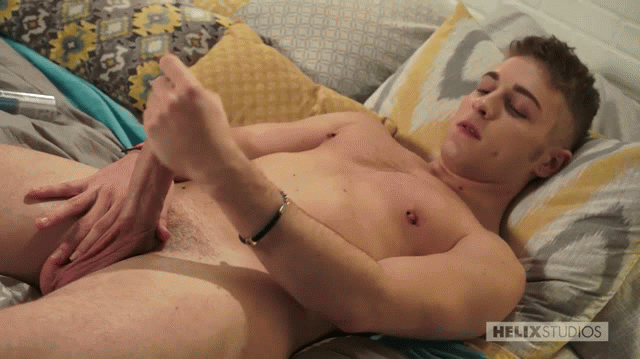 You've become fairly popular in a very short amount of time. What's it like to suddenly have "fans" and followers, and has any of it been overwhelming?
I absolutely adore the fans! I can't even call them fans. With the outstanding amount of support and love I've received so far, they're more like friends. I mean, 1,700 Twitter followers in only two weeks, without even having a scene released?! It's completely blown my mind. I couldn't be happier with the attention. And I've yet to be overwhelmed by any of it, although I've only had to worry about my Twitter and now an Instagram. I have to constantly be on my phone, just to keep up.
When you aren't filming porn or working, what do you do in your free time?
When I'm not working (which can be up to 72 hours per week), you can definitely find me kicking back with my friends, or getting turnt at the club. Every Thursday I attend the drag show at Ego Providence, and every Saturday I'm half naked on the dance floor there. I love to snowboard and play video games. I'm a hardcore stoner at heart and I guarantee you my friends and I could out smoke anyone!
"Is it too late now to say sorry?"? pic.twitter.com/Az8WDL43QP

— Calvin Banks (@CalvinBanksxxx) February 4, 2016
If you could pick any celebrity or famous person to film a gay porn scene with, who would you pick, and why?
Tom Daley, the Olympic diver. I swear I'm in love with him. He's perfect in soooo many way. From his ideal height, to his incredibly toned body, all the way to his gorgeous personality and fun-loving attitude. I see a lot of myself in him. But I would just as quick trade that for a night wrapped in Ryan Reynolds muscular arms. Ohhh my lordy, I would lick sooo many toppings off of his chiseled abs!
Do you have a "type" of guy that you're normally into?
I really can't say I have a type. I mean, I definitely have preferences, but essentially if I see something I like, then I want it, and I often get it. I would be more inclined to take a muscular guy home instead of a bony little twink, but that's not to say I wouldn't take the twink.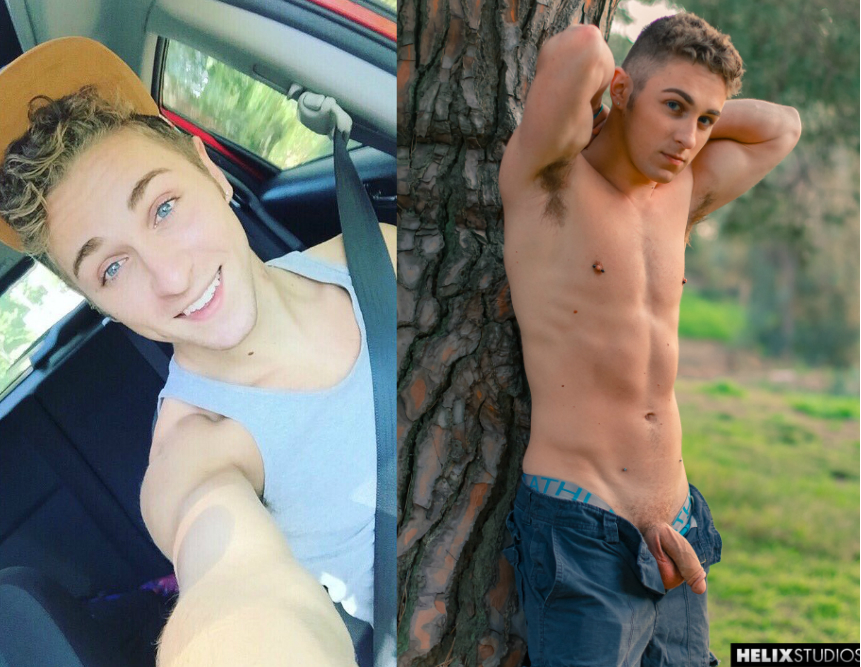 What qualities or traits do you look for in a guy?
I always look at a guy's eyes. And if the eyes are blue, it's a done deal. Blue is my absolute favorite color, cause it's the color of my eyes. Basically, I like pretty boys. Doesn't matter height, or level of muscle. It's fine to not be on top of your physical fitness, but being totally out of shape is so unappealing. So long as you're nice on the eyes, I'll take the next step—which is taking you on a date and getting to know you.
When did you know you were gay? Are you out to your family?
I'm not totally sure when I first realized that boys are so damn attractive to me, but I voluntarily touched my first dick I think at age…8? Then again at 11, and so on until I lost my virginity at 13. And ever since then, I've been obsessed. Kinda funny, because up until about my sophomore year I used to get these silly yet intense little crushes on girls, which would cause me to totally question if I was gay or not. But I grew out of that at 15 when I came out to my family. I received so much love and support from the people around me, coming out caused very few problems. Any issues brought about by those less accepting were quickly taken care of by myself, my friends, and my family.
Do friends and family know about your new line of work? If so, how did they react?
Not all of my extended family knows about my new career in the industry, however all of my friends and immediate family do. I've received a lot of support, but I've also lost a few people to it. Two of my longtime best friends washed their hands of me upon returning from my first California trip to Helix. And although it was hard at first, this has helped me to find my true friends. Unfortunately, I didn't get the best response from my mom when she found out. I've actually got to find a new place to live within the next couple months. I can't blame her though, because it is definitely a difficult thing to accept about your son. So, I'll move out and start my own life where she won't need to know or worry about me.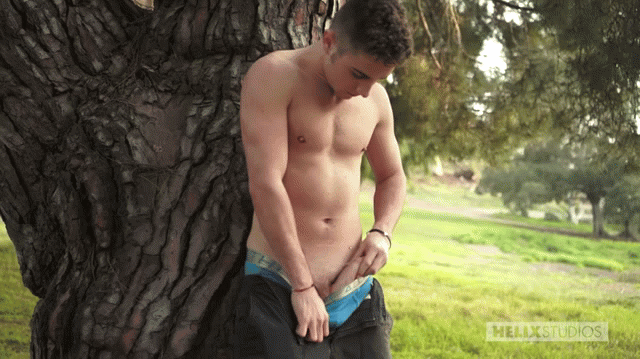 What can we expect to see from you in the coming months? Any hints?
Well, I aspire to become Helix Studios' next big thing. Their featured porn star. The go-to top. I fully intend to begin camming shortly after my scene debuts. As for upcoming scenes…well, if they're hot, and they can take a dick, then you can be sure that they'll be taking every inch of mine! I have plenty of time to make my rounds with all these cute bottom boys!
Thanks, Calvin!
[
Helix Studios: Calvin Banks Fucks Tyler Hill
]