[UPDATED] Is Gay Porn Star Cameron Diggs A White Supremacist?
Whenever his name comes up in a post, many commenters accuse gay porn newcomer Cameron Diggs of being a white supremacist.
Is he?
Cameron Diggs has been embraced by the gay porn industry (what white guy with tattoos hasn't), having worked with RagingHotFalcon, CockyBoys, and NakedSword in 2016. The belief that he is a white supremacist (or at least someone who sympathizes with the white power movement and/or Nazis) stems from the two Iron Cross tattoos he has on the upper left and right sides of his chest: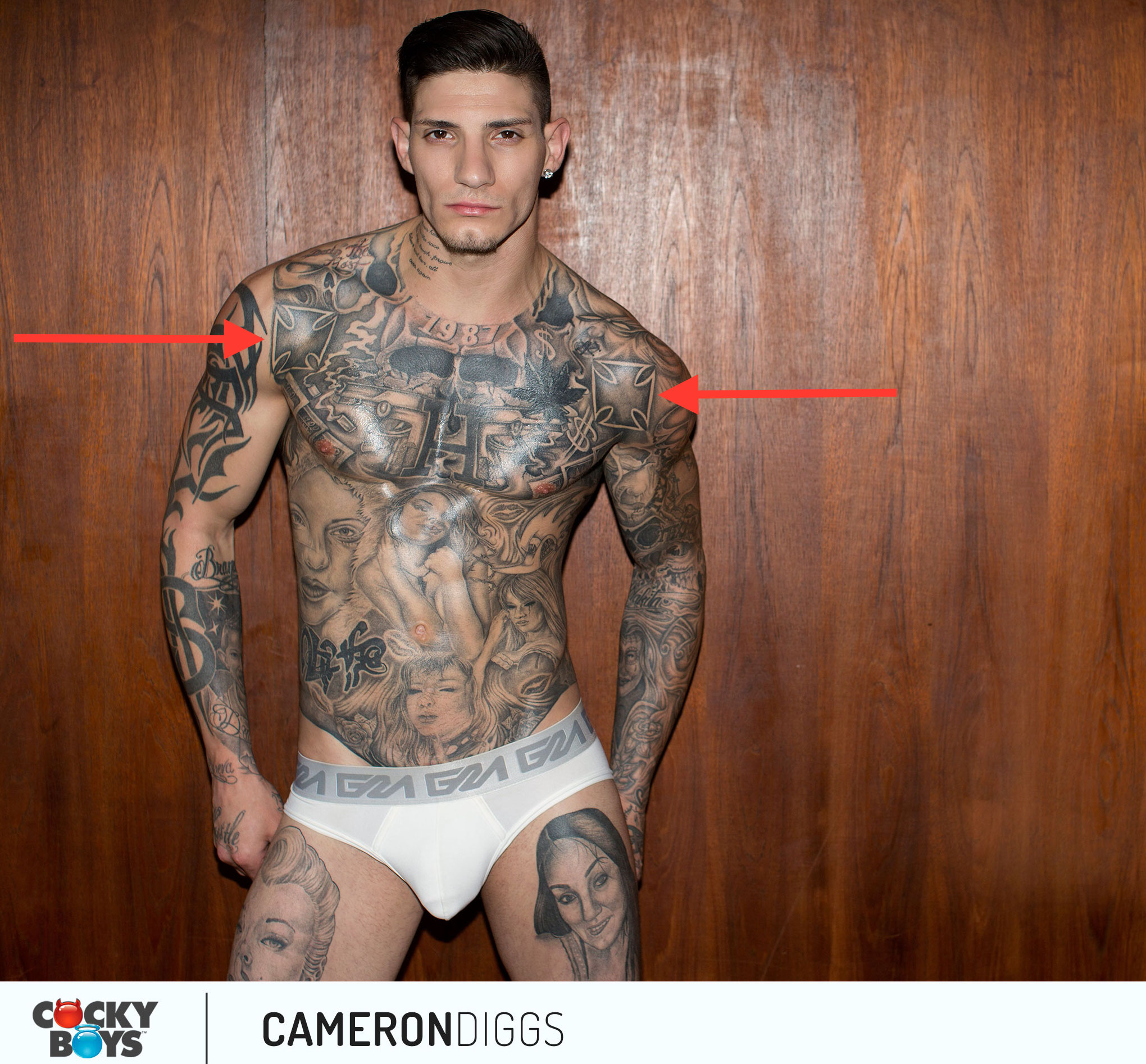 The Iron Cross—a military decoration used in Nazi Germany—is sometimes accompanied by swastikas and other symbols of Nazi propaganda:
But on its own, does the Iron Cross really symbolize white power and Nazism for Cameron Diggs? Not necessarily.
The Anti-Defamation League database explains:
The Iron Cross is a famous German military medal dating back to the 19th century. During the 1930s, the Nazi regime in Germany superimposed a swastika on the traditional medal, turning it into a Nazi symbol. After World War II, the medal was discontinued but neo-Nazis and other white supremacists subsequently adopted it as a hate symbol and it has been a commonly-used hate symbol ever since.

In the United States, however, the Iron Cross also became one of several Nazi-era symbols adopted by outlaw bikers, more to signify rebellion or to shock than for any white supremacist ideology. By the early 2000s, this other use of the Iron Cross had spread from bikers to skateboarders and many extreme sports enthusiasts and became part of the logo of several different companies producing equipment and clothing for this audience. Consequently, the use of the Iron Cross in a non-racist context has greatly proliferated in the United States, to the point that an Iron Cross in isolation (i.e., without a superimposed swastika or without other accompanying hate symbols) cannot be determined to be a hate symbol. Care must therefore be used to correctly interpret this symbol in whatever context in which it may be found.
Str8UpGayPorn has reached out to Cameron Diggs for his own explanation on the tattoos. As of post time, he has not responded.
Given the ADL's explanation and the use of the Iron Cross in popular culture, it's reasonable to assume that Diggs is not a white supremacist, and that he did not get the tattoos because he believes in white power. Given the history and implications of the symbol, however, an Iron Cross is still an incredibly dumb thing to have painted onto your body.
UPDATE:
As a commenter has just pointed out below, in addition to the Iron Cross, Cameron Diggs also has an SS Bolts tattoo on his right hip, which is yet another Nazi symbol. The combination of the SS Bolts and the Iron Cross can't be a coincidence, and I'm now more inclined to believe that Cameron Diggs is in fact a white supremacist.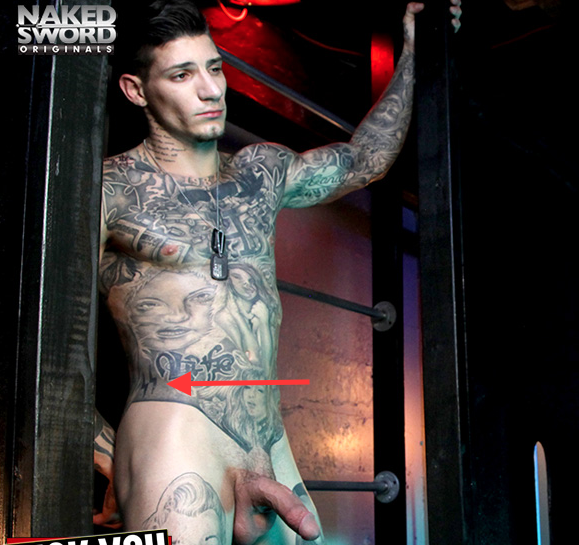 ***
Cameron Diggs appears today in the finale of NakedSword's Fuck You I'm Infamous (thank God this is the finale and I never have to type that stupid title again) with Colton Grey.
Trailer (watch full scene here):
[
NakedSword: Cameron Diggs Fucks Colton Grey
]