WATCH: ChaosMen's Bronson Touches Another Man's Cock For The First Time
ChaosMen's Bronson has never had sexual contact with another man before, but there's a first time for everything, and Wright helps him along today.
In today's ChaosMen update, Bronson touches another man's cock for the first time: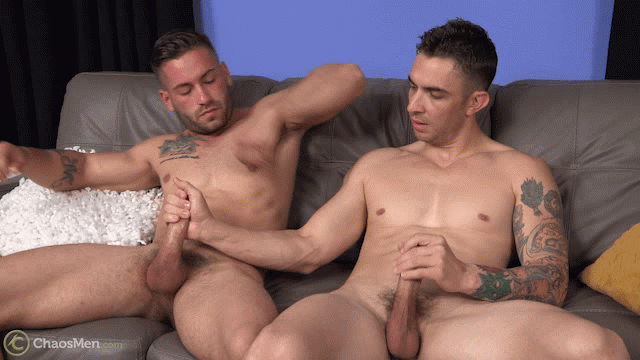 Unfortunately, stroking another man's cock is as far as Bronson is willing to go, for now. Via ChaosMen:
Bronson's sexual activity with dudes was really just art and photo shoots. No actual contact. I set up the video as a side-by-side jerk-off, hoping Bronson would get into it. Wright is a lot more comfortable these days, so he got hard easily. Bronson watches the porn intently and gets solid, while Wright works his way up to jerking his buddy's cock. Bronson then reached over and stroked Wright's dick, and I think that hit his limit. He gets a little wobbly, so Wright switches it so he is sucking on Bronson's cock.
Despite the difference in size (Bronson is 5'5″ and Wright is 6'1″) and Bronson's overall nervousness, I think they look good and work well together. Bronson eventually lets Wright suck his cock, and later Bronson cums on him.
Bronson is scheduled to come back, and given the way straight guys at ChaosMen evolve, that means he'll be topping someone. He's cute, and I have a feeling he might end up being a rough, strong top? Fingers crossed…
I would love to get Bronson back for more. So far, he says he might be down to suck dick and top a dude, and he is scheduled to come back!
Trailer (watch full scene here):
[
ChaosMen: Wright And Bronson
]