ChaosMen's Zane Returns To Be Barebacked By Nicholas Duff
After an extended retirement, ChaosMen's Zane (formerly Corbin Fisher's Todd) returns to be fucked bareback today, and the man doing the topping is Nicholas Duff (formerly Corbin Fisher's Nicholas).
As those with long memories can recall, Zane retired from gay porn in 2009, shortly after former gay porn star Mason Wyler—who claims to have fucked Zane in Texas—accused him of being a "crazy, roid-raged, drug-addicted, racist asshole." Mason Wyler, in 2009:
[Zane] has some major anger issues and he's an ignorant racist. I don't mean he let "nigger" slip out of his mouth a few times, I mean he said it every time we saw a black guy and he said it with so much anger, disgust, and hatred you could feel it. One night during dinner…I told him his racist rant and remarks made him sound dumb. And then an explosion ensued. … A beer mug was flung at my face with great velocity. Fortunately he missed and it just shattered into a million little pieces against the back wall of a very busy restaurant. The place went dead silent…

It was then that I fully realized why [Zane] had absolutely no friends, no boyfriend, no girlfriend, no money, and no hope. …HE was an asshole. A crazy, roid-raged, drug-addicted, racist asshole with a serious case of Attention Deficit Disorder and a complete lack of sexual identity. I dropped him off in Dallas the next day.
After Mason came forward with this information, ChaosMen owner Bryan sent the below email to Mason, essentially confirming most of what Mason had said. Mason published Bryan's email on his blog: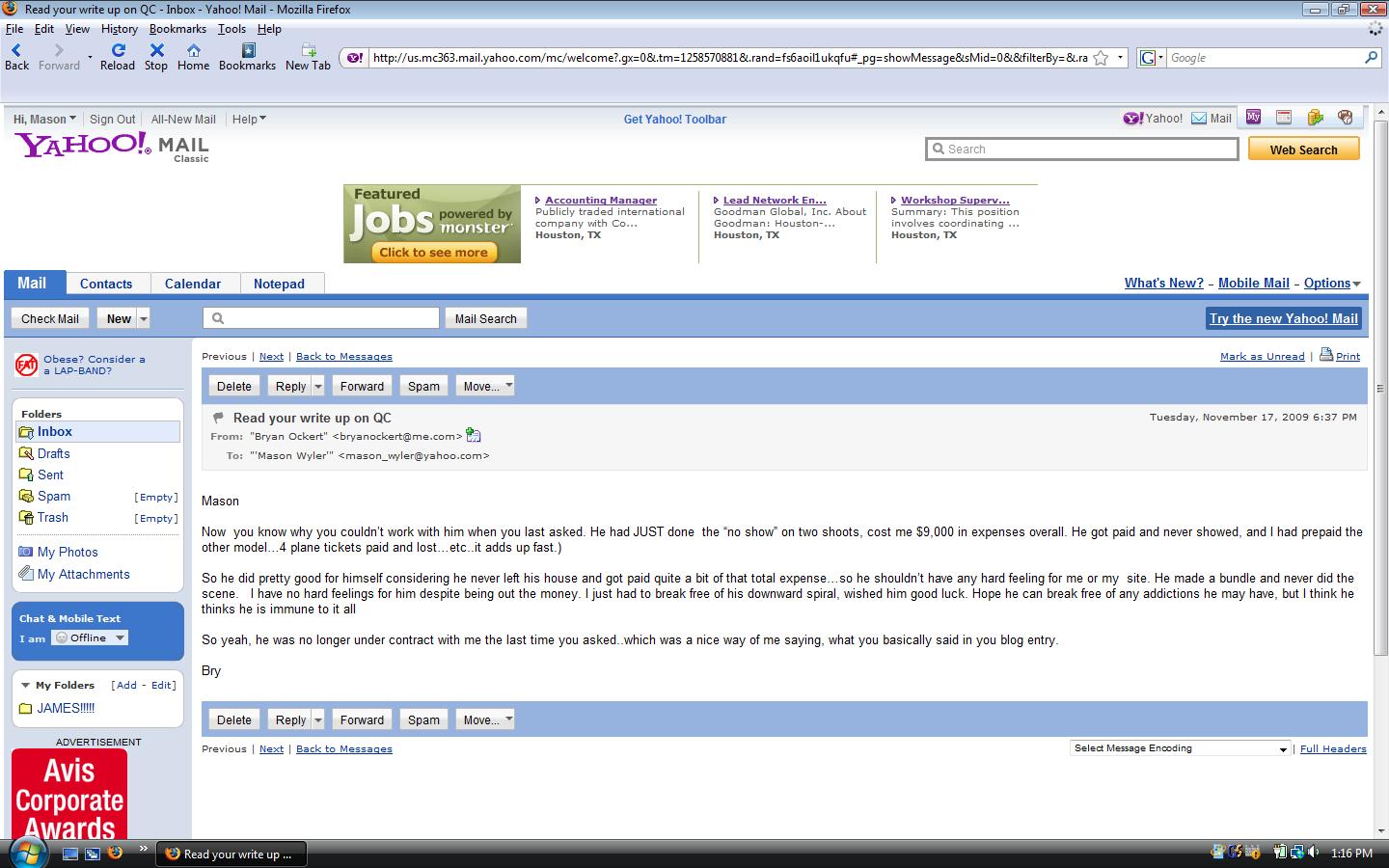 Well, Zane's "downward spiral" must've ended, and Bryan obviously forgave him, because he's filmed at least two new scenes at ChaosMen (today's duo, and his solo last month). Of course, if Zane cost Bryan $9,000 in expenses, I wonder if he was paid to perform in these scenes, or did he do them for free, as a way of paying Bryan back? And, is he still an unabashed racist who uses the n-word, as Mason Wyler described?
Trailer (watch full scene here):
[
ChaosMen: Nicholas Duff Fucks Zane Bareback
]