Bonkers Men.com Porn Goes Off The Rails With Passengers Fucking In Airport And Ticketing Agent Shooting Cum Everywhere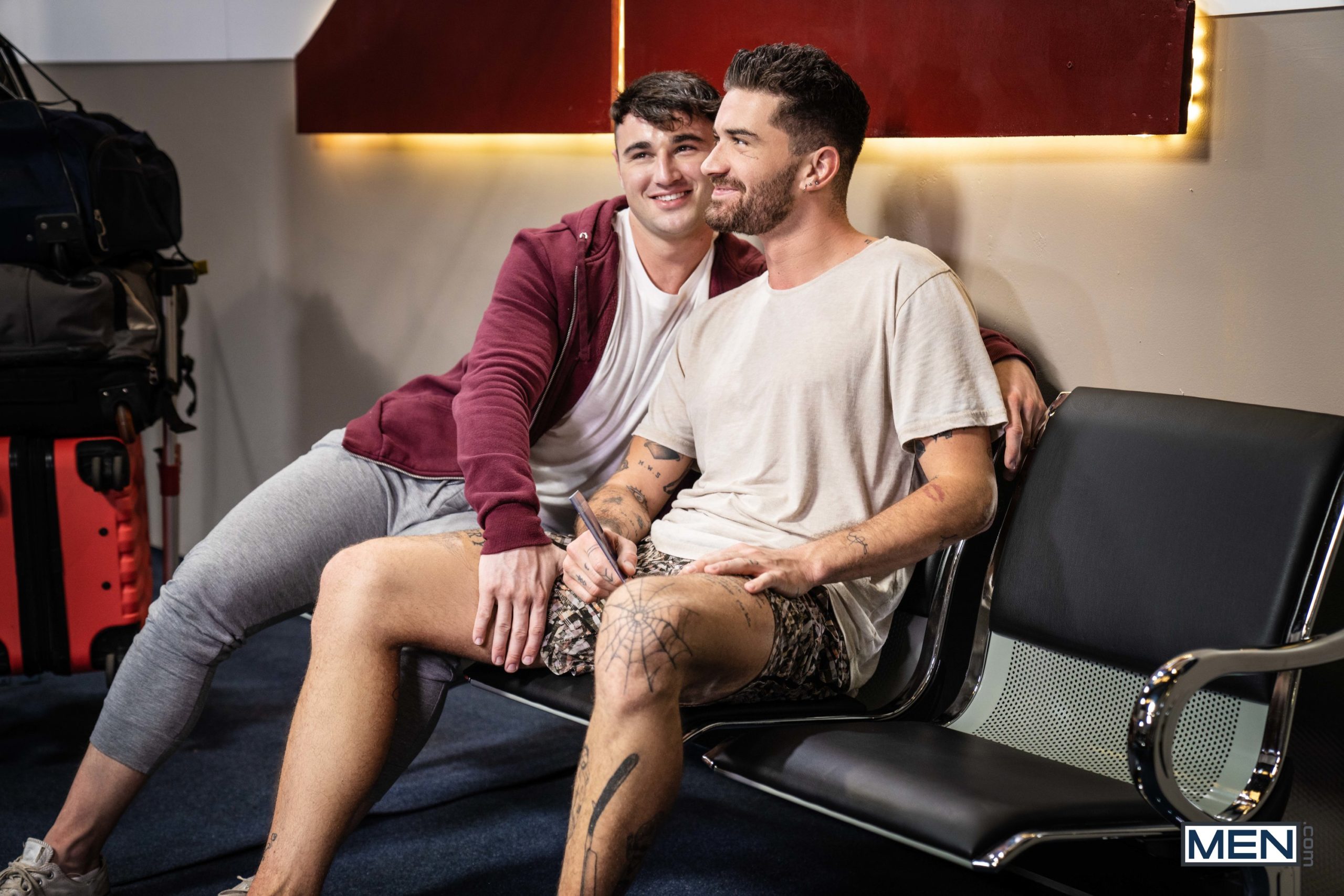 We saw people fucking on a subway last month at Men.com, and now it's time to watch people fucking in an airport. In "Layover My Dick, Part 1" (yes, it's a series), Chris Damned is fucking Michael Boston at a departure gate, right in front of a bunch of people (none of whom are TSA employees, apparently).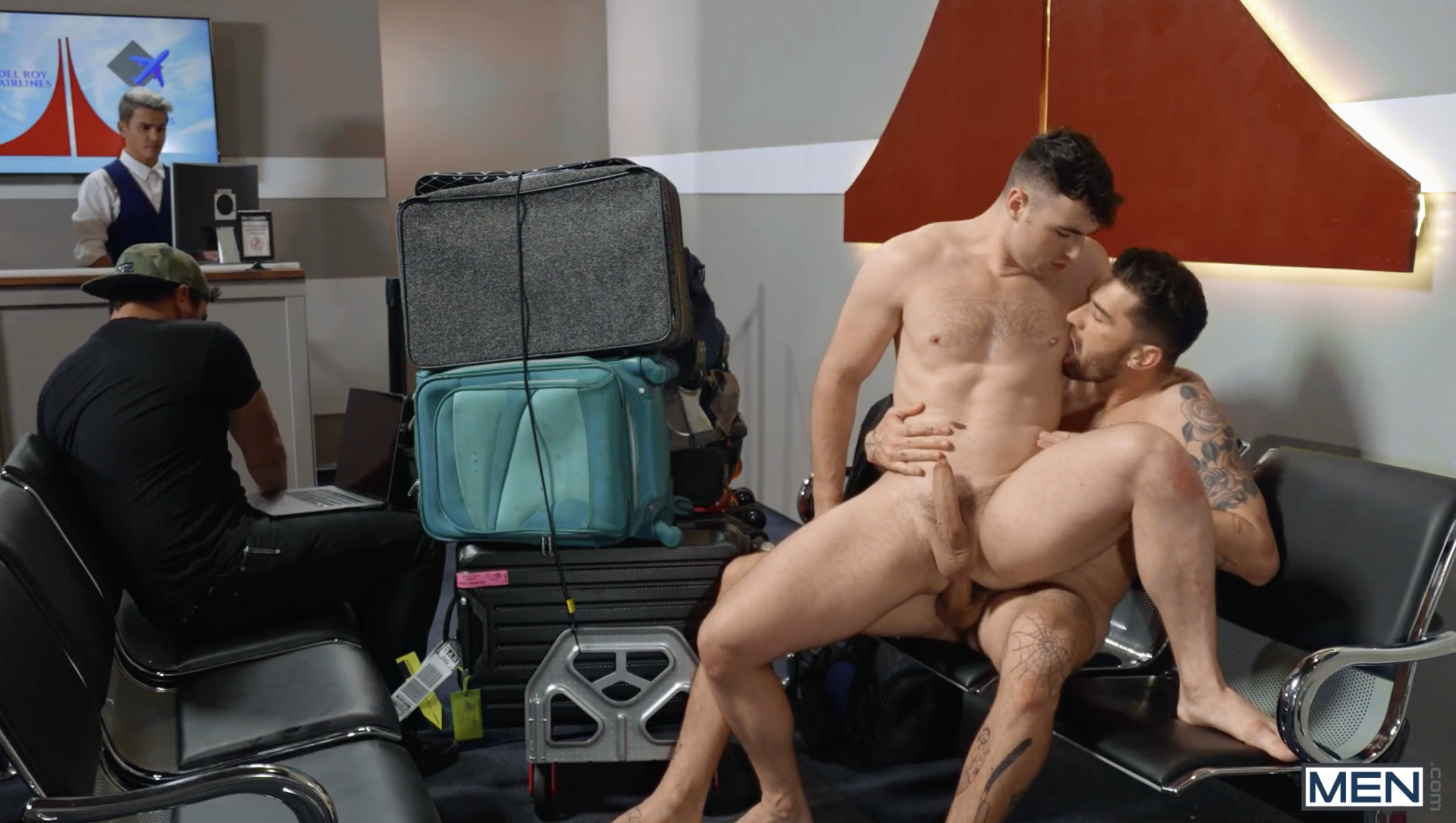 Let me guess: They're going to Puerto Vallarta?
You have to love that the people sitting RIGHT NEXT TO THEM can't tell what Chris and Michael are doing, and yet, Andy Taylor—who is all the way on the other side of the room—can see exactly what they're doing. Andy the horny ticketing agent starts jerking off when he sees his passengers having sex. Totally normal stuff.
And no, in case you were wondering, this is not a departure gate for Spirit Airlines, it's for an airline called "Del Roy" (does this mean Michael Del Ray will be in an upcoming episode?).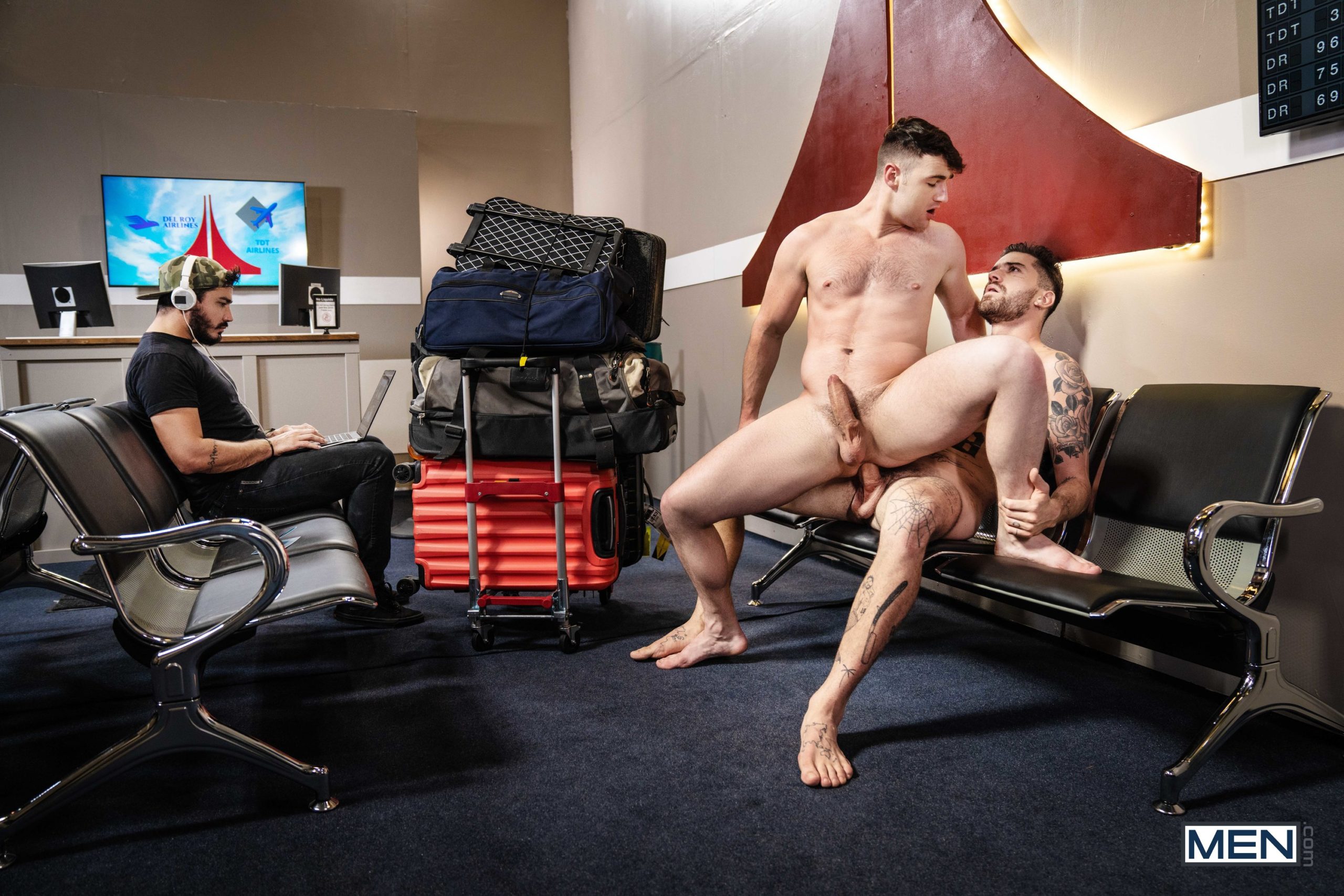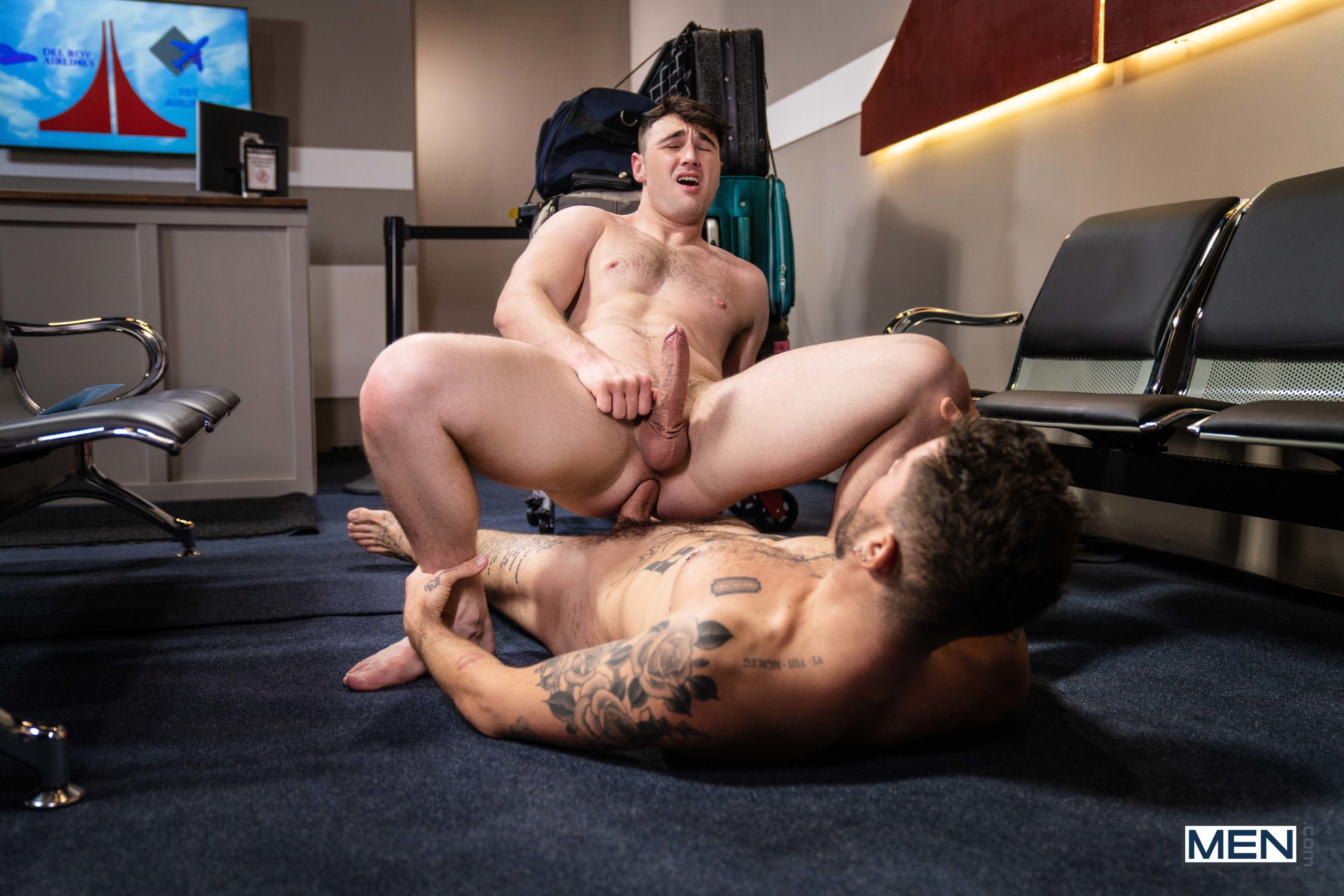 Given that people fucked on a subway previously at Men.com, I'm surprised the studio didn't have people fucking on an airplane for this series. Maybe even Men.com realized it would be too unbelievable to have people fucking in tiny airplane seats surrounded by other passengers? Nah, that's not it. Maybe an airplane set was just too hard to construct.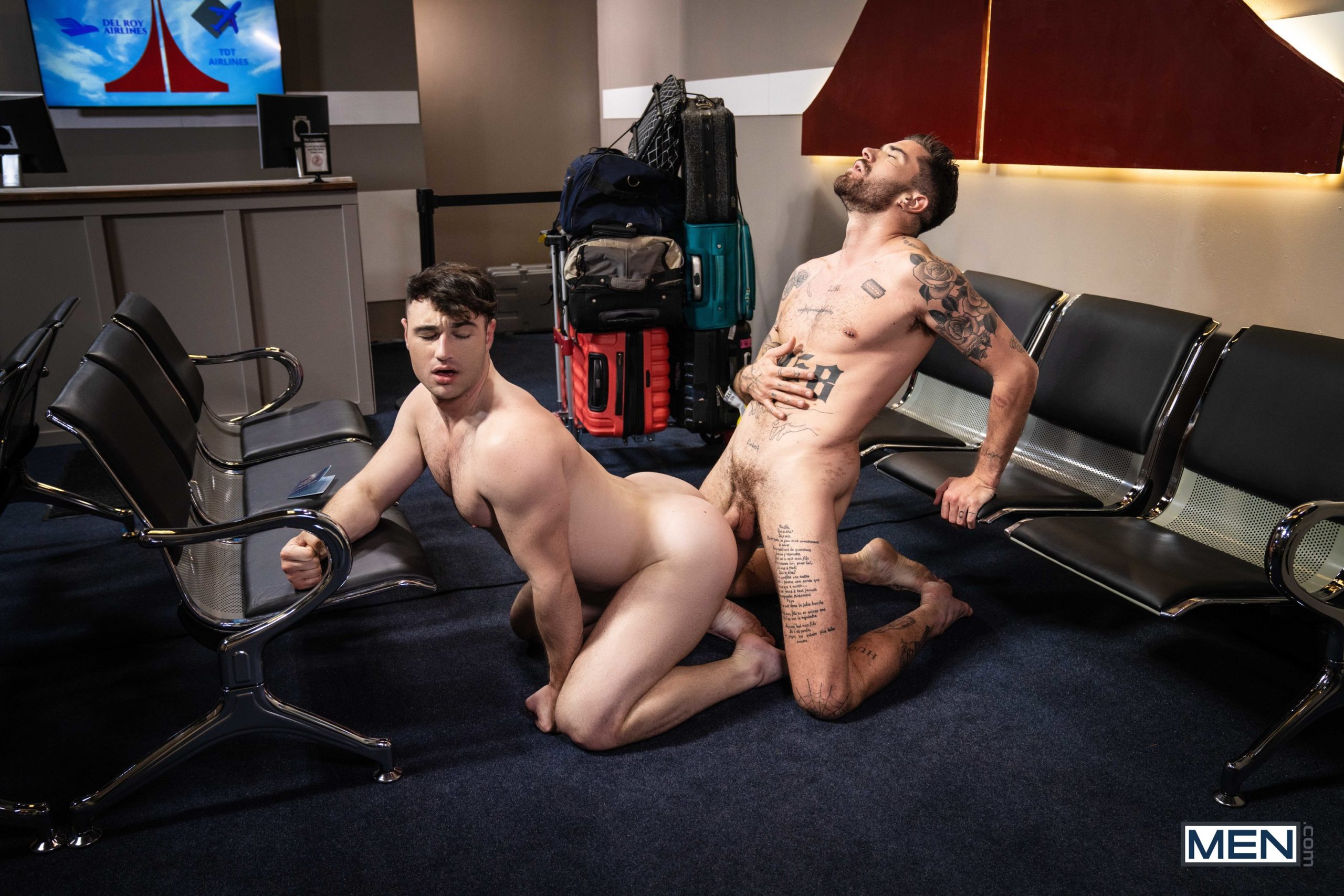 This is complete and utter nonsense, but I screamed laughing at this part:
Pulling on his ear as if he's trying to hear something more clearly? This is what finally helped him realize what was going on? Does he not also have, oh, I don't know, EYES?
This took me out.
As did this: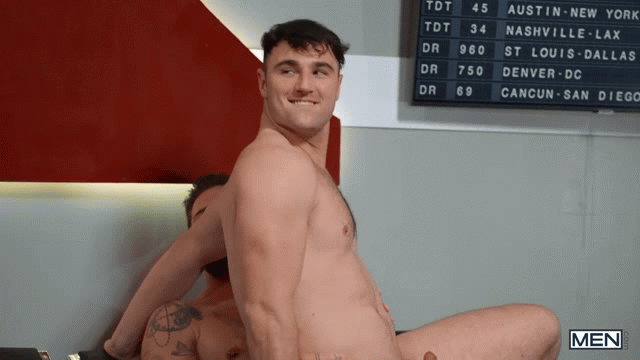 The only thing Men is more obsessed with than people not being able to tell that other people are fucking right in front of their face? Fake cum. Andy busts a fake nut (although, it looks like he does cum for real during a different take) when one of the passengers approaches him looking for an upgrade.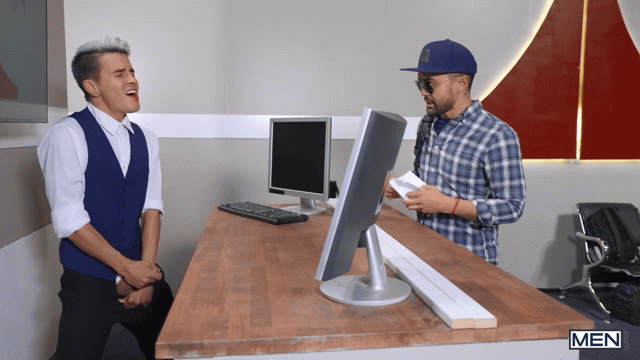 This is by far the most ludicrous Men.com scene in recent memory, but I can't remember laughing so much at any gay porn scene ever, so I guess it works? Then again, this isn't really gay porn so much as it is XXX theater of the absurd, and it's sort of brilliant. Nothing has made sense for over a year now, so every once and a while, I appreciate a gay porn scene that is as fucking ridiculous as everyday life.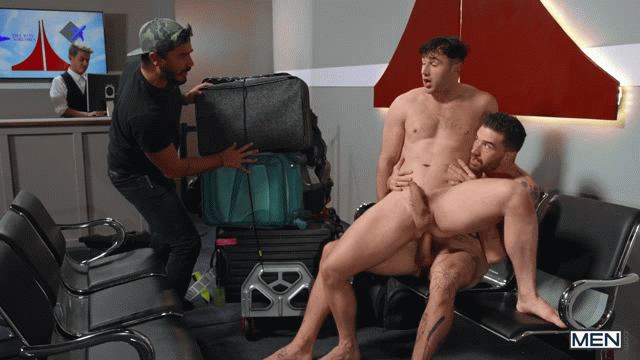 It should also be noted that the acting here from Andy, Chris, Michael, and even the extras is flawless. How they are able to pull this off without being awkward, unsure, too corny, or too over the top is remarkable. Only gay porn stars would have the confidence to do something this insane. Trailer (watch full scene here):
[
Men.com: Chris Damned Fucks Michael Boston Bareback
]