Beaux Banks Hides In A Duffel Bag So His Sister Won't See Him Sucking Her Boyfriend's Cock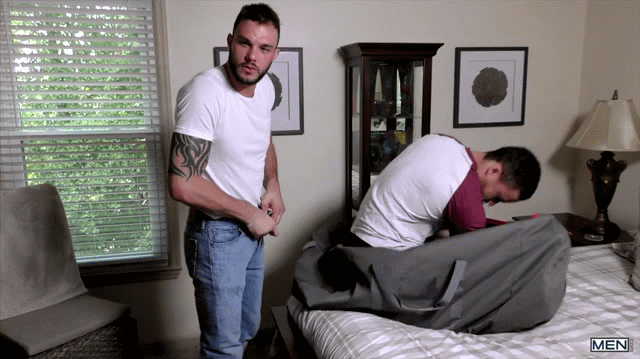 Today in women who discover that their boyfriends/husbands are fucking other men, it's a woman who finds out that her brother (played by Beaux Banks) is being fucked by her big-dicked boyfriend (played by Cliff Jensen). This scene is, of course, from Men.com, and instead of a salad, this time the woman makes the adulterous gay sex discovery via a duffel bag in which Beaux Banks is hiding.
The bag was the only place for Beaux to hide when his sister walked in and almost caught him sucking her boyfriend's cock. And because Cliff and the woman were apparently going on a trip, the bag (with Beaux inside) went with them. Obviously, the sister finds Beaux later and leaves in disgust, which gives Cliff and Beaux the opportunity to continue their fuckfest.
It's weird that straight men and straight women dominate the gay porn industry now, playing key roles both as producers/directors behind the camera, and as actresses in front of the camera in straight-themed gay porn scenes. And because it's so "crazy" for women to find out that their boyfriends are gay (or at least having gay sex), straight women and men (and their salads) are being used more than ever to advertise gay porn online. Heteronormativity and shock marketing aside, all that matters to gay consumers is if the gay fucking is good, and luckily, the gay fucking here is actually very good. Just fast forward through the rest. Trailer (watch full scene here):
[
Men.com: Cliff Jensen Fucks Beaux Banks
]