WATCH: Ricky Roman, Boomer Banks, Carter Dane, François Sagat, Sean Ford, And Levi Karter In CockyBoys' All Saints

The first episode from CockyBoys' All Saints just went live, and Str8UpGayPorn has your first look at the episode trailer, as well as the full series trailer below.
All Saints features an all-star cast in 12 visually stunning episodes that were shot in several locations over the last two years. And, several of the actors in All Saints are reprising their roles from CockyBoys' groundbreaking 2013 series, Answered Prayers. Most notably, Ricky Roman returns as the "The Banker," and Levi Karter returns as "Puck":
And, there's a cameo from Max Ryder's "The Lamb":
The All Saints cast (which, at this point, is the biggest and most star-studded of 2018) also includes Boomer Banks, Sean Ford, Josh Moore, Calvin Banks, Carter Dane (in his first performance in over a year), Adam Ramzi, and even François Sagat: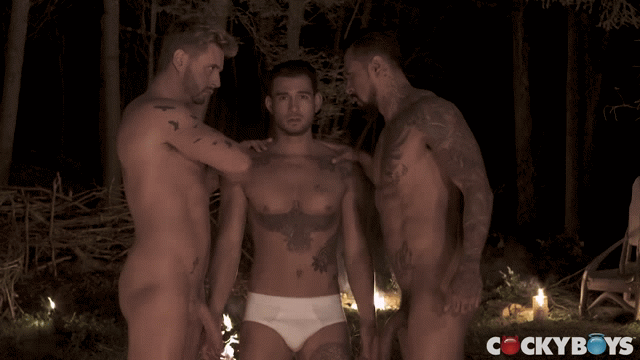 Please pray that the glimpses of Boomer Banks, Ricky Roman, Josh Moore, and François Sagat on the same set mean that they'll be having a fourgy. Also pray that those flashes of Carter Dane with both Levi Karter and Sean Ford mean that there are duos with them. Trailer for All Saints:
[
CockyBoys: All Saints
]
And, the first episode just released features Adam Ramzi and Calvin Banks:
Here's how the series will be released throughout 2018, along with this first episode's description, which reveals what All Saints is about:
ALL SAiNTS is broken up into three chapters, with each chapter containing four episodes. ALL SAiNTS will be rolled out throughout the year. Set against the mystical landscape of New Orleans, ALL SAiNTS, continues and builds upon the unique mythology that fans have come to love in ANSWERED PRAYERS. Adrian, a grad student (Calvin Banks) has just become a research assistant to a forward thinking professor (Adam Ramzi) at the Institute of Religious Studies in New Orleans. Since he was young, Adrian has been fascinated by the more magical and fantasy driven aspects of the Bible and is now in the perfect place to explore and hopefully prove some of his non traditional "theories." But the arrival of a lawyer (Carter Dane), representing a major funder of the institute, sets off a chain of events that will soon open up a world of mystery, power, and understand that will change his life forever.
Trailer for the first episode, which is now live, starring Adam Ramzi and Calvin Banks (watch in full here):
[
CockyBoys' All Saints: Adam Ramzi Fucks Calvin Banks
]