Gay Porn Star Colby Jansen Fucked Bareback
After nearly four years as a Men.com exclusive and nearly 100 condom-only scenes, Colby Jansen is making his bareback gay porn debut, and while the footage is rough, it's undoubtedly better than anything he's filmed before.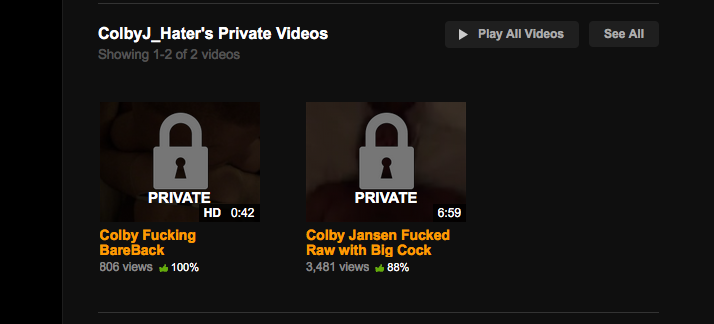 In an undated clip—entitled "Colby Jansen Fucked Raw With Big Cock"—that was posted to Pornhub last week (which, as screencapped above, has just been set to "private" after being viewed 3,481 times), Colby Jansen is fucked bareback by a well-hung white top. At the same time, Colby Jansen can be seen sucking a giant black cock, and he appears to be enjoying himself immensely. Shortly after :57, one of the men tag-teaming Colby Jansen suggests that they "give him a break," and that they are being "greedy" with his holes, but Jansen—who is fully erect throughout the clip—in effect tells the two men to keep going. "That's OK," Colby moans while being fucked bareback and sucking cock, "be as greedy as you want. I'm down with it."
Where has this Colby Jansen been for the last four years, and is this his best performance ever? You decide:
Update
: Because Pornhub has deleted both videos and the user account that posted them, Str8UpGayPorn has removed the videos from this page.
In a second, shorter video posted to the same Pornhub account, Colby Jansen and the two men switch things up. Here, Colby Jansen is fucking the white man (presumably) bareback, who is simultaneously fucking the black man, as Jansen—who is holding the camera and recording the bareback fuckfest—narrates: "Fuck your ass back into my cock…yeah baby. Fuck him while you fuck me!" At around :37, one of the unidentified bottoms can be heard repeating the words "Rape me…rape me."
In 2012 interview, Colby Jansen acknowledged that HIV/AIDS was a "real problem," and he strongly condemned studios for filming bareback sex:
OK, this is something I am very passionate about, HIV/AIDS is a very real problem in the world. The studios that don't use condoms and proper testing are putting their employees (models) in real danger. I've heard all their lame excuses and I'm also privy to the higher per scene rates they claim, which is hardly worth it to expose one's self to bareback sex. The portrayal of actors engaging in bareback sex only encourages the everyday gay man to think that it is acceptable behavior. The 18-25 year olds that are out there have virtually no fear of HIV/AIDS and I feel that it is up to the porn companies that are out there to set an example and take a lead in the fight. It is reckless and heartless to take advantage of these younger guys, just in the name of, "it's hot."
It's unclear if Colby Jansen's bareback sex tape was shot before or after he gave this interview expressing his "passionate" views. Perhaps because he's a gay porn star and not a gay porn company, he's not required to "set an example" for "everyday gay men"?