Collin Simpson Hypnotized Into Gay Three-Way While Dressed As Superman
Collin Simpson's previous scenes on ManUp featured him being hypnotized into wearing fishnet stockings while fucking his psychiatrist and being hypnotized by magic crystals while bottoming for a guy who was trying to sell him a rug. Today, Collin's hypnotic journey continues as he's hypnotized into fucking his friend in front of the doctor Collin is seeing about his short term memory loss.
Also? Collin is (obviously) dressed up as Superman for some reason when he goes to visit his doctor, which is actually the least crazy aspect of this hypnosis-themed three-way.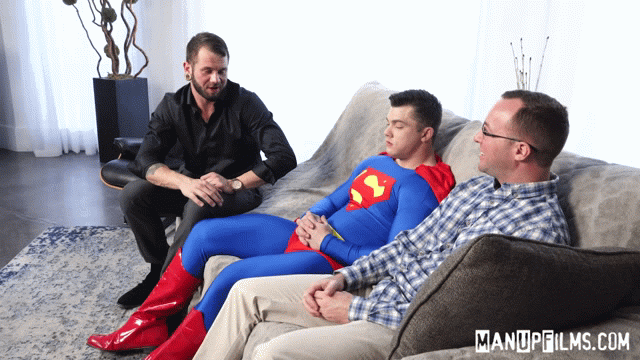 I guess the friend (played by Alex Hawk) brought Collin to this doctor (played by Johnny Hill) because he knew Collin would be hypnotized, and this is the only way the friend could trick Collin into fucking him? Makes sense, and is a totally cool way for a friend to behave.
It's a good day for the friend, because in addition to being fucked by Collin, he gets to be fucked by the doctor, too.
Of course, once the hypnosis wears off, Collin has no idea why he is naked and having a three-way with his doctor and his friend. I can see how this might be confusing.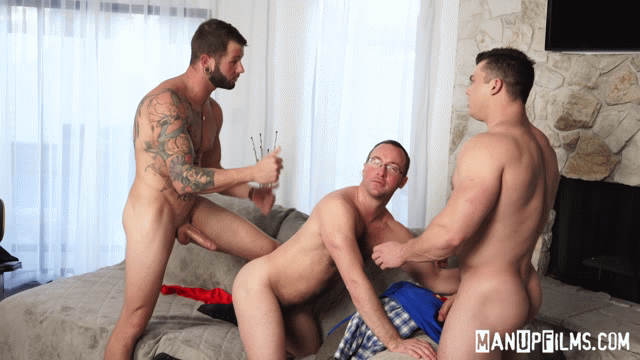 Will anyone ever have sex with Collin Simpson without having to hypnotize him? Given that he's straight, probably not. (Maybe they should hypnotize him into being permanently gay at his next doctor's appointment? Like a reverse gay conversion therapy!)
Trailer (watch full scene here):
[
ManUp: Jonnny Hill And Collin Simpson Fuck Alex Hawk Bareback
]