Josh Brady Accidentally(?) Creampies Corbin Colby During Bareback Flip-Fuck
This is the pairing that literally every single Helix fan (and probably most gay porn fans in general) has been waiting for: The pairing of Josh Brady and Corbin Colby.
Expectations are extremely high, so is this any good? Yes, it definitely is.
With Corbin deep-throating Josh and then Josh eating Corbin's ass, the oral portion of the scene is a great warm-up to the main event. Once Josh slides into Corbin, things get even better, and you can tell these two have been waiting to fuck for a long time.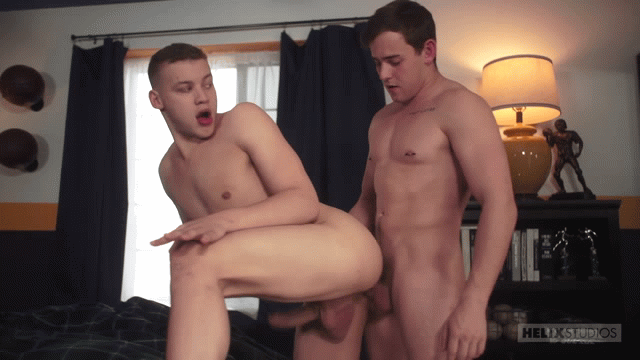 After Josh slams Corbin doggy style for several minutes, they switch things up for some more oral, with Josh sucking Corbin's cock, and then some 69.
Josh then bounces up and down on Corbin, who's able to lean in and suck Josh's cock simultaneously. Then, Corbin gets on top of Josh, and this is where there might've been a mistake, as Josh starts cumming while Corbin is riding his cock. Oops:
Neither the performers nor the film crew acknowledges the creampie (which means it must've been an accident?), and Josh just keeps on fucking Corbin even after he's cum—and even as there is tons of cum dripping out of Corbin's ass and down Josh's cock. Whether or not this was intentional, this is the best accident ever, tbh: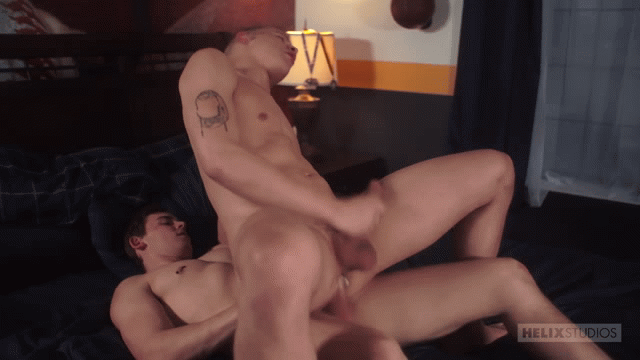 They're not done yet, as Corbin goes back to fuck Josh some more, which makes Josh cum again. (The way it was filmed, this second load from Josh was clearly the intentional cum shot.)
Corbin then cums onto Josh's hole, and it's the perfect ending to an almost perfect scene. They could've acknowledged that accidental creampie instead of trying to act like it didn't happen, but then maybe it wouldn't have been as hot? You'll have to watch and judge for yourself. Trailer (watch full scene here):
[
Helix: Corbin Colby And Josh Brady Flip-Fuck Bareback
]