WATCH: Dante Colle Has Trouble Seducing Michael Del Ray, So He Fucks Someone Else Instead
When they aren't being simultaneously fucked by robotic dildos or making out in front of homophobic preachers, Dante Colle and Michael Del Ray are good friends in real life, and today they're co-starring in the new Men.com scene.
Dante and Michael aren't fucking today, sadly, and Michael only has a cameo in this scene (Dante's bareback bottom is gay porn star Jesse Prather). And while they're not actually dating or boyfriends, they've been in so many scenes together over the last two years, I almost want to give Michael and Dante an honorary title as Gay Porn Powercouple? I think they've earned it.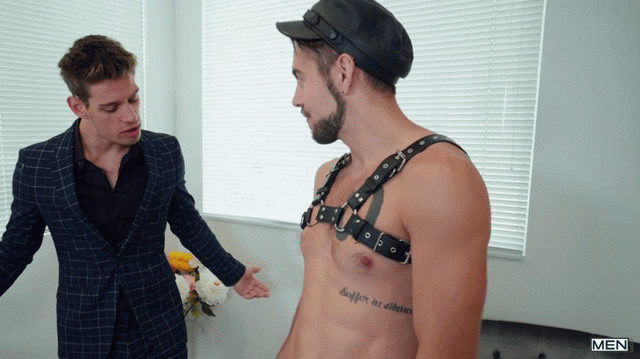 Michael (who plays Dante's boyfriend in the scene) leaves during dinner, and then it's time for Jesse to get fucked:
Michael walks in on them at one point, and he appears pissed:
But then, he must've left, because the fucking continues:
It's a nice change of pace to see a Men.com scene where the guy is cheating on his boyfriend and not his girlfriend. Trailer (watch full scene here):
[
Men.com: Dante Colle Fucks Jesse Prather Bareback
]