7 Times Diego Sans Looked Amazing While Having Gay Sex Backwards, Upside Down, Or Hanging In Mid-Air
While some are frustrated with Diego Sans' long-term (permanent?) bottoming hiatus, I think most will agree that he's still one of the most skilled performers working today, whether he's getting fucked in the ass or not. Diego Sans' ability to suck and fuck people in such a wide array of acrobatic sex positions is unparalleled, and there are few (if any?) gay porn stars today who can say they've had so much gay sex while hanging upside down and/or backwards in mid-air. In honor of Diego's skills (which are on full display in his new scene today, as seen above), here are seven times Diego Sans looked amazing while he was having gay sex backwards, upside down, or hanging in mid-air on Men.com.
1. In "All I Want For Christmas," Diego Sans literally did a backflip while he was fucking his bottom, Scotty Zee, and then continued to fuck him backwards.
2. In "
Please Disturb
," Diego Sans does some more backwards fucking, with
upside down bottom Jeremy Spreadums
. 3. In "
Straight A Student
," Diego Sans and Jack Hunter
deep-throat each other's big cocks
while balancing themselves on some desks in a classroom, and it's some of the best mid-air 69'ing I've ever seen.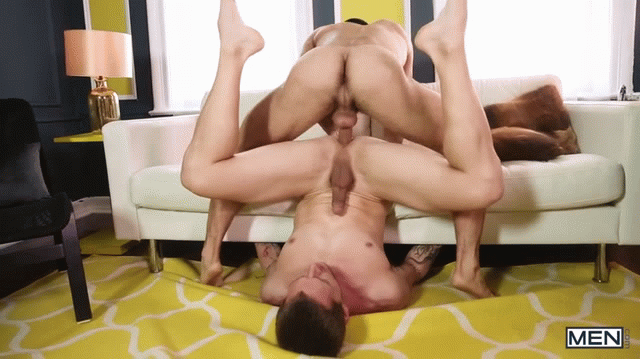 4. In "The Book," it's more of Diego's balls-deep, backwards fucking, with some upside down bottoming from Tayte Hanson.
5. In "
Thoroughbred
," Diego Sans
eats Griffin Barrows' ass
while holding him up in mid-air.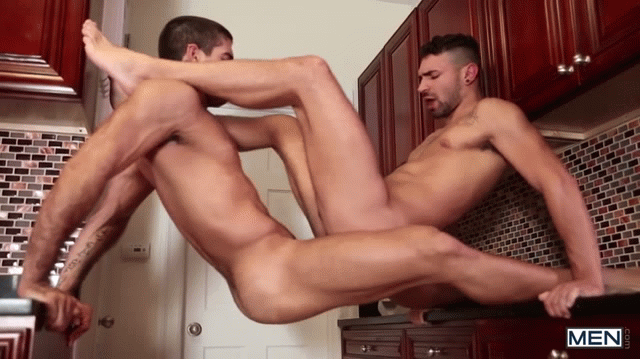 6. In perhaps his most precarious fuckfest ever, Diego Sans butt fucks Ian Greene while both performers balance themselves on two kitchen countertops.
As with all these scenes, credit must be given to the co-star,
Ian Greene
, who is just as adventurous as Diego. This death-defying sex position shows how far some gay porn stars are willing to go in order to please their fans, so thank you again, Ian and Diego! 7. Finally, in today's sex scene, it's Diego who's being held up by his co-stars for some mid-air cock sucking. I guess you could call this a three-way 69(?), with
Diego sucking Tobias and Roman Todd sucking Diego
.
Here's the trailer for Diego, Roman, and Tobias (watch full scene here):
[
Men.com: Diego Sans, Roman Todd, And Tobias
]