Dominic Ford Mischaracterizes UK Libel Case Against Mickey Taylor To Claim He Was "Vindicated" Of Raping Tannor Reed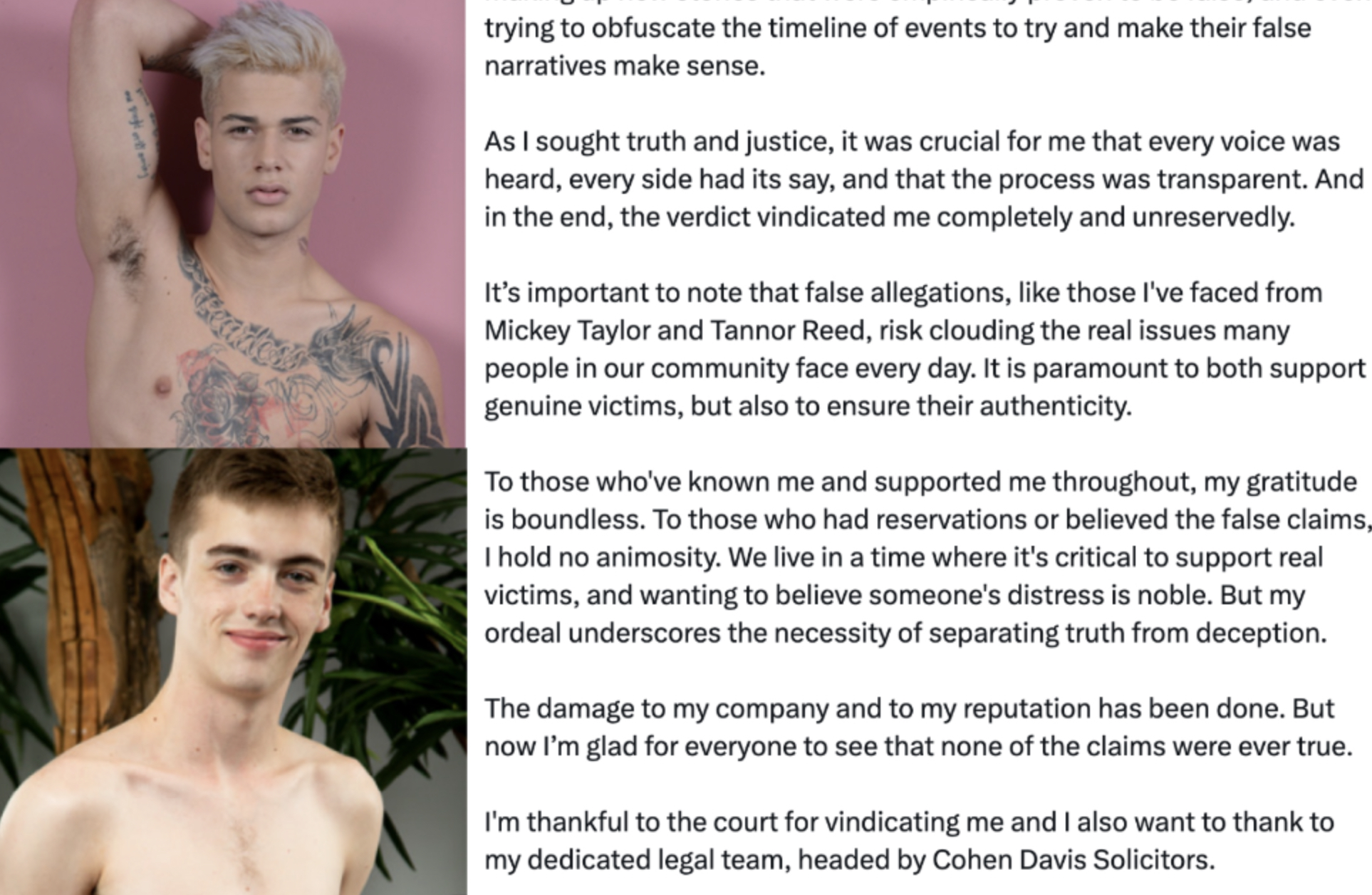 Three years ago, gay porn star Tannor Reed posted a lengthy and detailed statement accusing porn site owner Dominic Ford of sexually assaulting him during a 2019 industry event in Miami, Florida. Ford has denied the allegation ever since, while Reed has maintained that it did in fact happen.
Following Tannor Reed's statement in the summer of 2020, former gay porn star Mickey Taylor, a UK citizen, posted multiple tweets in support of Reed and his accusation. While often tagging Dominic Ford in his tweets, Taylor wrote things like, "Rape will not be tolerated in this industry! Using your power as figure head in the industry to extort models & blackmail them into sex is UNNACEPTABLE! I stand with Tannor Reed," as well as, "Stop raping models!" and, "Someone else wants to come forward about JFF Dominic. This is the 6th victim I have evidence off rape…We're now going to seek his arrest."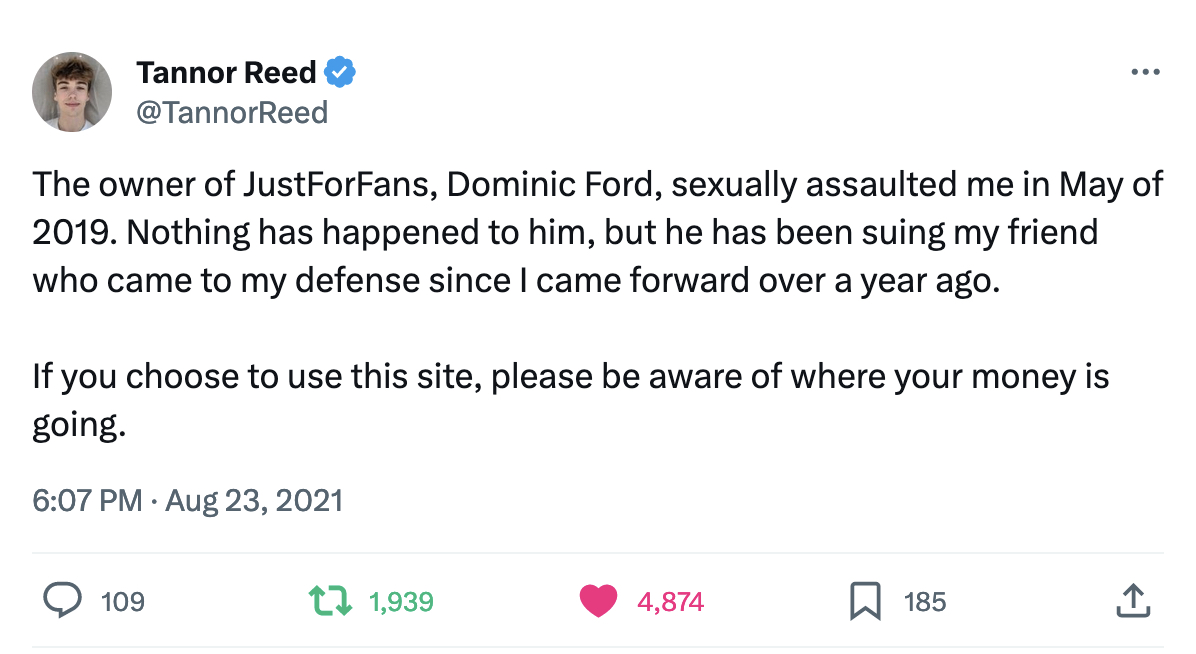 By 2021, Dominic Ford filed a libel lawsuit against Mickey Taylor in the UK (as alluded to in Tannor Reed's tweet, above), and the trial took place in late 2022. Yesterday, the court issued its ruling in favor of Ford, ordering Taylor to pay Ford £110,000 in damages and £212,000 for legal fees, for a total award of £322,000, or about $390,000 U.S. dollars.
In his ruling ordering Taylor (the Defendant) to pay Ford (the Claimant), the Justice wrote:
I accept the thrust of the Claimant's submissions. The Defendant subjected the Claimant to a campaign of defamation of an extremely serious type which directly impacted upon many aspects of the Claimant's life, including his reputation; his business; and his mental well-being. Many of the Defendants allegations were – as he knew – wholly unevidenced, so that by the time of trial he had to admit his case only relied on [Tannor Reed], meaning that his case on multiple victims finally collapsed. There was a degree of cynicism about the Defendant's defence that his publications were in the public interest, given that: right from the off he wrongly labelled the Claimant as a rapist; he refused to consider any possibility that what he was being told was untrue; he did not give the Claimant a fair opportunity to defend himself; and some of his publications contained vitriolic personal abuse.
Following the court's ruling yesterday, Dominic Ford posted a statement on Twitter, and while it's as nauseating as you might expect, his delusional mischaracterization of the court's ruling—as if he was just found not guilty of raping Tannor Reed—is particularly egregious:
I took Mickey to court after he falsely accused me of a grievous act, claiming I had assaulted Tannor Reed. During the trial, both Tannor and Mickey gave evidence. The judge, after thorough examination, found their testimonies to be untrue. He firmly stated he didn't find Mickey's allegations against me credible. […] To those who had reservations or believed the false claims, I hold no animosity. We live in a time where it's critical to support real victims, and wanting to believe someone's distress is noble. But my ordeal underscores the necessity of separating truth from deception. […] The damage to my company and to my reputation has been done. But now I'm glad for everyone to see that none of the claims were ever true. I'm thankful to the court for vindicating me…

To be clear, Dominic Ford was obviously not on trial in the UK for raping Tannor Reed in Miami, Florida, so he was not "vindicated" of Reed's allegation. This was a libel case against Mickey Taylor for calling Ford a serial rapist, and it must be noted that it's relatively easy to win a libel case in the UK, compared to the United States. Why else do you think Ford pursued the lawsuit there (and only there)? A bit of context on UK libel cases via NPR:
"English laws are much more favorable for someone looking to protect their reputation," says Jenny Afia, a lawyer in London who often represents people making libel and privacy claims.

Ehrenfeld's case was an example of "libel tourism," where someone brings a libel claim in a country where he is most likely to win. Often, that country is Great Britain.

"Crooks and brigands from around the world come here to launder their reputations, where they couldn't get exculpation in either their home country or indeed in the United States of America," says Mark Stephens, a London lawyer who often represents media companies in these cases.

In American courts, the burden of proof rests with the person who brings a claim of libel. In British courts, the author or journalist has the burden of proof, and typically loses.

"So you've got the rich and powerful shutting down and chilling speech which is critical of them," says Stephens.
[NPR]
Indeed, in the U.S., a defendant is innocent until proven guilty in a libel suit (or any suit), and the burden of proof falls on the prosecution. But in the UK, it's the exact opposite, and a defendant's potentially defamatory statement is considered false from the very beginning. As I understand it, they have to prove that what they said is true in order to not be liable, so in this situation, Mickey Taylor would've needed to prove that Dominic Ford raped Tannor Reed, not to mention all the other unnamed alleged victims referenced in Taylor's tweets. More on English defamation law via Wiki:
A statement can include an implication; for instance, a photograph of a particular politician accompanying a headline reading "Corrupt Politicians" could be held as an allegation that that politician was personally corrupt. Once it is shown that a statement was published, and that it has a defamatory meaning, that statement is presumed to be false unless the defendant is able to raise a defence to his defamatory act.
So, it's easy to see how Mickey Taylor was found liable based on UK law. Had Dominic Ford been convicted of rape in America, Taylor would've had a much easier defense, obviously. (As a reminder, Tannor Reed said he did attempt to file a police report, but police declined to submit it and pursue charges.) At the same time, if Dominic Ford was seeking vindication for an alleged American crime, why go after a third party in another country? Why didn't Ford file a defamation lawsuit in the United States against American Tannor Reed, the actual alleged victim who made the accusation against Ford in America, where the alleged assault was said to have taken place? Is it because, unlike in the UK, Ford would need to prove in a U.S. court that Reed was lying about the sexual assault? I wonder why Ford is unwilling or unable to do this?
All that being said, congratulations to Dominic Ford on his successful lawsuit in the UK, where "crooks and brigands from around the world come to launder their reputations." And good luck getting $400k from Mickey Taylor.