Exclusive: Fifth Man Comes Forward To Accuse Andrew Christian "Trophy Boy" Topher DiMaggio Of Sexual Assault, As Underwear Company Remains Silent
Last month, gay porn star Tegan Zayne came forward with a statement accusing Topher DiMaggio of raping him on the night before they filmed a scene together in 2016. Then, a week later, two more men who are not involved with the porn industry came forward with allegations that Topher DiMaggio had raped them, too, in 2016.
Today, YouTuber Bryan Hawn came forward in an Instinct article to accuse DiMaggio of violently groping him in public during an event at Micky's night club in West Hollywood, writing, "He came up to me, grabbed me by the legs trying to pick me up and put his hands on my ass. I yelled for him to stop several times in the middle of the club and he persisted. The club went silent as everyone was staring at me. I had to wrestle with all my strength to get him off of me, he was so incredibly aggressive. […] When he finally stopped, he proceeded to call me a pussy, and tell me that I need to learn how to be more of a man."
Now tonight, a fifth accuser is speaking out exclusively to Str8UpGayPorn, and his story of being assaulted in public by Topher DiMaggio is eerily similar to Bryan Hawn's story that was published earlier today. This fifth accuser has asked to only be identified by the name "Alex," and it's important to note that Alex first told his story to Str8UpGayPorn two days ago, on Saturday, well before Hawn's story was published today.
Alex is 28 years old and not involved with the adult industry. Below is a transcript of Str8UpGayPorn's conversation with Alex, which has been edited for length and clarity.
Str8UpGayPorn: When and where did you first meet Topher DiMaggio?
Alex: It was Pride weekend in Seattle, in 2014. Andrew Christian was hosting a show with some Trophy Boys for a main event at Neighbours Nightclub; Topher was one of them. Neighbours is also an after hours from 2 to 4 a.m., and we went there with one of our friends who knew Topher. We met him, and he had this attitude the whole time. He kept saying, "You guys know this party is because of me, right? This is my party. Everyone's here because of the party I'm throwing."
I was hanging out in this VIP area to the right of the stage, and it's raised several feet above the regular dance floor area. I was up there above the stage and chatting with Topher, and my boyfriend was down on the floor right beneath us, where he could see us. So I'm talking to Topher, and he just grabs my ass out of nowhere.
What was your response?
I thought he was joking, so I jokingly turned around and pulled my waistband down a little to be like, yes, that's my ass. And then, all of a sudden, he flipped me around against the railing, crouched down and pulled my shorts down and started eating my ass.
What did you do? Did you try to stop him, or did you tell him to stop?
Initially, I was stunned. I tried to push back and tell him no, and he reached his left arm up and pinned me down against the railing. I couldn't really move and wanted him to stop, and my boyfriend had this look of shock on his face. All I could really do was reach back and smack him in the head with my hand. After I did, he bit down on my right butt cheek, hard.
You hit him?
Yes, I hit him hard on the head, and he started to bite down really hard. But he finally undid his mouth, and he moved his arm so I could back up from the railing and get away.
What about your boyfriend? He was still there, right?
My boyfriend was looking up at us from below as Topher shoved me against the rail, but the whole thing lasted less than 30 seconds. At first, when I got down to him and we were leaving, my boyfriend was pissed at me because he thought I welcomed that. But then I told him what happened, that I one hundred percent did not want that and I said "Stop." I showed him my butt cheek, and it was completely purple with teeth marks.
Have you seen Topher since, or did you have any interaction with him again?
When I got away from him and was leaving, Topher was yelling at me and calling me a pussy over and over again. I never saw him again after that, and I've avoided going to Andrew Christian events or to bars in WeHo when I'm there, because I know which bars he usually works at.
Thank you for telling your story, Alex.
Thank you.
Flyer from the Andrew Christian event attended by Topher DiMaggio and Alex in 2014: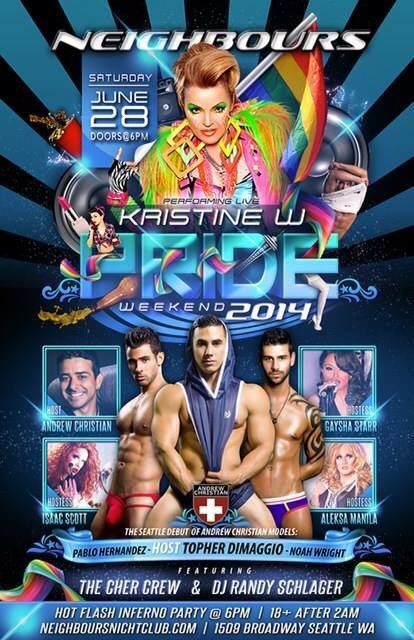 There are now at least three men (Bryan Hawn, Alex, and the accuser who spoke to Str8UpGayPorn last month) who have allegedly been sexually assaulted by Topher DiMaggio after meeting him at night clubs and events hosted by DiMaggio, and two of those events were sponsored by Andrew Christian. Str8UpGayPorn has asked the underwear company if they have any comment or response to the allegations. Reps for Andrew Christian have not responded to multiple requests for comment from Str8UpGayPorn.
As of post time, Andrew Christian is actively promoting their products using Topher DiMaggio, and he is prominently displayed on the homepage of their website: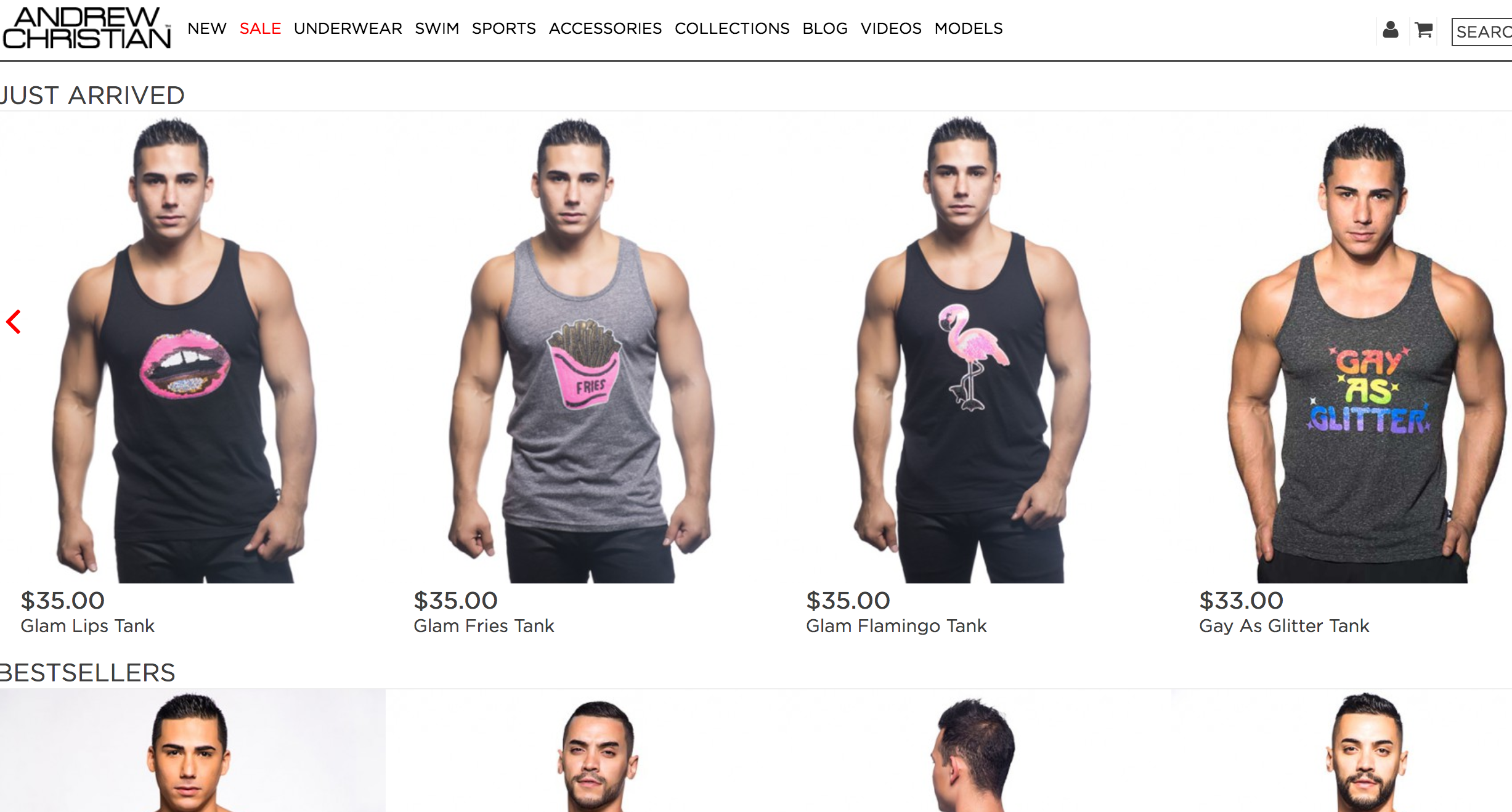 Perhaps not coincidentally, Andrew Christian's Twitter profile was changed earlier this afternoon, just hours after Str8UpGayPorn reached out to them asking if they still intended to use Topher DiMaggio to promote their products.
The Andrew Christian Twitter profile's header image as it appeared earlier today:
And, that same profile as it appears tonight:
DiMaggio obviously has dozens of previously released gay porn scenes with multiple gay porn studios, and several agreements with sex toy and fashion companies that were arranged prior to the rape allegations. But since that first rape allegation was made against him on January 20th, no gay porn studio has released any new content or product tied to Topher DiMaggio (and if any studio has unreleased DiMaggio content, they'd be equal parts stupid and sick to release it now—just dump it in the trash).
DiMaggio is, however, receiving strong promotion for a Hawaiian night club appearance—as an Andrew Christian model—coming up this weekend, which is called "Freaky Friday":
The "Freaky Friday" party is a monthly event in Honolulu, and DiMaggio's appearance is being actively advertised on social media and the event's website, despite the fact that he's been accused of sexually assaulting at least three men at similar events.
Correction: An earlier version of this story stating that three assaults allegedly occurred while DiMaggio had been hosting Andrew Christian-sponsored events has been corrected to read that two assaults allegedly occurred after DiMaggio met accusers at Andrew Christian-sponsored events. The third event (as alleged by Bryan Hawn) was hosted by Topher DiMaggio, but an Andrew Christian rep informs Str8UpGayPorn that this was not an Andrew Christian-sponsored event.