Having Self-Doubts, The FamilyDick Son Sucking His Daddy's Cock Wants To Know: "Am I As Good As Mommy?"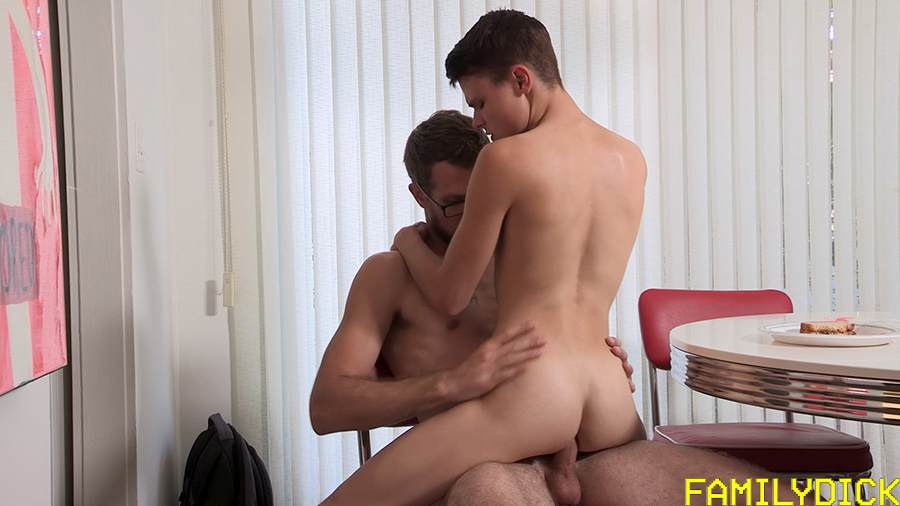 At this point, I think FamilyDick's father and son duo Jacob Armstrong and Austin Armstrong have had more sex than actual real-life married couples? This is at least their sixth scene together in less than three months, and the beloved gay porn powercouple are back today to fuck bareback again. For today's update, daddy Jacob makes his son an after school snack (it looks like a peanut butter and jelly sandwich), and then fucks his ass right there on the kitchen table.
As much as Austin enjoys having his daddy's big dick inside of him, I'm concerned that Austin might be somewhat insecure about the relationship. In the clip below, Austin questions whether or not he's able to perform sexually for his dad as well as his mom does, and having these kinds of self-doubts could spell trouble for the father and son.
One other potential problem might be son Austin's brazenness about where he fucks dad, as seen in the trailer below. While he assumes that they'll be finished fucking before mom comes home, I worry that the couple could eventually be caught, and then what would happen to the family? Separation? Divorce? A mother-father-son three-way? Trailer (watch full scene here):
[
FamilyDick: Jacob Armstrong Fucks Austin Armstrong Bareback
]