FamilyDick's Grandson And Son Fuck The Grandpa In Trigenerational Bareback Three-Way
OK, I don't know if you've been waiting for this three-way, but I know I have, so maybe I'm the only sick fuck around here?
During this trio's three-way last month, I was disappointed that the grandson (played by beautiful Bar Addison) and the son (played by hunky and ripped go-go boy Greg McKeon) didn't fuck the grandfather (played by silver daddy Dale Savage). Instead, it was just the grandpa and his son fucking the grandson. Today, prayers have been answered and wishes have been fulfilled, because we finally get to see the son and the grandson fucking the grandpa!
This time, grandpa Dale is the pass-around party bottom as grandson Bar and dad Greg tag-team the old man.
Dad and grandson take turns pounding the pop bareback in several positions on and around the family sofa, and my favorite part has to be when grandson Bar jackhammers his grandfather, while his dad helps him along.
FamilyDick has had some better than average scenes in 2019, but there's no question about it: This is their best scene of the year thus far.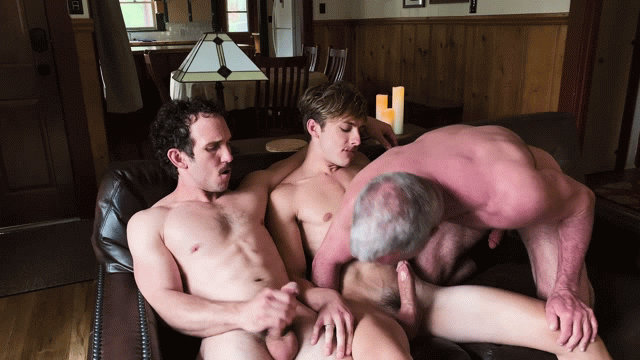 Do not miss the end of the scene, when Greg McKeon shoots a hands-free load and cums all over his father:
Trailer (watch full scene here):
[
FamilyDick: Bar Addison And Greg McKeon Fuck Dale Savage Bareback
]