Men.com Exclusive Billy Santoro Reviews Men.com Porn: "It Isn't That Great"
It's great when a gay porn star speaks his mind, but it's even better when a gay porn star speaks the truth. Here's what Billy Santoro had to say about his former employer, Men.com, when asked by a fan on Twitter what he thought of the studio's work: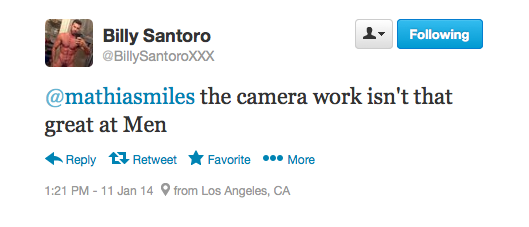 With gay porn stars like Billy Santoro, who needs fat/mean bloggers (or anonymous commenters)?
Here's Billy's latest Men scene, a "not that great" orgy with Travis James and two guys I've never heard of.
[Men.com: An Orgy That Isn't That Great]
AND:
Since Billy's exclusive contract with Men ended, he's moved on to much greater things. Here he is in a new tickling scene.