Tom Faulk Plays "Spin The Ass" In Most Absurd Fraternity Gangbang Yet
Warning: Those with motion sickness might want to avert their eyes from the gifs in this post, as they could cause dizziness.
Tom Faulk returns to FraternityX today, and even though the set up for this bareback gangbang is roughly the same as every single one that preceded it, these stoned, fake college frat boys found a new way to fuck their bottom bitch: By playing "spin the ass." (Think spin the bottle, but with a loose asshole instead of a bottle.)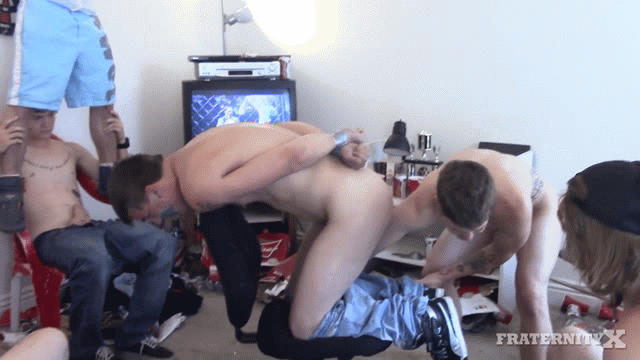 The duct-taped bareback bottom being spun around lazy susan style is none other than Tyler Sky, and Tom Faulk fucks him raw for several minutes before pulling out and sending him off to meet his next lucky top.
*twirl*
Tom looks like he had a good time with this one, and I think he had to pull out early because he was about to cum? Trailer (watch full scene here):
[
FraternityX: Spin That Ass Bareback Orgy
]