Gay Porn Before And After: Chi Chi LaRue 2008 Vs. Chi Chi LaRue 2018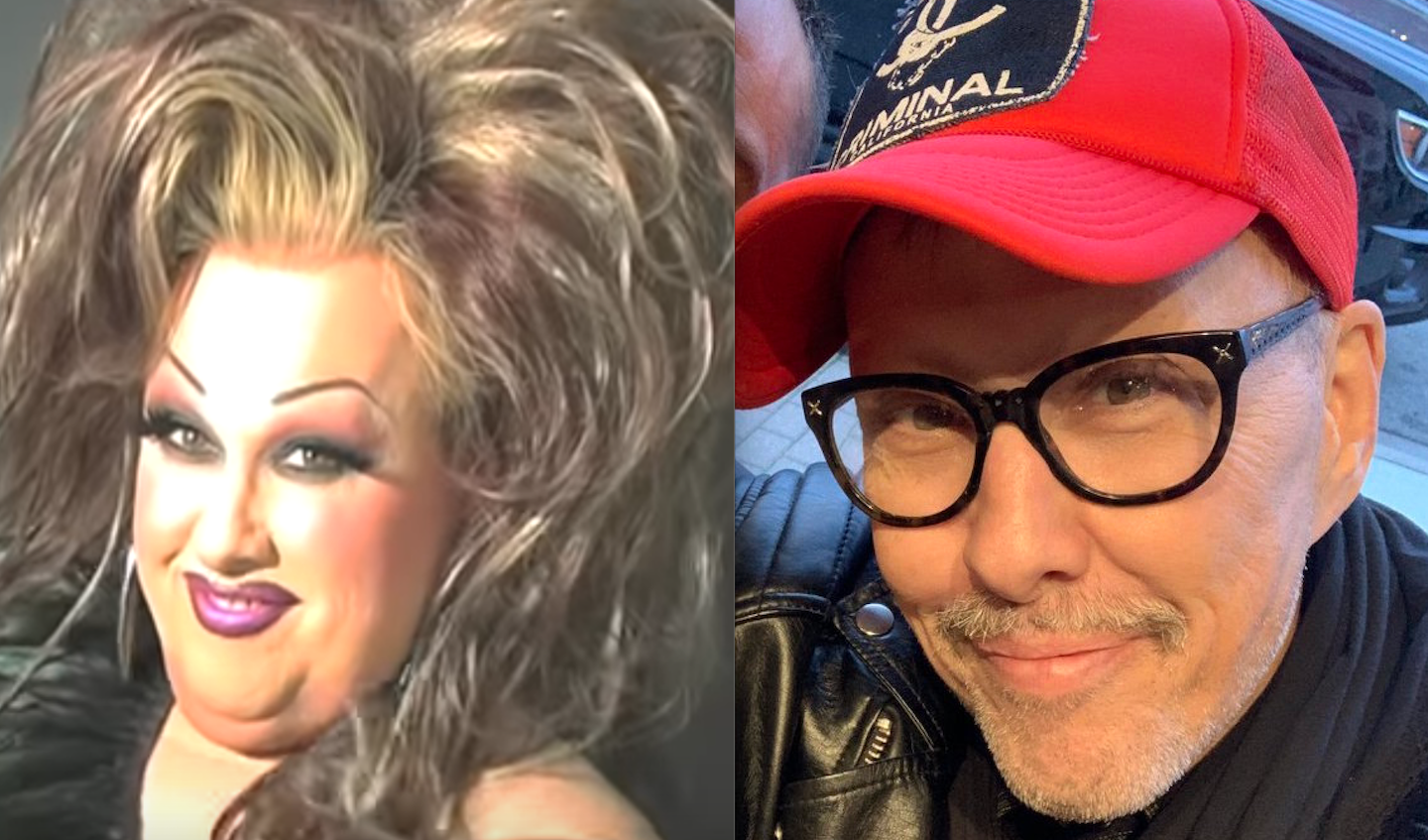 Director Chi Chi LaRue has decided to do something she's never done before in gay porn. But before we get to that news, here's LaRue promoting the use of condoms in gay porn in 2008:
And, as everyone knows, times have changed. With the exception of just two studios here in the U.S., every gay porn studio films bareback porn now, as condom porn can't compete financially. So, Chi Chi LaRue has smartly decided to start filming bareback gay porn, and the first bareback gay porn movie she's directing is for Falcon Studios.
Here's Chi Chi LaRue today, in a press release from Falcon Studios announcing the bareback movie:
Falcon Studios Group has announced that multi-award-winning director Chi Chi LaRue is currently on set directing his first bareback—that is, condomless—gay porn production of his career, The Pledge. The feature picks up on the iconic "Pledge Master" franchise that began with the 1988 Falcon hit The Pledge Masters and was followed up with equally popular features New Pledgemaster (directed by LaRue) and Pledgemaster – The Hazing.

Until now, LaRue spent his entire gay porn career as a staunch condom-only production proponent. Formerly and frequently criticizing studios that produced bareback content, Chi Chi did not take his decision lightly or hastily.

"My criticisms in the past always came from a place of concern for the well-being of performers and from the responsibility I had for sending a message to viewers about the importance of safer sex practices," stated LaRue. "Of course, this was a very big decision for me. I had to be confident that we would be in the safest space possible with the group that I could trust, and that's why I chose to do it with Falcon Studios. I started working with the studio 30 years ago, right after the beginning of the AIDS crisis and when Chuck Holmes required condoms in all Falcon movies. Chuck made the right decision to send a message and to help stop more people from contracting HIV or dying from AIDS. I would not have made the decision to direct a bareback production unless I could be 100% confident that all the proper procedures were followed, and I knew that Falcon Studios Group would handle all the protocols relentlessly.

"Finally, if there is any confusion about what kind of message this might send. I will always champion the need for safer sex practices and encourage all our performers, viewers and fans to take care of their sexual health. It's 2018, and there are many ways for us to stay safe and enjoy an active sexual life. Get tested, communicate with each other, learn about all the safer sex options available to you and make informed and healthy decisions that are right for you," LaRue concluded.
The last Pledgemaster movie from Falcon featured featured gay porn icon Erik Rhodes, Derrek Diamond, and several of the studio's most popular exclusives:
The upcoming bareback Pledge stars Brandon Wilde, Devin Franco, and several new performers: