Gay Porn News Round-Up: Marc MacNamara Heads To NakedSword, Justin Stone Goes To Rehab, Chase Arcangel Is Back (Again), And Governor Jarec Wentworth
What have your favorite gay porn stars and gay porn studios been up to this week? Here's a round-up of headlines, newsmakers, collaborations, comebacks, new studios, and more: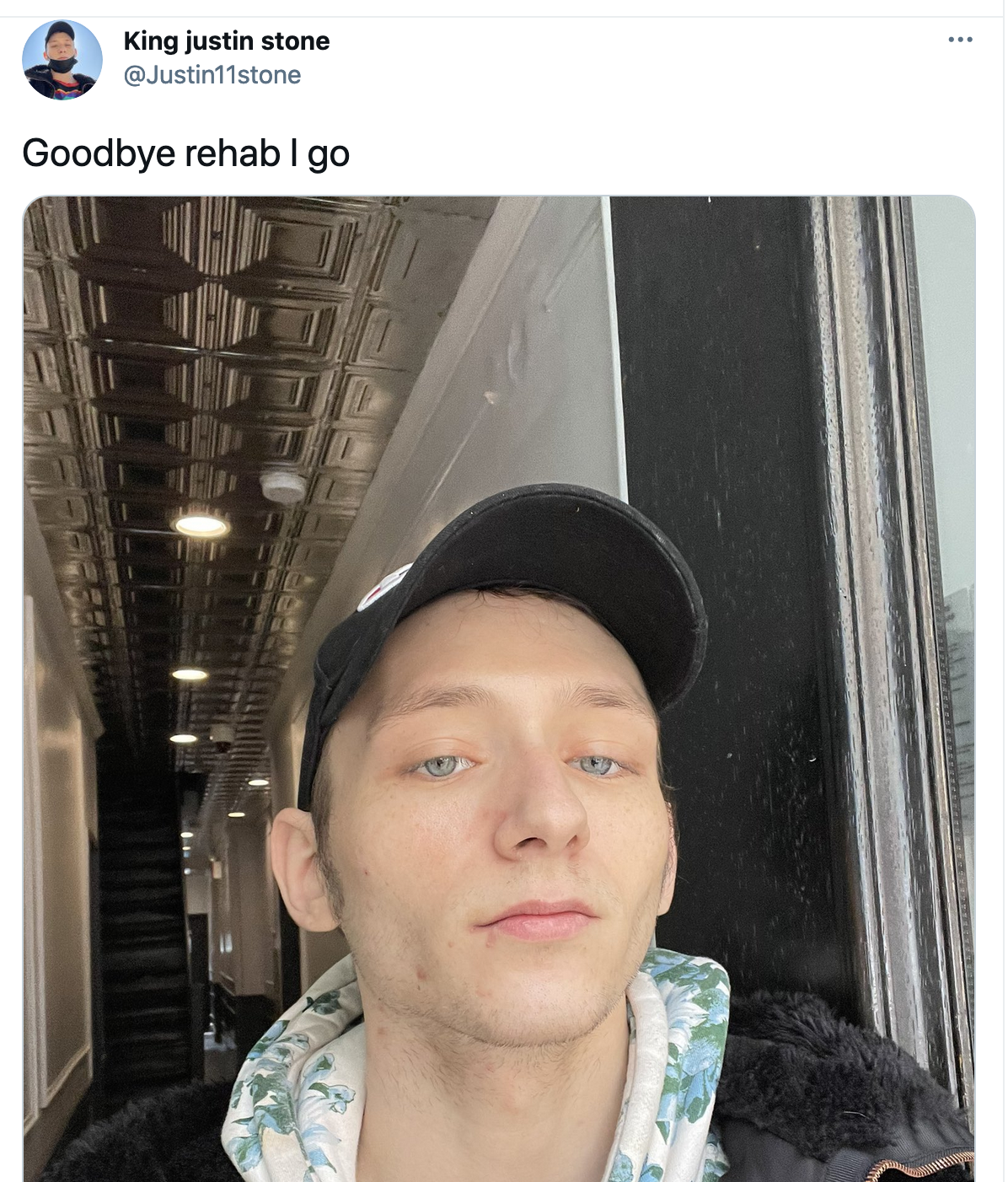 —Stone To Rehab
Twink performer Justin Stone—who accused JustForFans owner Dominic Ford of sexual assault last year and is currently facing a defamation lawsuit for making that allegation—has gone to rehab, based on the performer's last tweet, posted three days ago.
—MacNamara +NakedSword
Award-winning director Marc MacNamara has signed an exclusive deal to become the lead director for NakedSword Originals. The studio has been without a director since mr. Pam and NakedSword parted ways last summer, but MacNamara filmed multiple titles for the studio as a freelance/independent director over the last several months, most notably A Murdered Heart, which was one of the best features of 2020.
—Summers Is Back, Just In Time For Summer
Ashton Summers' on again, off again relationship with Helix is back on, as the multi award-winning performer has returned to Helix this week to film new scenes. He can be seen above topping Jordan Lake, along with director Alex Roman. (View all of Ashton Summers' Helix scenes here.) Summers had an extremely brief exclusive contract with MEN last year (which resulted in just two scenes), so it'll be great to see the gorgeous star back in action with all the Helix twinks.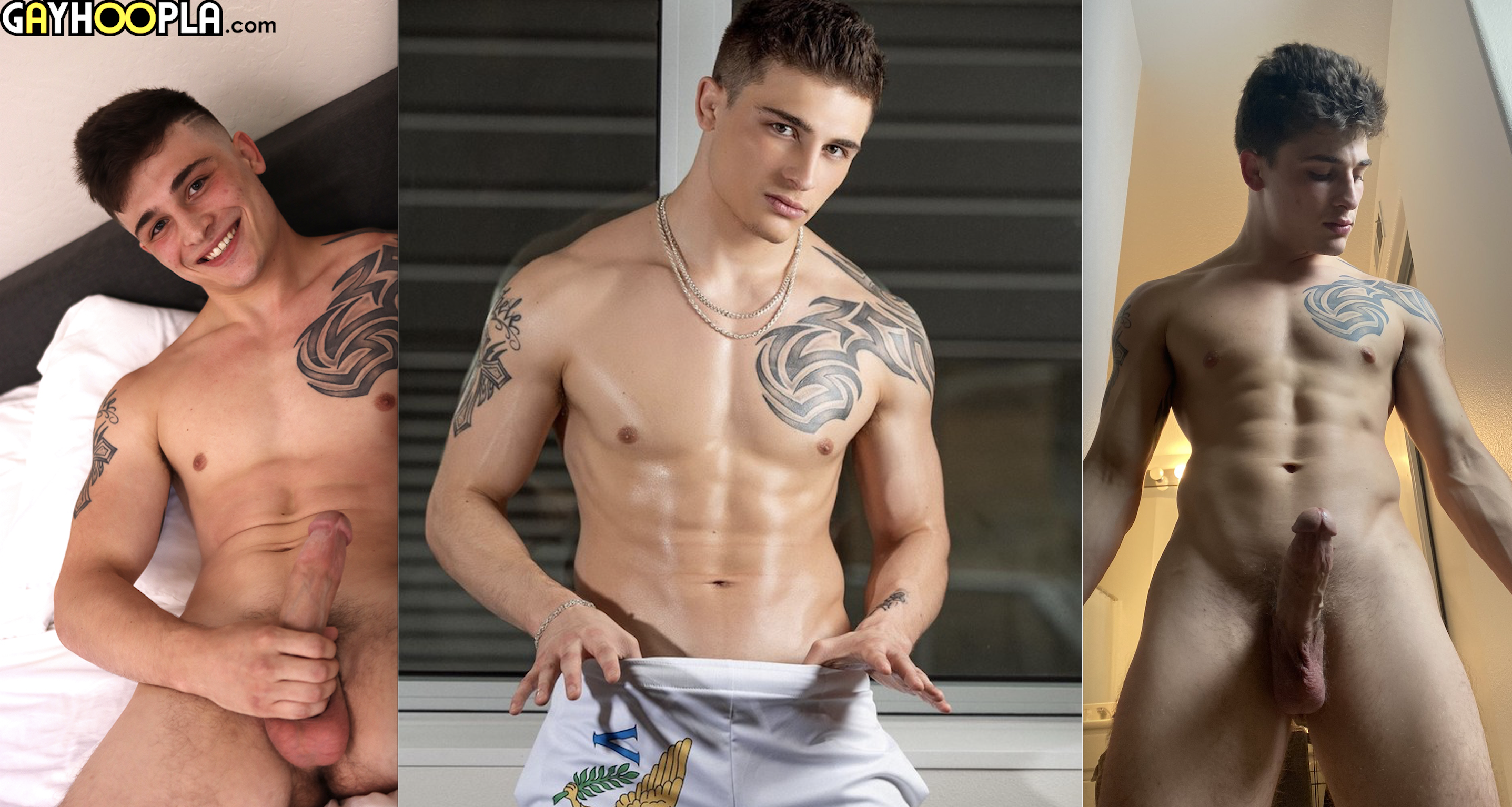 —Third Time's The Charm For Chase
GayHoopla king Chase Arcangel recently had his Twitter account suspended for a second time, but now he's opened a third account, so be sure to follow him once again (@AngelEmojiXX). And a quick reminder if you're new to Twitter: Don't put any nudity (even a butt pic) in your background image or your main profile photo on Twitter—they'll close your account instantly for it.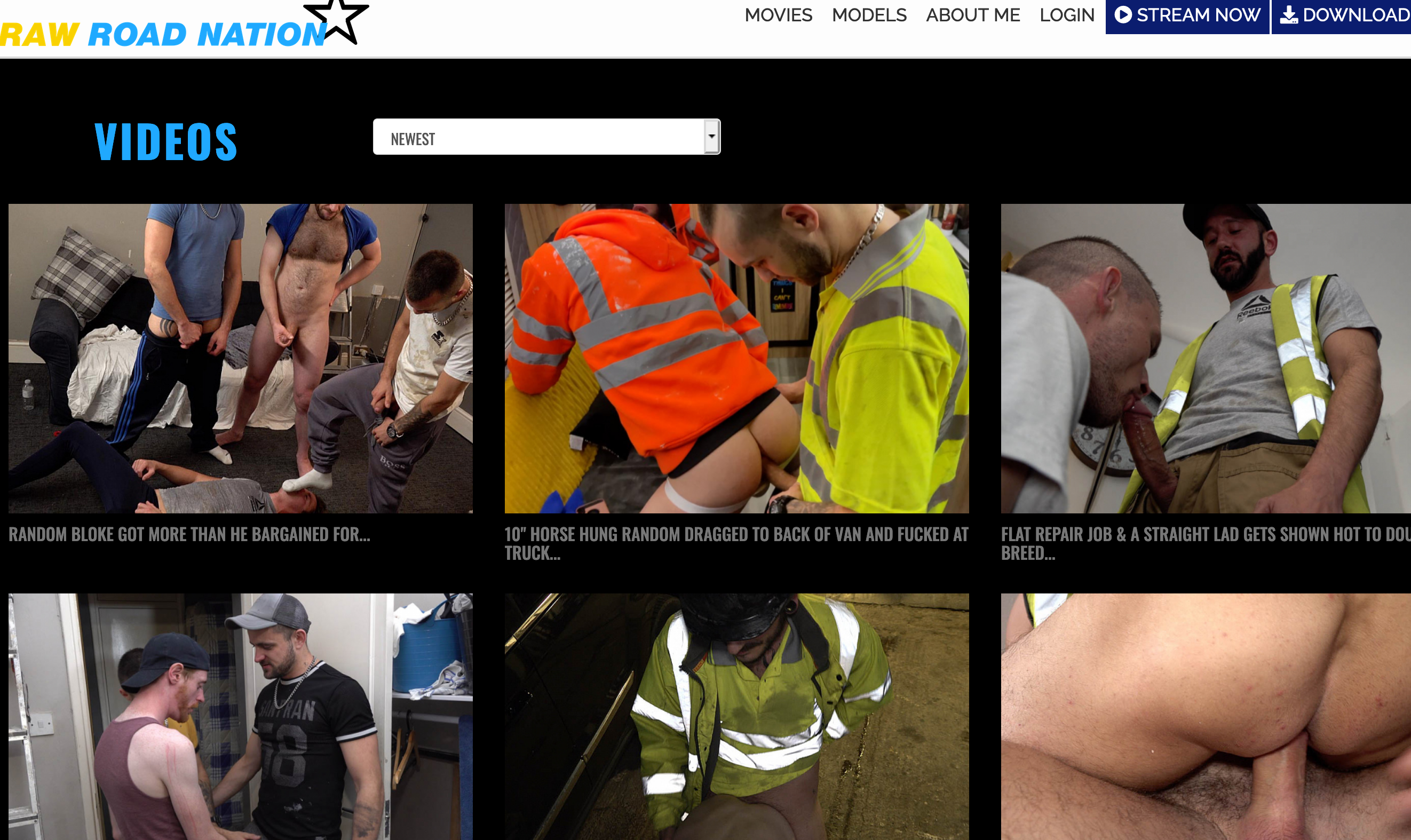 —Raw Road Across The Pond
Ready for yet another new gay porn studio? Sure, why not. A new UK site focused on construction workers has been launched, and it's called RawRoadNation. The site description reads, "The exclusive site of UK working stiff Mikey Lee and his bareback crew, all in beautiful HD. We love shoving power tools and anything we can lay our hands on or just our fists up each other's cunts, making the spunk fly all over the workplace. This is your one stop shop for REAL blue collar masculine men who get their hands greasy for a paycheque, and their knobs greasier for fun." Cheerio.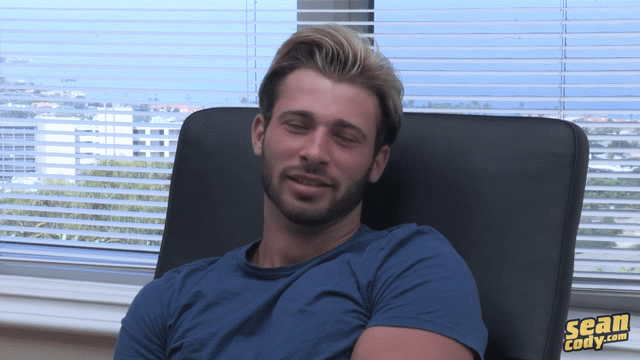 —Jarec Makes California Great Again?
Those of us who were (un)fortunate enough to live through the 2003 Gray Davis recall election in California remember what an epic shitshow that was, but if there's one thing Californians are good at (other than starting wildfires and letting the homelessness crisis spiral out of control), it's creating the same political shitshows over and over again, resulting in no real change that ever impacts anyone's life for the better. So, it's time for another recall election, this time to potentially remove Gavin Newsom (who is, to be sure, a clown, but certainly no worse a clown than any of the Republicans looking to replace him), and the three-ring circus of potential opponents is already a hot mess. And by hot, I mean gay porn star Jarec Wentworth, who announced this week that he's thinking of running:

When asked about his motivation for running, Wentworth noted the "corruption in our system" and that San Francisco is "now a dump":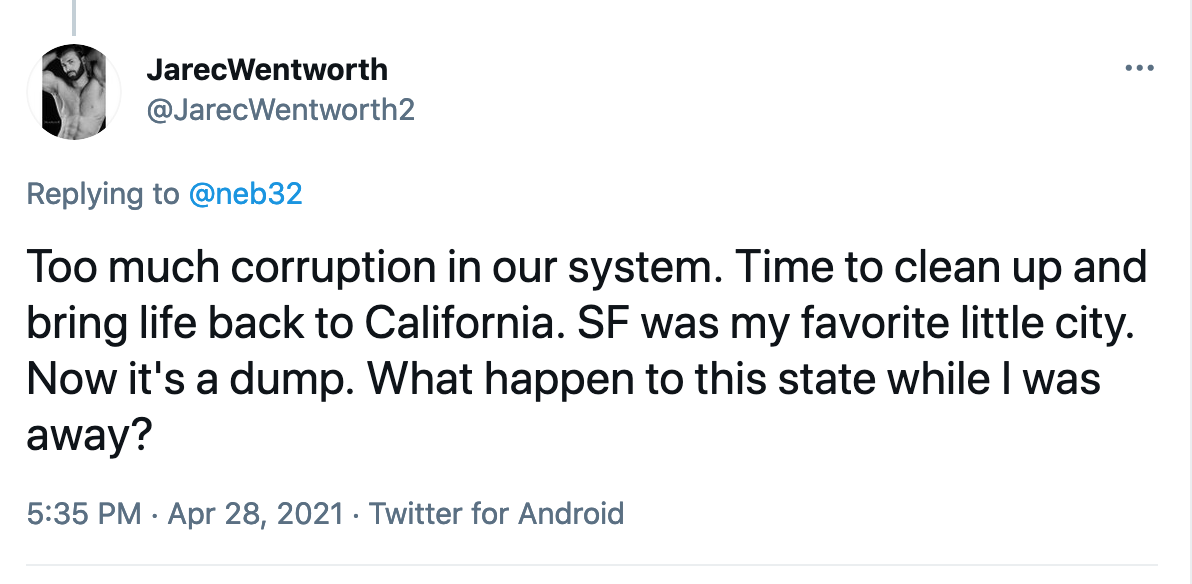 If Jarec Wentworth were to run and then win (you never know!), it's not clear if he'd be eligible to actually hold office, given that he's still on probation following his extortion conviction. But, I don't think that non-violent (and, dare I say, victimless!) crime should stand in the way of his desire to serve his state. After all, Caitlyn Jenner recently announced that she's running to replace Newsom, but she literally killed someone while injuring several others in a fatal car crash, and yet she's eligible? The special recall election is likely to be held in November, assuming the state isn't burned to the ground this summer.