Gay Porn Photographer Ryan Gordon Has Filed A Bogus Lawsuit Against Helix Studios For Fraud, Defamation, And More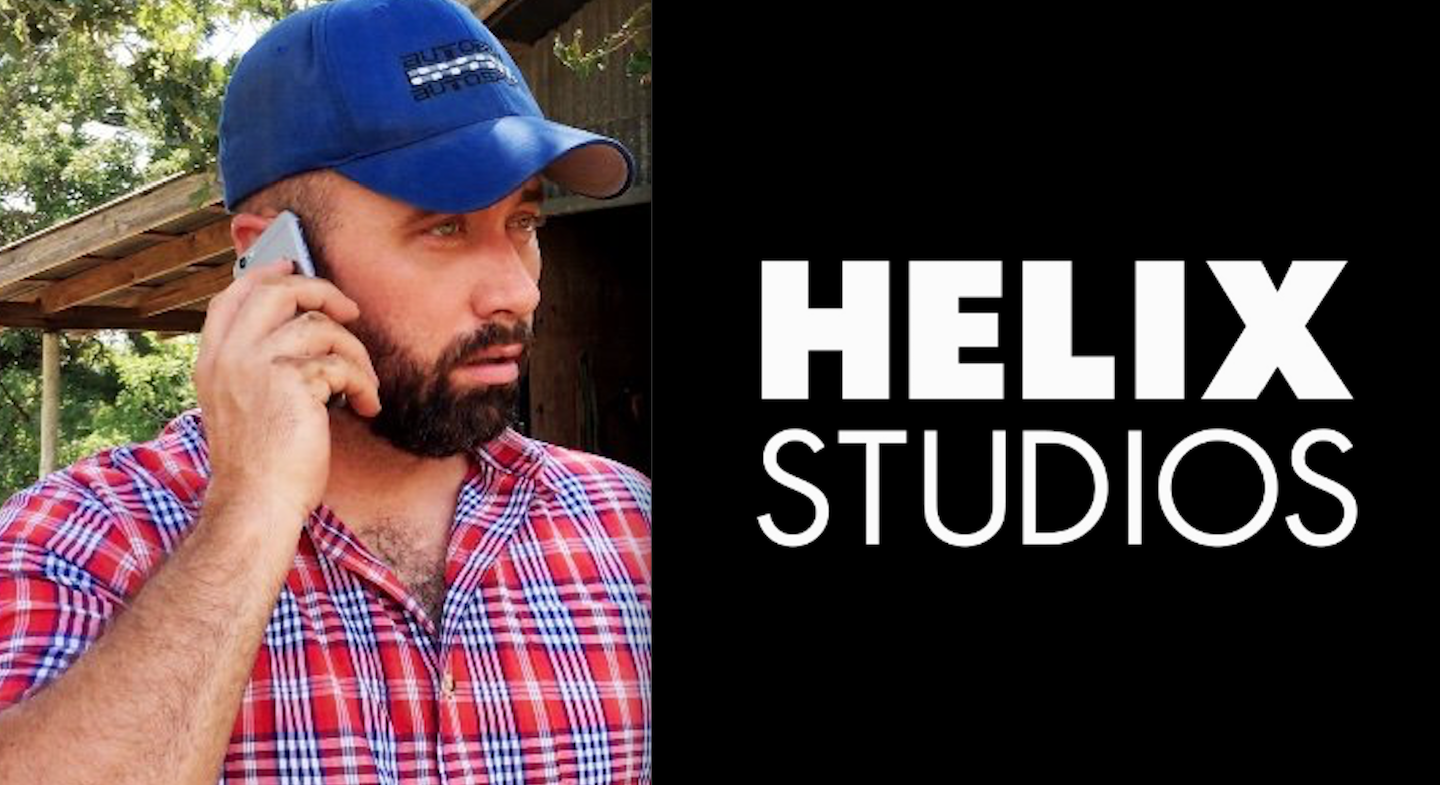 Remember that "anonymous" gay man hired to film GayHoopla content last September, who abruptly quit less than two months later without providing a reason as to why? He, as most know, turned out to be Ryan Gordon, a photographer who had previously done work for Corbin Fisher. Soon after his GayHoopla departure, Gordon found work with yet another gay porn studio, Helix Studios, who announced that Gordon would be shooting new content for them late last year. Here was part of the press release that Helix (using their parent company name 13 Red Media) sent out in November of last year:
It is with pride and excitement that 13 Red Media announces the hiring of Ryan Gordon. Mr. Gordon brings with him twenty-one years of experience in video and photo production. His work has been sought after both in and out of the adult industry, earning acclaim from consumers and critics.

Though the nature of the upcoming project has yet to be disclosed, 13 Red Media's owner, Mr. Keith Miller, says: "I am very eager to work with Ryan as he expands our roster of producers. Not only is Ryan experienced and talented, he's a creative force and a forward thinker. We're thrilled to welcome him to the team."
Well, Gordon's time with Helix lasted about as long as his time with GayHoopla (notice a pattern here?), and he was let go from the studio in December of last year. Now, over six months later, Gordon has filed a civil lawsuit against Helix/13 Red Media, Helix owner Keith Miller, and Helix lawyer Chad Anderson in the United States District Court of Arizona, alleging that the studio has taken a production company from him ("Rugged Male"), stolen "trade secrets" from him, defamed him, and more.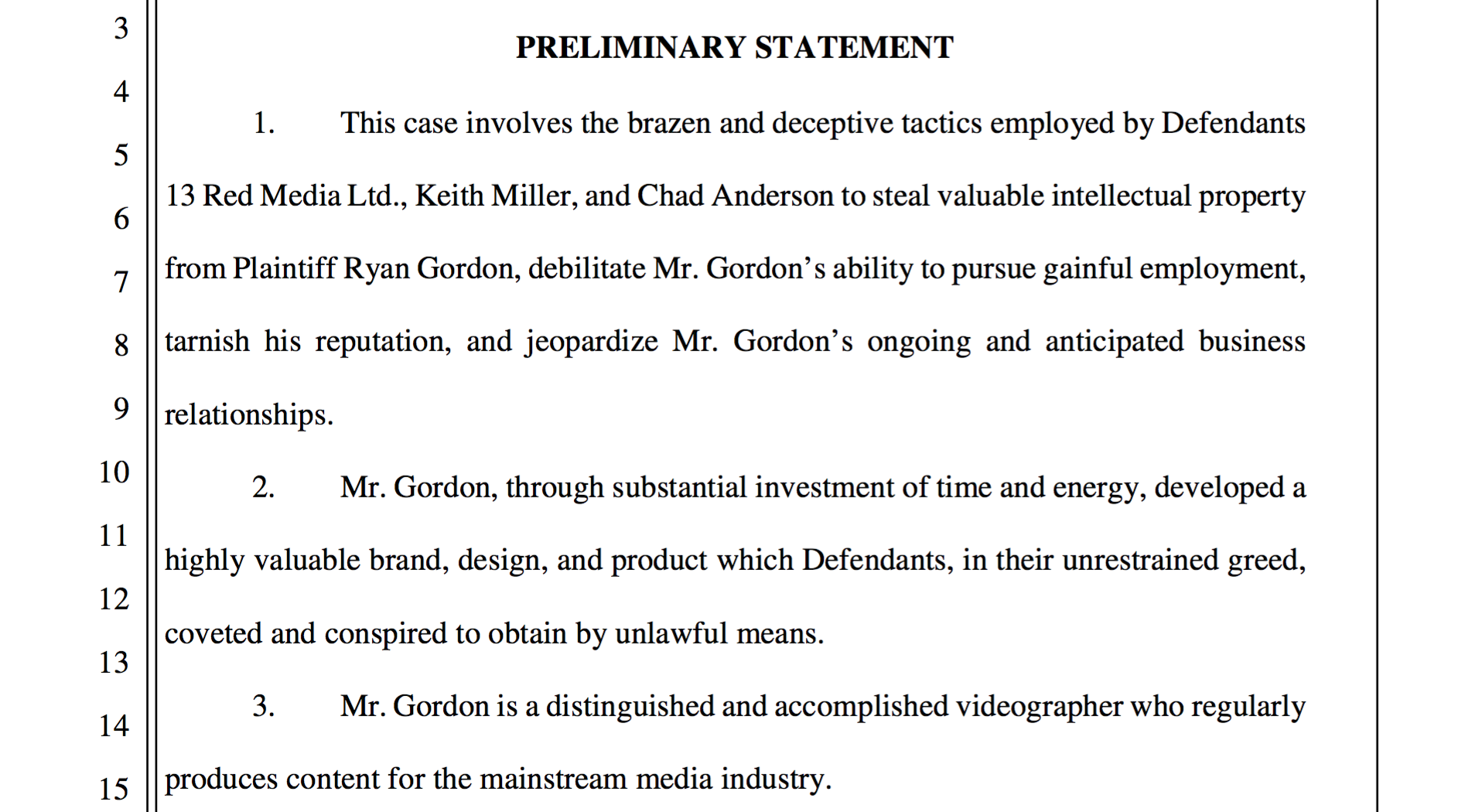 There are 11 specific counts in the suit, and they are: Tortious interference, aiding and abetting tortious conduct (this count is aimed at Helix lawyer Chad Anderson), breach of contract, unjust enrichment, defamation, intentional infliction of emotional distress, conversion (Gordon says Helix has "intentionally exercised dominion and control over the Rugged Male brand"), misappropriation of trade secrets, negligent misrepresentation, breach of covenant of good faith, breach of contract, and fraud. Gordon wants money and a jury trial, and while I would love to attend and report on this trial, I highly doubt this case will ever see the light of day in a courtroom.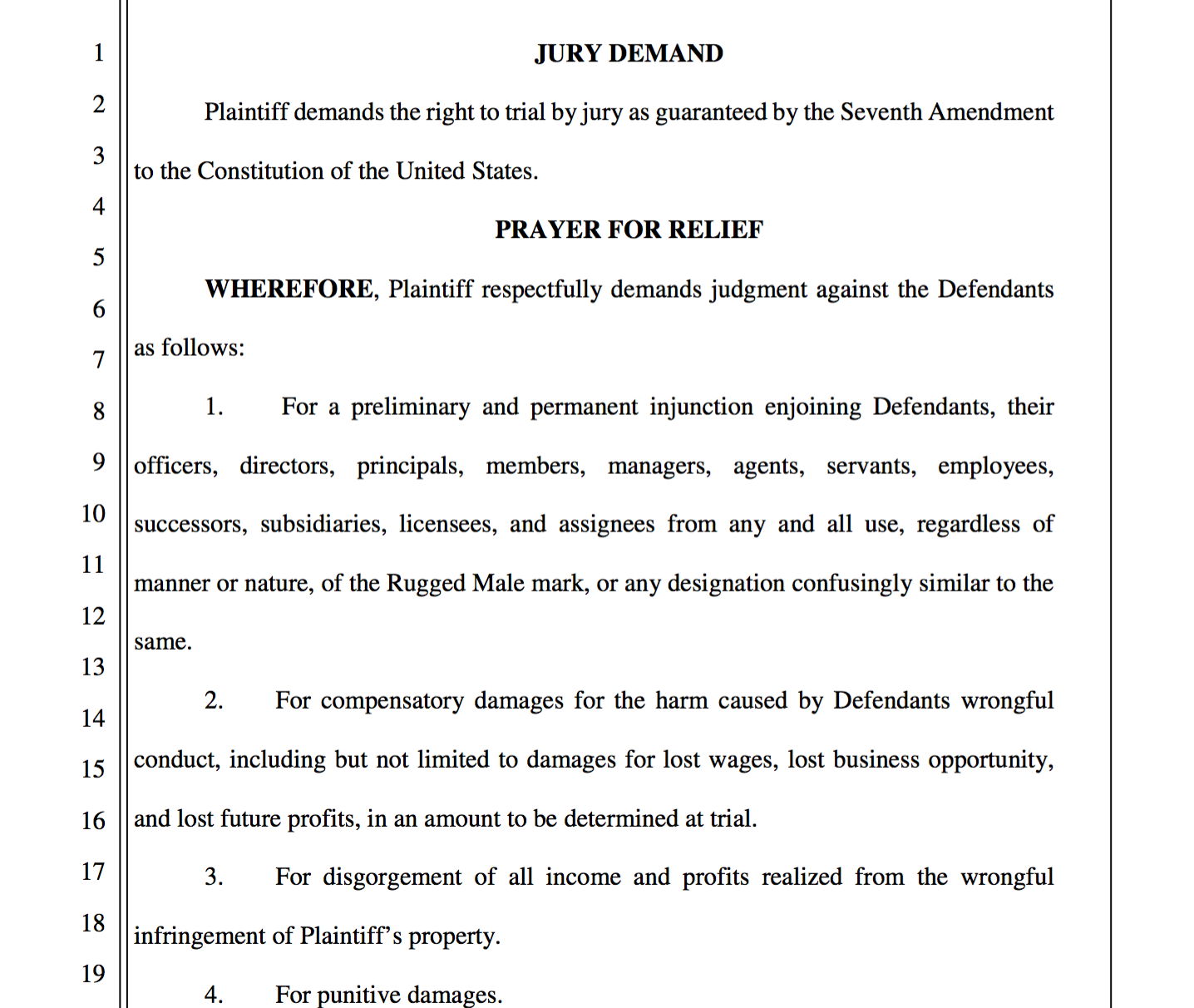 Despite the alleged value of the Rugged Male brand (the suit, laughably, says that "Gordon's unique brand, titled Rugged Male, stands to produce millions of dollars in profits each year"), Rugged Male is a brand that I had never heard of before, and it's a brand that I don't see Helix having any interest in, given that Gordon says Rugged Male is focused on older men, not the twinks and twunks of Helix. Also, there's nothing online to indicate even an existence of Rugged Male, so how a non-existent company stands to "produce millions" is a mystery. Furthermore, there is already a website and men's lifestyle blog called The Rugged Male, which has been around for over eight years and has nothing to do with Gordon. So, if anything, the owners of The Rugged Male might want to consider suing Ryan Gordon for infringing on their brand?
The only interesting part of the Gordon vs. Helix lawsuit for me (full disclosure: Gordon personally sent me a draft of the suit back on March 4th, before it was filed—as you can see in the text exchange above) is, obviously, the part that mentions Str8UpGayPorn. Here's that part, where Gordon says that Helix used his name in a press release "without his consent," and that press release was published on Str8UpGayPorn:
49. Shortly after the press release was issued, Defendants provided Mr. Gordon's name and extensive work in mainstream entertainment for high-profile clients to the blog website STR8UPGAYPORN.COM, a leading adult industry publication. Mr. Gordon had never given consent for this information to be disclosed by Defendants or their agents.

50. Upon learning that Defendants had publicly exposed Mr. Gordon's true name in the adult industry and identified his past work in mainstream media, Mr. Gordon immediately sought to have Defendants mitigate the harm that had been and would be caused by the continued publication of his true identity. Defendants' agents contacted STR8UPGAYPORN.COM and Mr. Gordon's information was removed, but his identity had already been exposed.

51. As a result of the exposure of Mr. Gordon's true name, Mr. Gordon's contracts and business relationships with entities in the mainstream media have been jeopardized and harmed.
First of all, Gordon was already operating a public Twitter account under that name and had a Model Mayhem account showing his porn work long before the Helix press release, as you can see here and in the screenshot below, showing that the profile was launched in 2007. So, Gordon claiming that his "identity was exposed" and that he was somehow "jeopardized and harmed" by the Helix press release is completely bogus, just like the rest of his lawsuit, in my opinion: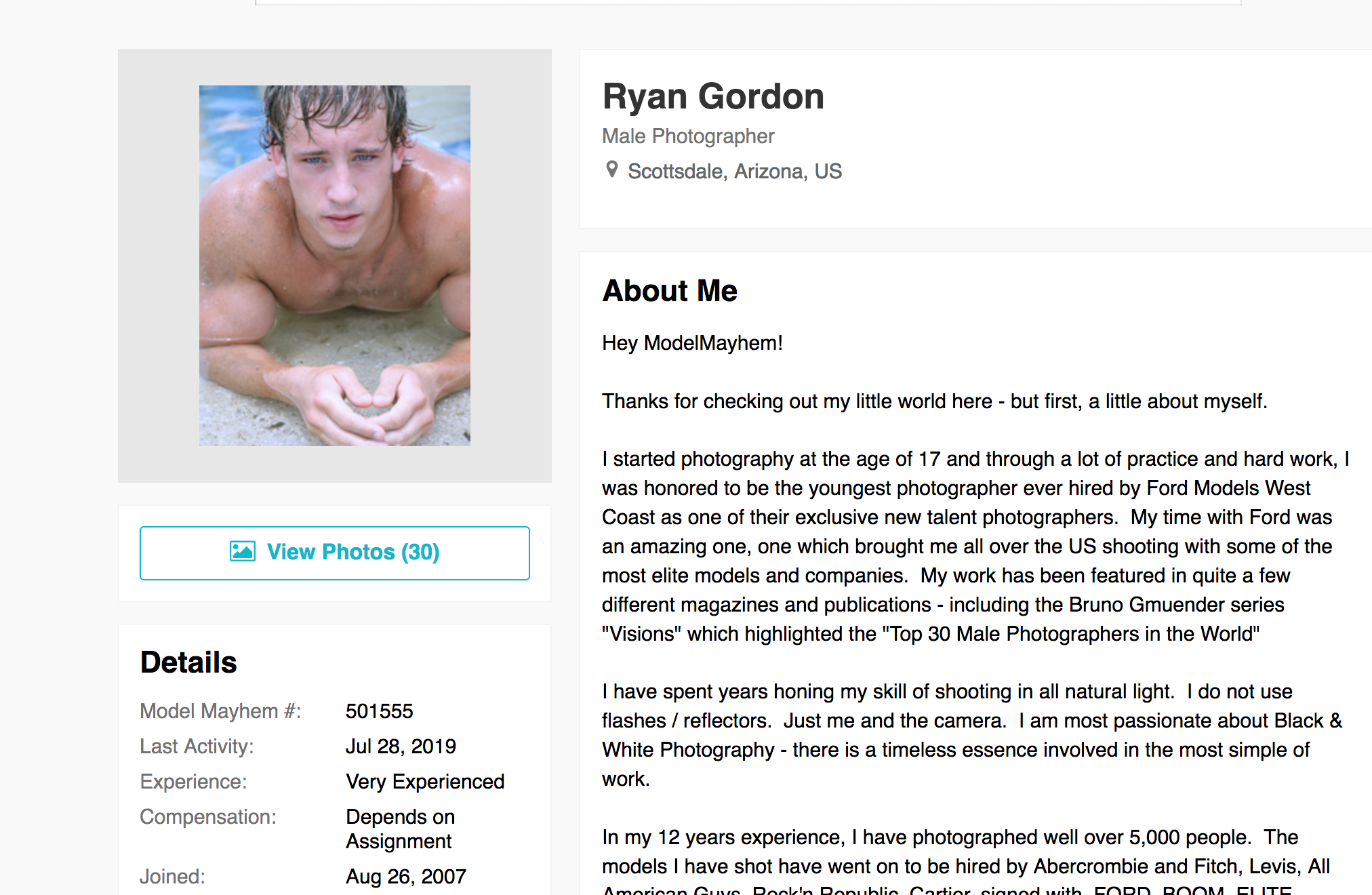 Gordon's lawsuit (read it in full for yourself below) doesn't contain any specific, actual damages or provable events like we've seen in better (and much more entertaining!) lawsuits like the Feces Mansion lawsuit against Michael Lucas, or the (still pending) Feces Vinyard lawsuit against Nica Noelle and Billy Santoro. And, it offers no substantive proof of any kind that Gordon had his company or his "trade secrets" stolen. Also, one more disclosure that further illustrates Gordon's penchant for frivolity and empty litigious threats: Gordon actually threatened legal action against me and Str8UpGayPorn back during that March 4th text exchange, due to a comment I left here on Str8UpGayPorn about Gordon's departure from Helix. Here was the comment that provoked Gordon's threatening texts to me, in which I replied to another commenter about how I was tipped that Gordon's time with Helix was over before it began (just as it was at GayHoopla two months earlier):
And, just moments after I left that comment, here were Gordon's texts sent to me (he's in gray, I'm in blue) threatening that he would have legal counsel contact me if I didn't remove or edit my comment: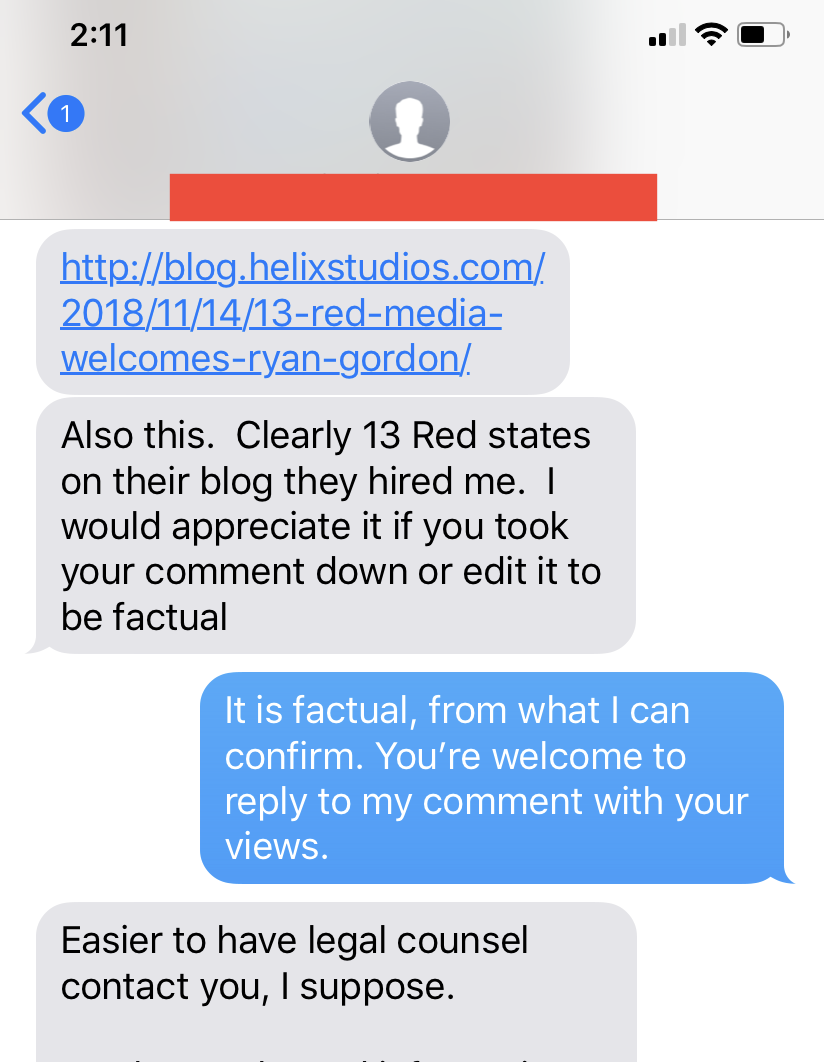 Note that when I met Gordon in Palm Springs in November of 2018 (I was there for Pride weekend and Kyle Ross' book signing, and Gordon was there to meet with Keith Miller about his future employment), Gordon told me—in front of a room full of people, including Keith Miller, Kyle Ross, Max Carter, Cameron Parks, and Taylor Saracen—that the reason he left GayHoopla was because he was absolutely certain that the studio was going to be shut down by the government before the end of the year, due to legal issues the studio was having with its models. I did tell Gordon that his information could be "off the record" for the period of time before the government's shutdown of GayHoopla, but that obviously never happened, and it appears to be one of many false claims that Gordon has made.
Here's Ryan Gordon's entire lawsuit filed against Helix Studios:
Gordon v 13 Red Media by Zachary Sire on Scribd