Gay Porn Star Files Lawsuit After Allegedly Contracting HIV During Kink.com Orgy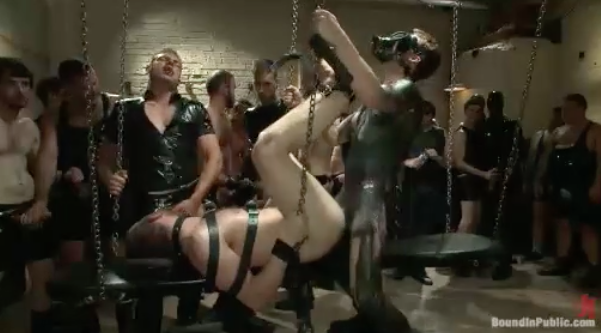 A former gay porn star and self-described "bottom" is suing Kink.com, its owner Peter Acworth, director Van Darkholme, and 50(!) unnamed gay porn stars and extras after he says he became infected with HIV during a May, 2013 production of a BoundInPublic orgy scene entitled "Rubber Party" (pictured above).
It's highly unlikely that this will ever go to trial (it would be virtually impossible to prove in court that the performer—identified only as "John Doe"—contracted HIV during the shoot), but here's a summary of his lawsuit, via AVN:
Doe is suing the named defendants, as well as "Does 1-50," for negligence in allowing him to become infected and Intentional/Fraudulent Misrepresentation for stating that the May 3 shoot would be condom-mandatory, as well as that the defendants conspired "to make intentional misrepresentations to Plaintiff" (like that condoms would be required for the May 3 shoot); that the defendants violated Doe's contract with them by not acting in "good faith" with "fair dealing"; that Kink management failed to properly supervise Darkholme during the shoot; that some of Kink's employees for the May 3 shoot—specifically Acworth and Darkholme—were "unfit" for their positions "and that this unfitness created a particular risk to others, including Plaintiff"; and that the defendants committed "Intentional Infliction of Emotional Distress" on Doe. For all of this, Doe is seeking an undetermined amount of money for his injuries, his emotional distress and as punitive damages.
While there were condoms used during the anal sex portion of this scene (all of Kink.com's gay scenes use condoms for anal sex) the plaintiff is stating that there should have been condoms used during the oral sex portion of the scene (which never happens at Kink.com, or literally any other gay porn studio). Doe is arguing that he contracted HIV due to a cut in his mouth:
"While Plaintiff was physically restrained and blindfolded, Defendant DARKHOLME is clearly seen on video footage forcefully pushing Plaintiff's head and mouth into the penises of dozens of men to perform oral sex on them," the Complaint continues. "None of these performers were wearing a condom nor were any barriers used. … During the May 3 shoot, the inside of Plaintiff's mouth sustained a cut. Plaintiff took a sip of water and noticed some blood in his mouth. Plaintiff did not mention this to Defendant DARKHOLME. Since Plaintiff's requests of no oral sex and condom usage had been denied in the past by Defendants, Plaintiff knew that similar requests would be denied on this occasion."

Doe further states that about two weeks after returning from the shoot to his home in New York City, he began to feel ill, went to a doctor and got tested for STDs, and about two weeks after that "was devastated to learn that he was HIV positive. … Through a meticulous process of elimination and based on expert medical advice, Plaintiff JOHN DOE determined that he had contracted HIV at Defendants' May 3, 2013 shoot."
Not surprisingly, the "Rubber Party" video from May 3rd, 2013 seems to have been pulled from BoundInPublic's site. But, the trailer is still running on multiple affiliate blogs, and it's accompanied by this scene description:
We're hosting a BIP rubber party with the Rubber Men of SF and all of our horny guests showed up in their best latex for the occasion. Kinky stud Cody Allen has his eyes blindfolded as we present him to the hungry crowd. We quickly tear off Cody's clothes and put him in a latex jock before having him service our eager guests. Cody is used to the fullest by the crowd, presenting both of his holes for everyone's pleasure. The kinky slut is then strapped down to have an electric butt plug shoved up his ass. The surges of electricity on Cody's prostate make his cock stand straight up, and the crowd wastes no time getting a taste of his giant member. The crowd goes crazy as everyone takes turns fucking Cody's hairy hole. With everyone horny as fuck, the guys waste no time as they spray their hot loads of cum all over the boy's face.
And here's the trailer: