Gay Porn Star Justin Brody Walks Runway In Helmut Lang Show For New York Fashion Week
Justin Brody's smoldering good looks have worked well in gay porn (as seen above, with Ricky Roman), and they're working well in high fashion, too. The performer walked the runway at the Helmut Lang show Monday night during New York Fashion Week (thank you to William for the tip), and this was his look: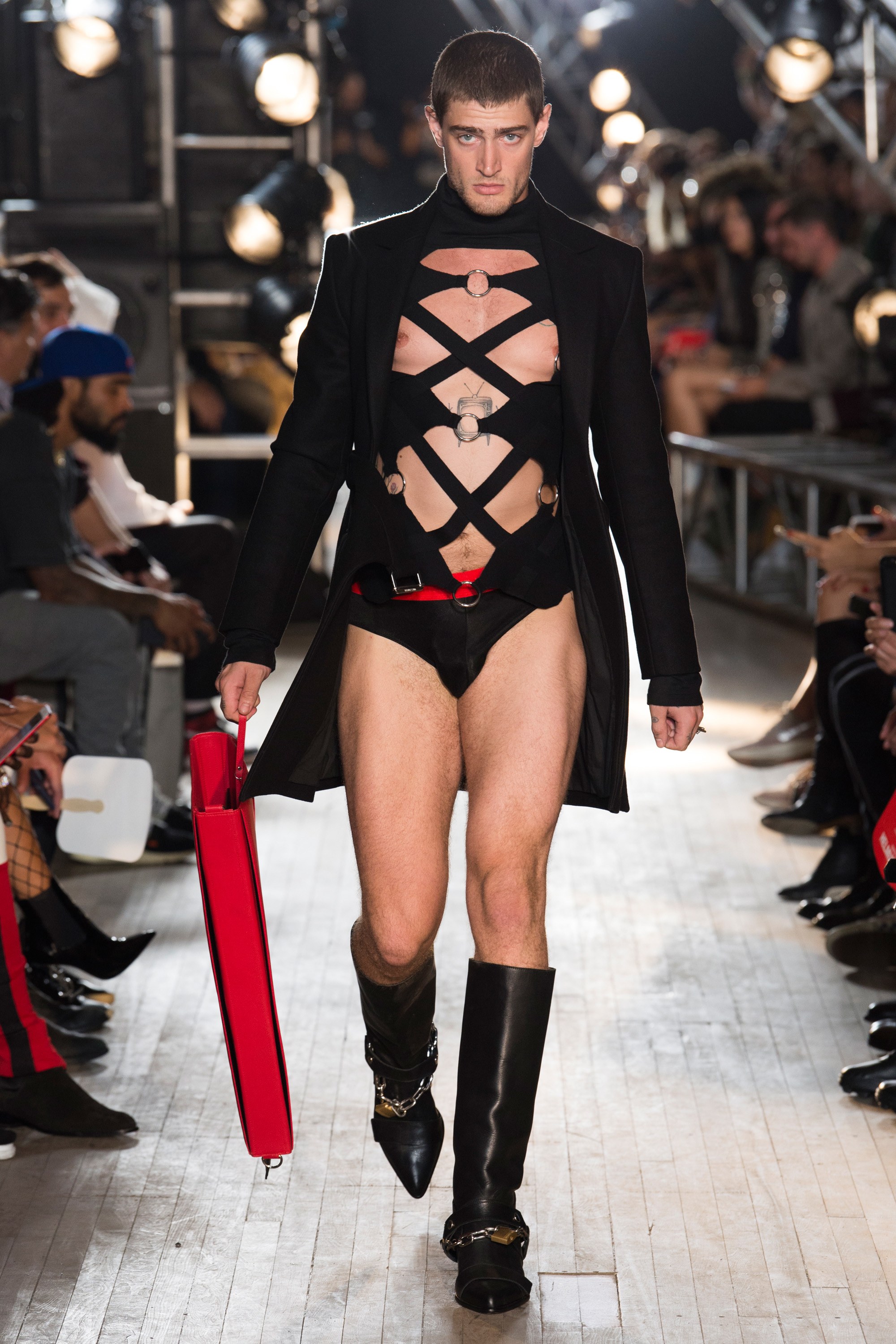 Photo and description of the show, via Vogue:
Lang is beloved for his minimalism, for making luxury items out of everyday staples, for a unisex approach to dressing, and for his fetish-y streak. You can guess which aspect Oliver was interested in. Yes, there was some attractive streamlined tailoring, and yes, again, there was a swanky black parka, and a baby pink one, as well. But what there was in abundance was kink: asymmetric bras and daring peekaboo harnesses, rearless pants suspended from the waistband like garters, leather codpieces, and strappy BDSM gear. Girls and boys both carried or wore patent bags that unzipped to create old-fashioned, hugely oversize brassieres.
And, video of Justin on the runway (he appears around the 5:00-minute mark):
Also, IDK if this was part of another fashion show (it might just be something for sex toy company Fort Troff?), but here's a fun video Justin tweeted last week:
— Brody Blomqvist (@just_in_brody) September 2, 2017
ICYMI, Justin Brody's most recent scene was for CockyBoys, co-starring Frankie V.:
[
CockyBoys: Justin Brody Fucks Frankie V.
]