Tips From A Gay Porn Star: Lucas Leon And Adam Awbride On How Tops Should Fuck Their Bottoms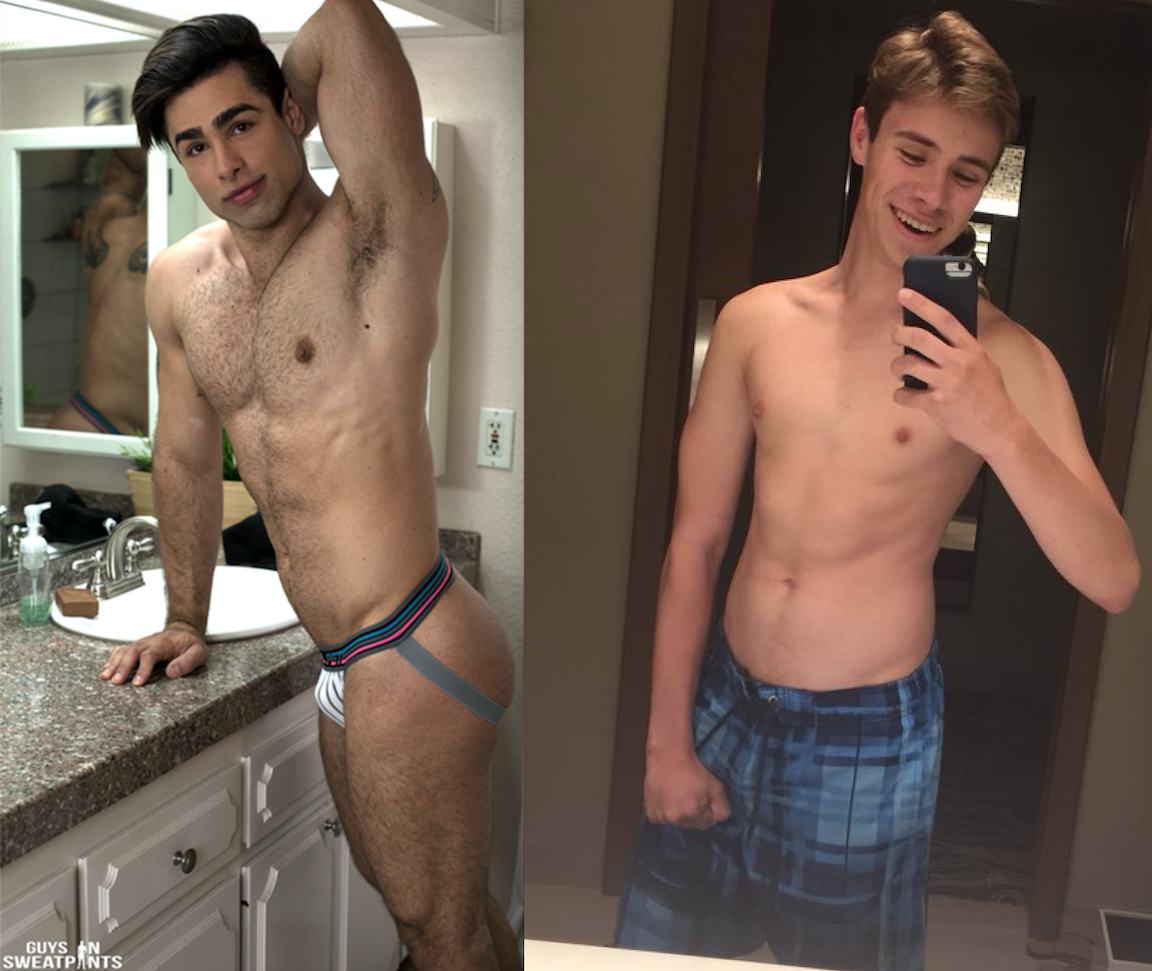 Welcome to Str8UpGayPorn's Tip From A Gay Porn Star!, where your favorite gay porn stars offer tips on everything from how to have good sex, how to make good porn, and more! Today, gay porn star Lucas Leon and brand new gay porn star Adam Awbride are offering up tips for all you tops out there who want to know how to fuck your bottoms better. As experienced bottoms, Adam and Lucas share how they like to be fucked, and their advice should come in handy for any top who wants to give his bottom a nice pounding. Thanks for the tips, Adam and Lucas!
[image of Lucas Leon and JJ Knight via GuysInSweatpants]
Tips For Tops
by Lucas Leon and Adam Awbride
Lucas: Lube, lube, lube and MORE lube! If you're a good top, you want your bottom to feel pleasure and not pain, so be generous and lube up that dick and his hole reaaaaaal good before you start pounding that booty.
Adam: Let the lucky bottom ride you first. Pay attention to how fast and how deep he's letting you go so you know how he likes it. When you move to other fun positions, you'll know how he wants it. Keep up the pace unless he says "harder, slower, deeper" etc.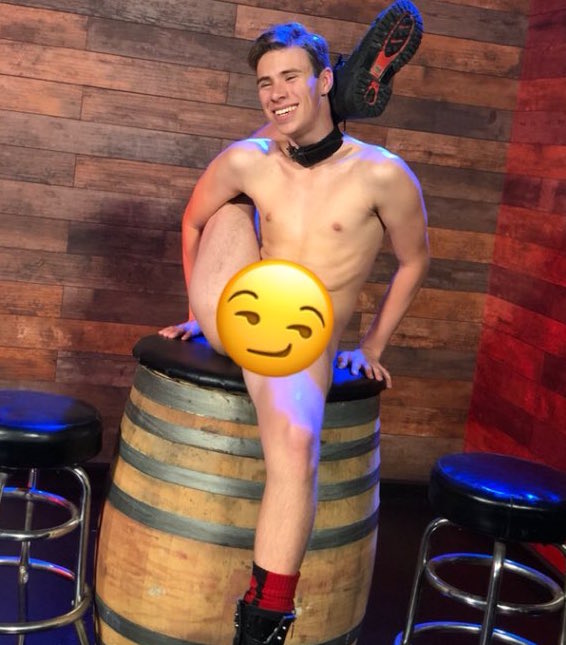 [image of Adam Awbride on set at Fetish Force via Twitter]
Adam: If your bottom says "oooh, just like that" while you're fucking him, obviously do not change up what you're doing! What you're doing is great, and you should stick to it.
Lucas: The hole usually gets sore after being pounded for a long time! So, it's OK to pull out for a little bit and just rub your dick on the outside of his hole. You can also make out and do some nipple play while your bottom takes a breather. Don't worry, after a few minutes, he'll be ready for more and you can slide back in!
Adam: For the love of all that is good and holy, learn how to eat ass, suck dick, or do any form of foreplay your bottom wants. When you eat his ass or suck his dick, really get into it and treat it like an ice cream cone. The more you do it, the more you learn to love it. I used to hate the idea of sucking dick, but now I love it.
Lucas: This one is for you dom tops over there. Asking what your bottom likes or wants does NOT make you any LESS dominant. Always check your bottom's boundaries (even if they're total subs like me, and really like it rough). Consent and making sure your bottom is comfortable is VERY SEXY.
Adam: From personal experience, when you are fucking someone who is not the best at taking dick, if you start to feel his hole ease up and relax around your cock, that means you're doing something right, so keep doing it.
Lucas: We bottoms take hours of our precious time to prepare for you, making sure we're clean and good to go—but accidents can happen! If it does happen, DO NOT BE A DICK! The bottom is already in a very embarrassing situation, so be supportive, suggest a shower together, and bam! You'll be good to go in no time.
Adam: A bottom is more than just a hole for you to fuck. While fucking him, rub him up and down with your hands, lean over and kiss him, play with his nipples, hold him close, and breathe heavily on his neck. Also, give him a reach around and jack him off. Unless it's specifically what he wants, don't just fuck him from behind without touching him anywhere else.
Lucas: Last, but not least. Make sure your bottom is completely satisfied! There's nothing WORSE than a top that cums and then forgets that the bottom even exists! I'd rather hook up with a dildo if I know this is gonna happen. And, let's be honest, if you didn't make your bottom cum, maybe you should really read these tips on how to be a good top again. 😉
[
GuysInSweatpants: JJ Knight Fucks Lucas Leon Bareback
]
Are you a gay porn star who'd like to offer your porn or sex tips in an article on Str8UpGayPorn? Feel free to pitch me via email or Twitter. Compensation is provided for articles and varies depending on length.