[UPDATED] Big-Dicked Twins Stroke Their Cocks Together In Family-Themed Duo For Military Gay Porn Studio Active Duty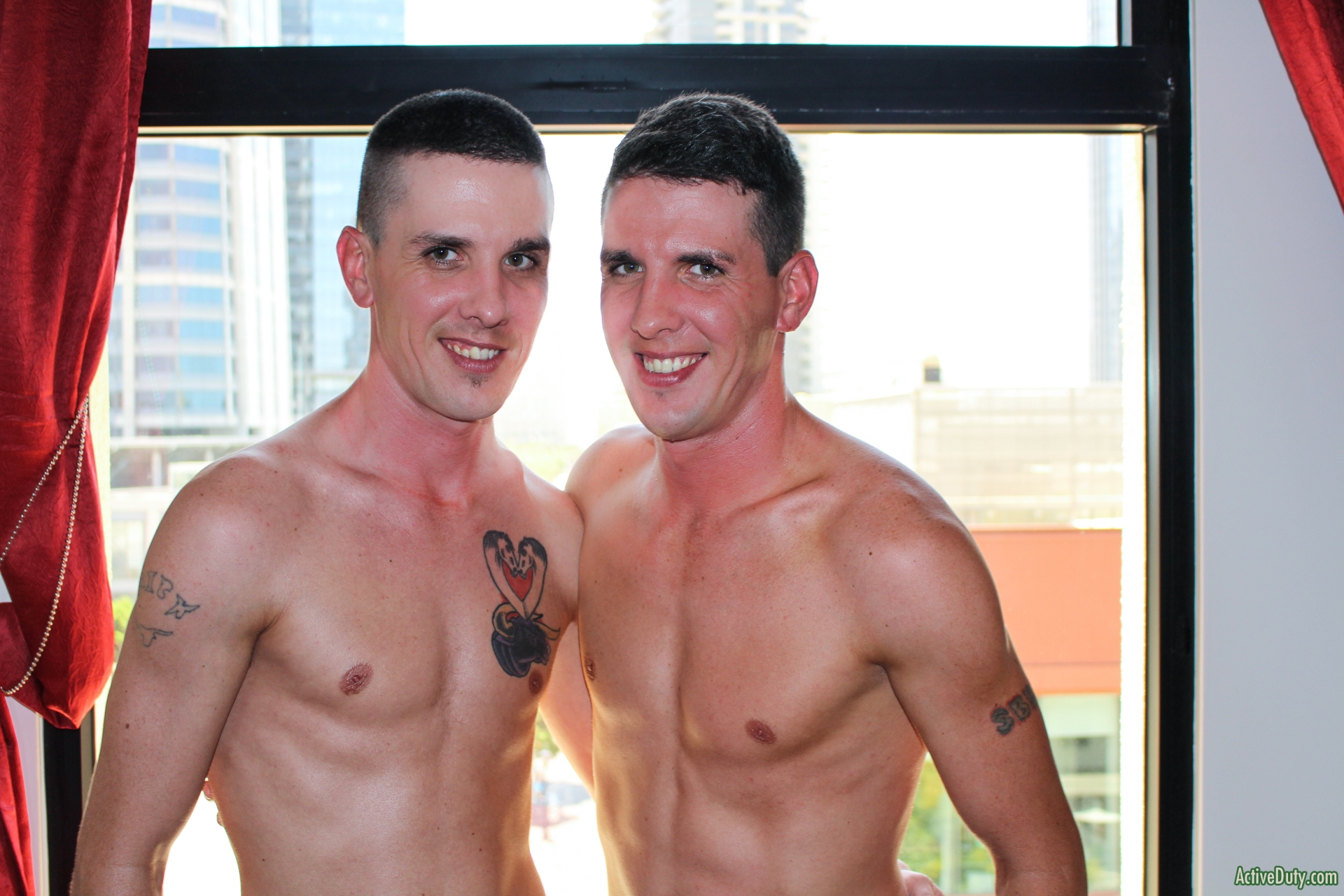 Most (if not all) family-themed gay porn scenes feature porn stars playing characters who aren't actually related IRL, but for the first time in nearly two years, a pair of real-life brothers are performing together in a gay porn scene this week. And, these brothers are real-life twins!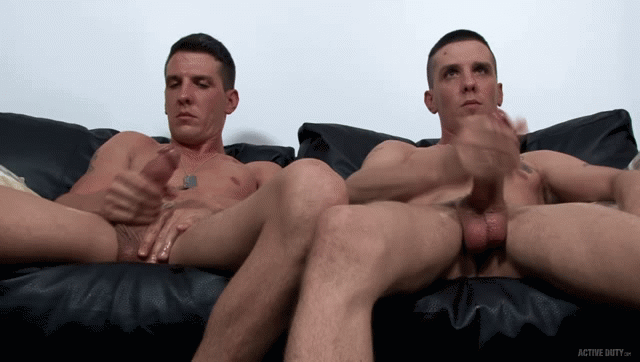 The duo is this week's scene for military gay porn studio ActiveDuty, which has never (correct me if I'm wrong) featured twins before in its long history. The twins' names are Michael Stax and Jacob Stax, and while they're not as classically hot as Sean Cody's or ChaosMen's twins, they've got a handsome, rugged look, and their cocks are big: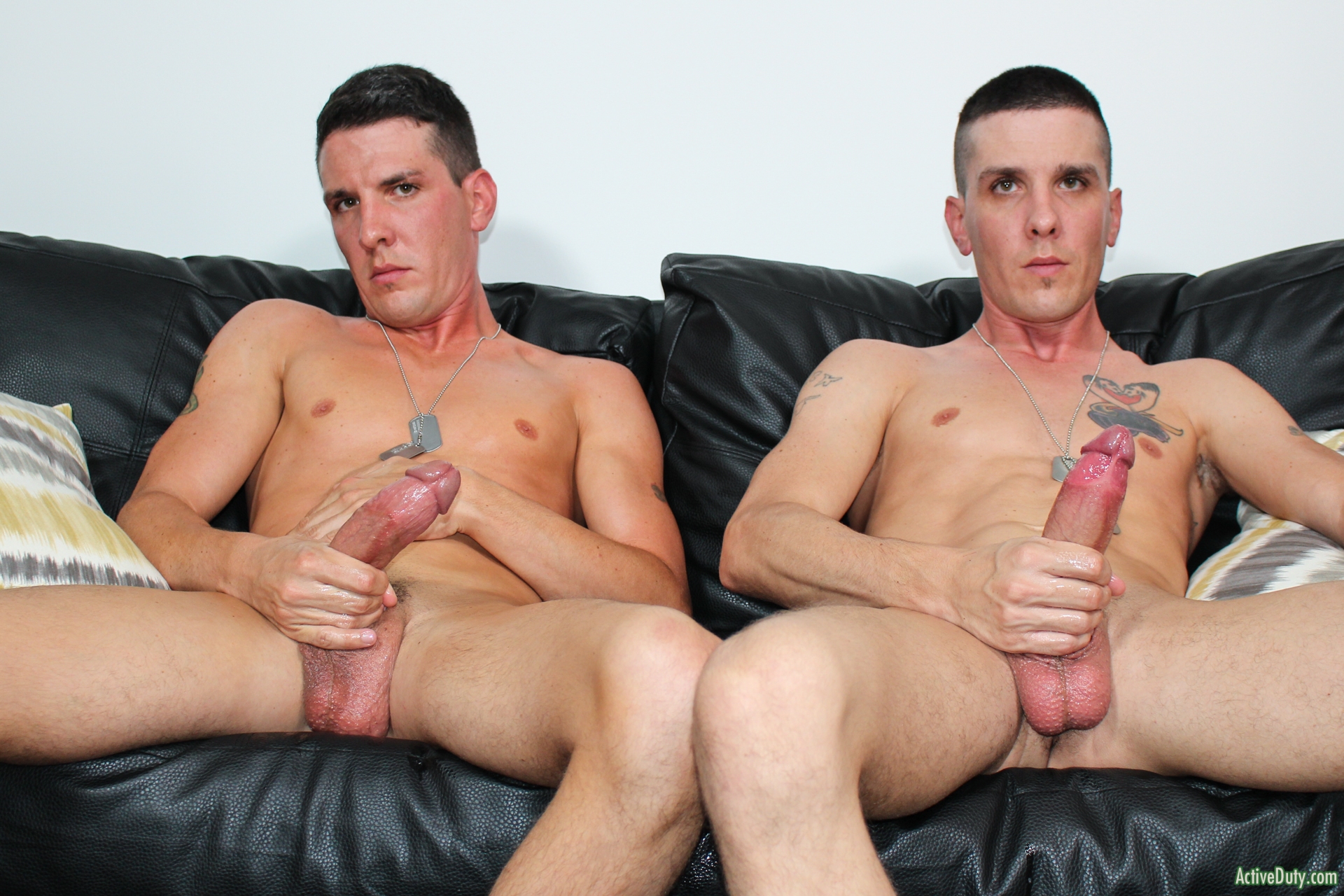 The twin on the right (with the chest tattoo) is Michael Stax, while the twin on the left is Jacob Stax.
It really is crazy how even their cocks are almost identical!? God, I love twins.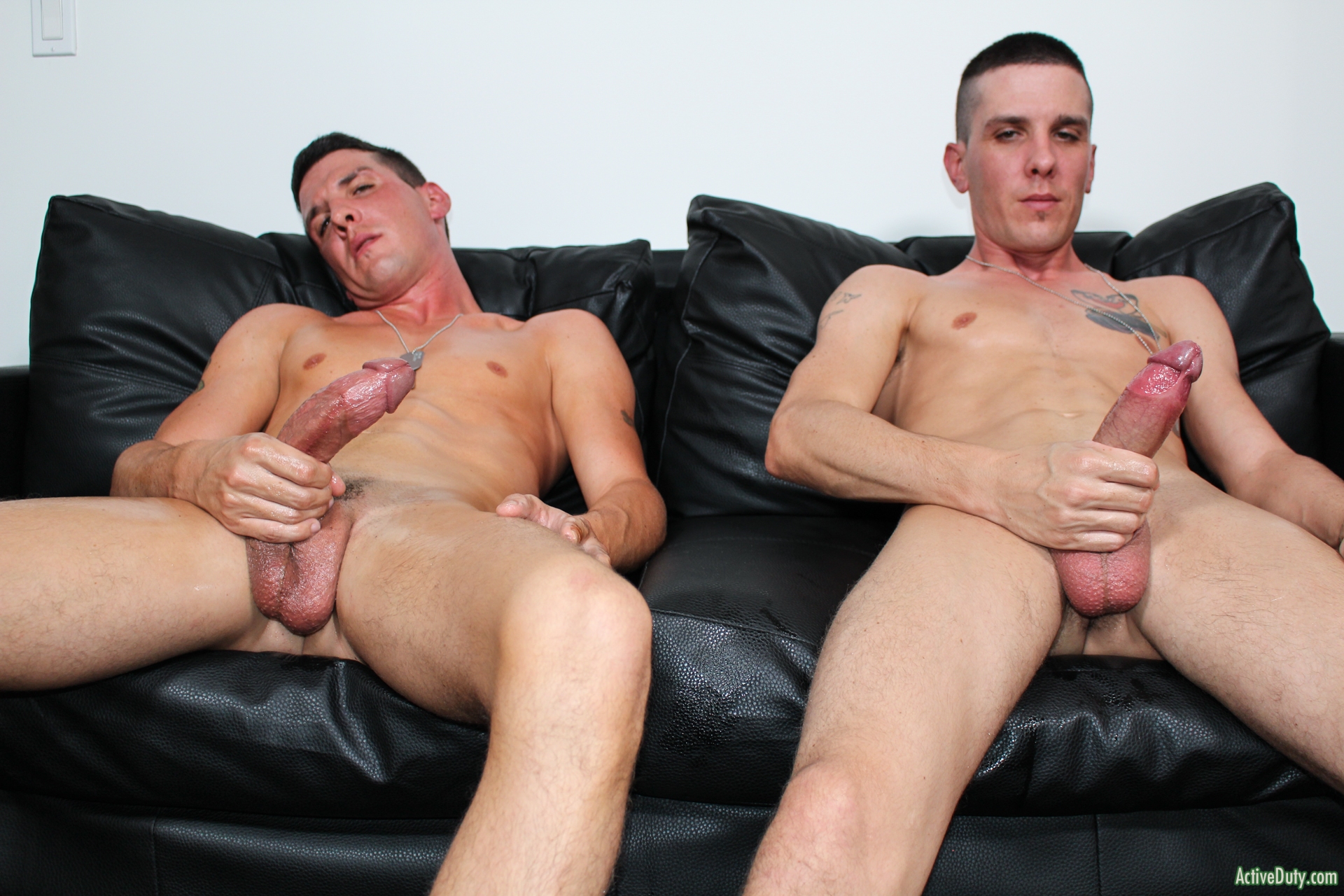 Note that this scene doesn't come out for another 24 hours here on ActiveDuty, so I haven't seen the end of it. I mention that because, in the scene description, we're given a tease of a possible future scene featuring the twins:
Today we have two twins stroking their big dicks for you and at the end we have a special announcement about the future of these two sexy studs. The Stax twins are 26 and love to camp and live up the night life. They are not shy and have had three ways in the past. They've seen each other naked so stroking their big cocks next to each other isn't a big deal at all. At times they move in sync with each other while tugging on their dicks and rubbing their bodies. The excitement finally comes to a climax as the first brother blasts his load all over himself and not shortly after the other brother nuts all over himself as well and erupts in laughter because he almost got some nut on his bro.
Incest is illegal, so I highly doubt ActiveDuty will have a scene with the brothers fucking each other. But, it sounds like, hopefully, we might soon be seeing them in a three-way with another military member? I'll update this post once the "special announcement" is live. [Update: At the end of the scene—now live here—it's revealed that the twins will be back, and they'll be tag-teaming the ass of performer Ryan Jordan. No release date was given, but stay tuned…]
For now, here are the Stax twins stroking their cocks and shooting their loads together:
Trailer (watch full scene here):
[
ActiveDuty: The Stax Twins Stroke Their Cocks
]
ADDED: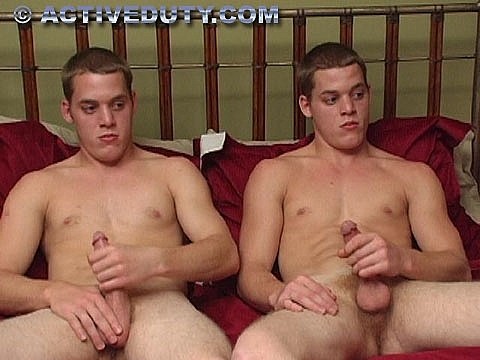 As Trepakprince reminded in the comments below, ActiveDuty did feature twins once before, over 10 years ago. It was 2006 when we were introduced to Bryan and Ryan, and after a jerk off scene, the twins performed together in multiple three-way and group orgy scenes with other military members. All their videos are here, and in the most iconic one, the twins clung to each other while being butt fucked by fellow marines Kasey and Kaden:
[
ActiveDuty Twins: Bryan And Ryan
]