That Gay Porn Star Has Covered Up His Racist Confederate Flag Tattoo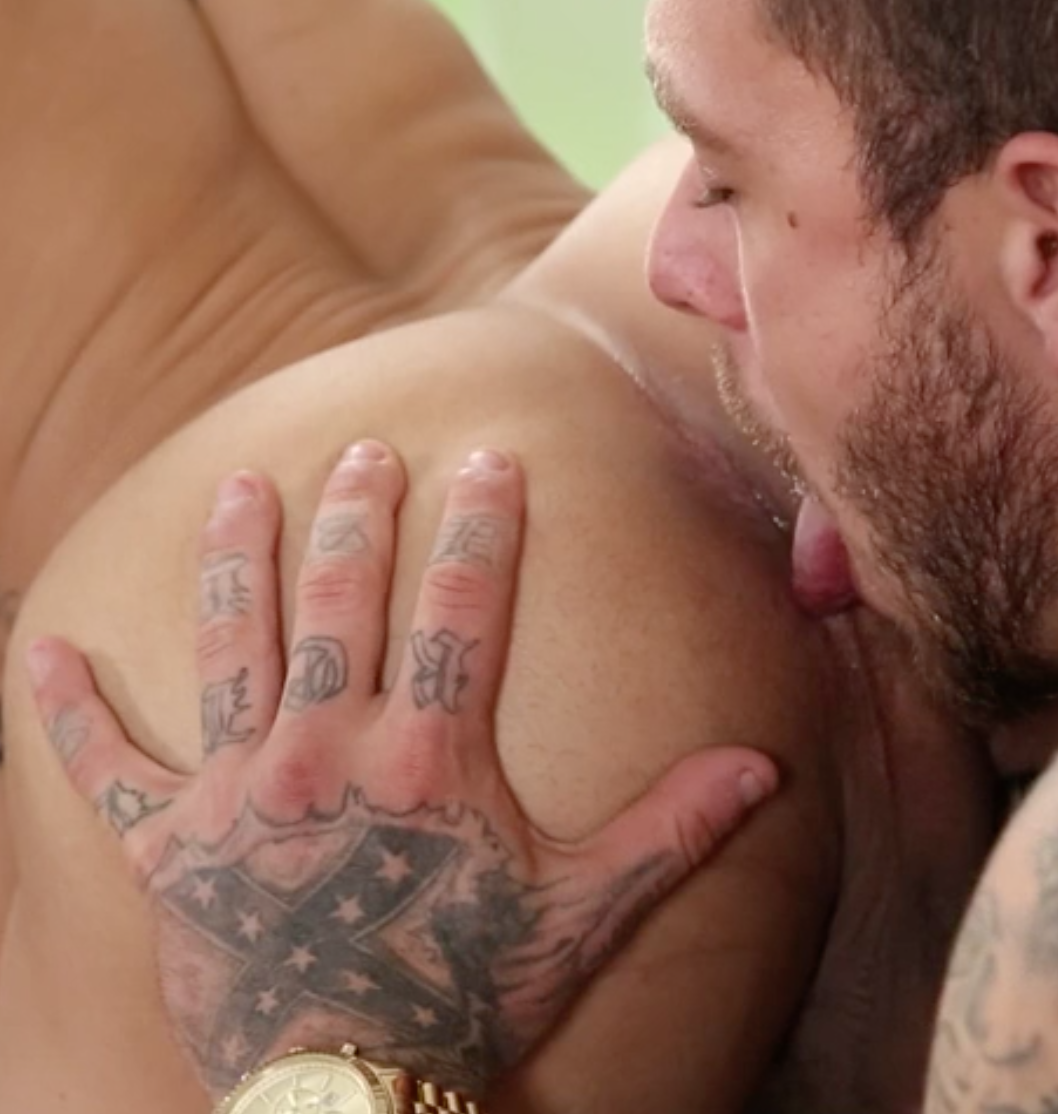 After appearing in several gay porn scenes over the last two months for multiple gay porn studios (who either didn't notice or didn't have a problem with putting a racist symbol on display in their product), performer Brian Michaels has covered up the racist Confederate Flag tattoo on his hand by having another tattoo drawn over it. Good:
Thank you seriously for the positive people who stood up for me and didn't spew hate and judgemental comments toward me for a mistake I made in a dark time of my life. Thanks again to @Beaux_Banks for having kind words about me. Love all my fans and thanks again. pic.twitter.com/WpwXH9wkor

— Brian Michaels (@ThBrianMichaels) March 21, 2018
Someone who purposefully had a racist and hateful symbol permanently painted onto his body complaining about being "bashed" and receiving "hate and judgemental comments" over that very hateful symbol is the kind of unintentional irony that only a gay-for-pay ex-convict could deliver, so I'm going to have to save my sympathy for someone else. Thanks.
Trying to spin condemnation of the racist Confederate Flag tattoo as an unfair "attack" on Brian Michaels—as Michaels and his delusional supporters have done—is completely absurd and completely misses the point, and it's part of the reason why racism in gay porn is allowed to thrive. As pointed out multiple times here, the question over Brian Michaels' racist tattoo was never about whether or not Brian Michaels was a racist (there are, unfortunately, many racist performers working in porn who don't have any racist symbols tattooed on their body, so even if Brian Michaels were a racist, this would be nothing new for the porn industry)—the question was why multiple studios were choosing to make a racist symbol part of their entertainment. People with racist tattoos that perpetuate and normalize racist imagery don't belong in media, and racist symbols like the Confederate Flag don't belong on display in porn—or on display anywhere.
Everyone who spoke out against the studios and Brian Michaels' racist Confederate Flag tattoo can be glad that their speaking out led to the removal of the hateful symbol. If no one had called it out (and Michaels has been receiving questions about it for months on social media—long before it was brought up here), he might not have ever had it removed, and clueless studios would be more prone to make the same offensive mistake again. So (and it's ludicrous to even have to say this), calling out racism loudly and directly is exactly the right thing to do, and we should all be ready to do it again the next time it inevitably happens.