Taylor Saracen Reveals How (And Why) She Wrote Her New Book About Blake Mitchell, His Own Way Out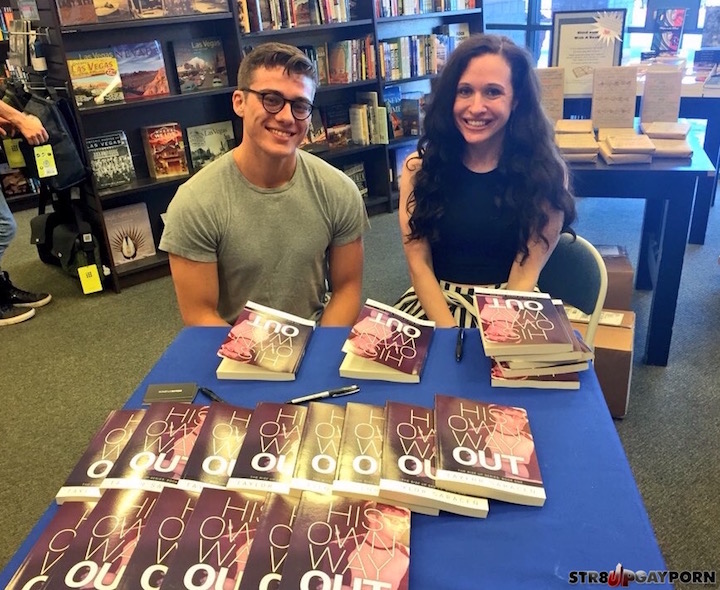 Author Taylor Saracen and Blake Mitchell launched the book tour for Saracen's new novel about Mitchell, His Own Way Out, in Las Vegas, Nevada last weekend, and Str8UpGayPorn was there to talk to the duo about the novel (and to get my own autographed copy of the book, of course). In the video below, Taylor explains her writing process and how she interviewed Blake about his life prior to writing the novel (which can be considered creative nonfiction). Then, they both share what they hope readers will take away from the book.
I've only just started reading it, but I'm enjoying getting to know more about who Blake was prior to becoming porn star Blake Mitchell. Some of his experiences (especially what he went through in high school) are very familiar to me, and Taylor deftly brings these experiences to the page so that everyone can relate, whether you've faced something similar or not.
His Own Way Out is the first novel from 13 Red Media's (the parent company of Helix Studios) "Rise Up" series of adult novels. The next novel (which I've learned will be about another major Helix star, Kyle Ross), is due out this fall. His Own Way Out is available through Amazon and book stores nationwide, and the book tour calendar is here (Blake and Taylor will be in Arizona this weekend, and then Chicago next week).
***
AND:
The most recent Blake Mitchell scene from Helix was released tonight, and in it Blake fucks Leo Frost after taking questions from fans. Trailer (watch full scene here):
[
Helix: Blake Mitchell Fucks Leo Frost Bareback
]