WATCH: Hung Colorado College Student Juggles In The Nude, Pisses, Strokes His 8-Inch Cock, And Shoots Cum All Over His Own Face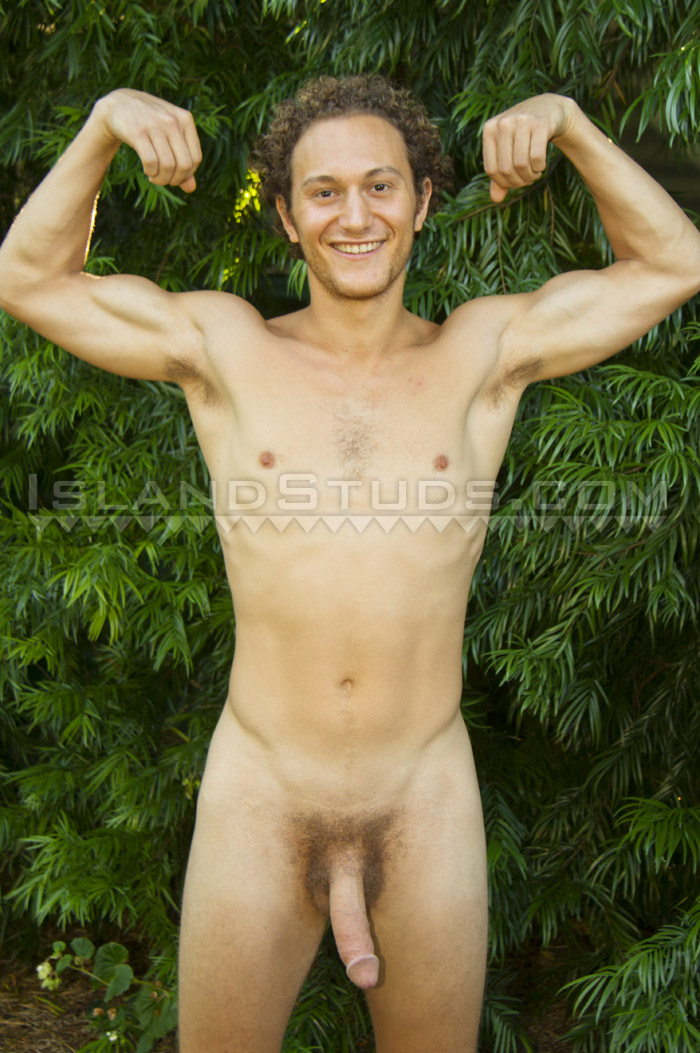 IslandStuds sometimes features gay porn's most oddly hot, totally awkward, and ultimately must-see newcomers. Today is no exception with the introduction of Anthony, a Colorado college student visiting Hawaii and stroking his cock on camera for the first time.
I don't think Anthony is my type at all, and yet, I loved every minute of his video.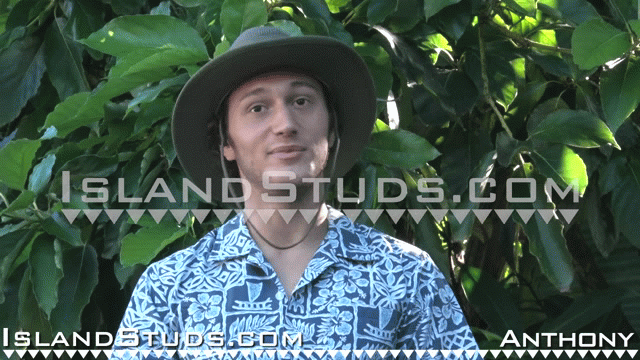 As usual, the IslandStuds scene description is totally bonkers and full of about 10 zillion grammatical errors. It's still fun to read, somehow, and here's a portion of it (the whole thing was over 1,000 words, but I deleted more than half of it):
Hung 8″ Anthony is a super friendly, talkative, horny Italian / Hungarian college student from Colorado visiting Hawaii, sporting a smooth tight lean upper body, amazing creamy white bubble butt with the perfect amount of man hair covering his crack & pink virgin hole which he enjoys opening for us repeatedly as he sweats in a Hot Naked Yoga Session, works naked in the garden loading Palm leaves into a wheelbarrow wearing only leather gloves and sandals, takes 3 long powerful pisses outdoors while talking to the camera, playfully juggles circus balls naked with his big boner slapping his thighs, double fists his thick 8″ Italian sausage surrounded by a thick bush of untrimmed dick hair while fingering his hairy hole, walks around the garden with his big swollen cock flopping in the breeze, happily bends over in the sun with his smiling face shoved between his knees, stroking is rock hard cock while holding open is firm muscle butt with his big balls dangling and caresses his open pink exposed hole, sits in a chair in the garden for a long jerk off session, moans with finger up his butt and explodes in a powerful river of cum which coats his face and covers his neck, chest and hairy cock and balls in boy juice, before taking a full anal soapy shower once again opening his amazing bubble butt for us all to enjoy in this Exclusive New Video from Island Studs. It is very hot to watch this smiling jock with his beautiful 8″ cock flopping around the garden as he bends over picking up piles of leaves, totally NAKED. Cute Anthony's BIG BALLS and heavy cock dangle between his smooth white bubble butt as he works. Watch this sexy visitor moan and shoot GOBS of thick white goo ALL OVER himself! His sweet boy juice BLASTS out of his red hot cock, strikes his face, neck, chest, belly and drips down his big furry balls! "I always cum like this", he says as his points to his own jizz dripping off his cute face!
Note that in the trailer below, Anthony says, "Aloha, ladies!" at the very beginning of his video, which makes me wonder: Does he really think that it'll be ladies watching him jerk off on a gay porn site? If so, this just made him, like, 10 times hotter.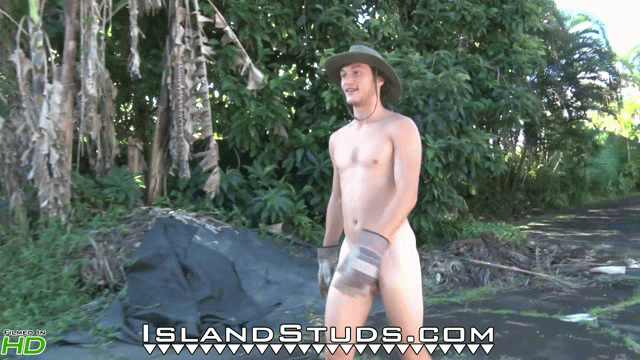 After all the juggling, pissing, and yard work, Anthony busts a huge nut, giving himself an epic cum facial to conclude the jerk off session. Enjoy, ladies!
Trailer (watch full scene here):
[
IslandStuds: Anthony
]