Big-Dicked Jack Hunter Gets Fucked In Horror-Themed Gay Porn "It's Coming"
Raging Stallion's new horror-themed porn debuts tomorrow (should they have waited until next month to release this, to be closer to Halloween?), and it's titled "It's Coming." Stars fucking in this first scene are Damien Stone (above) and Jack Hunter (below).
The "It" in "It's Coming" is not a reference to Jack or Damien's cocks (although both of them do shoot cum). Instead, "it's" an evil spirit dwelling in the house they're in, or something. Via Raging Stallion:
When a group of four hot jocks breaks into a dilapidated house to spend the night, they know that it was once the scene of a horrific crime. The last guy left in the house will win $100 from each of the other three. When the sleeping bags get unrolled, there aren't enough to go around and Jack Hunter and Damien Stone have to share. Damien convinces Jack that he will be less scared with a cock in his mouth.
Sucking dick is in fact a good way to calm one's nerves, so this is a smart decision.
Note that once again, whether he's topping or bottoming, Jack Hunter can do no wrong, and he continues to dominate 2017.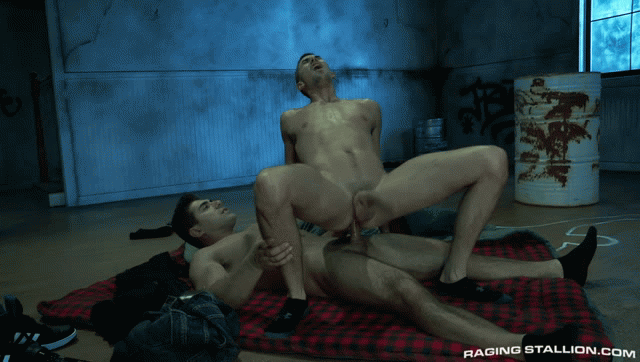 Trailer (watch full scene here):
[
Raging Stallion: Damien Stone Fucks Jack Hunter
]