Introducing Gay Porn Star Jake Hart—Did ChaosMen Just Find Their Best Newcomer Of 2018?
It's been a while since we've had a newcomer this hot at any studio, so today is a very good day for ChaosMen. Meet gay porn newcomer Jake Hart:
The face, the smile(!), the body, the tattoos, and the beard make Jake the total package. Speaking of package…check out this fucking cock!
Jake Hart doesn't identify as gay, straight, or bi, which is fine (he could identify as a questioning polysexual pangender alien and he'd still be the hottest thing I've seen in months), but I guess if you need to apply a label, this might be an example of pansexual? Via the ChaosMen description:
He doesn't identify as gay, straight or bi, but his primary interest is women. He has traveled a couple times, and on those trips, he seems to veer towards messing around with guys. The freedom of another city opening more options for him hook-up with.

On these travel adventures with male hook-ups, it sounds like he has just swapped head and even rimmed each other. No penetration as of yet. I get the sense he is acting cavalier about it, like, "It's no big deal."
Today is Jake Hart's solo, and thank god, Jake Hart will be back next week for a blowjob. Also, if you're wondering whether he's cut or uncut (it's hard to tell in the photos), ChaosMen says he's "barely"(?) uncut:
His 'barely' uncut cock stands at attention, and you can tell by the way he jerks his cock and looks into the camera that the dude has confidence and skills. He will be back to get some head next week, and I am pretty sure he is down to try topping and bottoming in the future!
Fuck: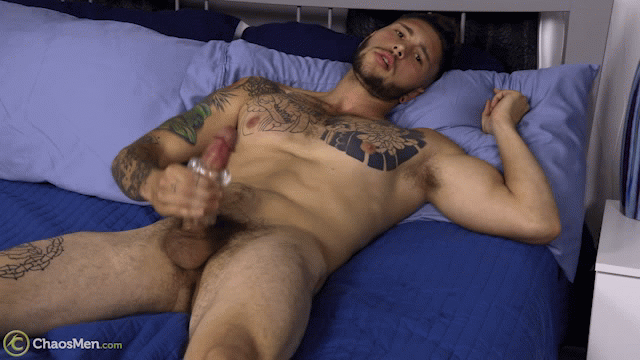 Trailer (watch full scene here):
[
ChaosMen: Jake Hart
]