Gay Porn Stars Come Out In Support Of Jarec Wentworth's Extortion Plot!
While gay porn star Jarec Wentworth sits in federal lock-up awaiting pre-trial on charges of attempting to extort at least $1,000,000 from someone with whom he apparently had a secretive sexual relationship, a small but growing number of his gay porn star pals are coming to his defense.
Str8UpGayPorn exclusively broke the story of Jarec Wentworth's arrest on Sunday. By Monday, performer Seth Santoro had taken to Twitter to remind his followers that there are "two sides to every story":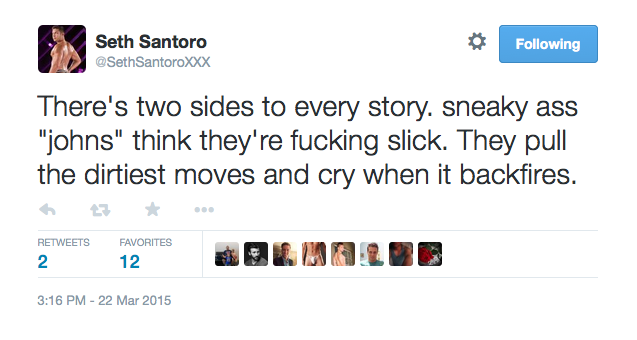 And despite the fact that FBI agents recovered a loaded gun from Wentworth's car after arresting him, gay porn powerbottom Brandon Moore would still prefer to hang with him over the victim: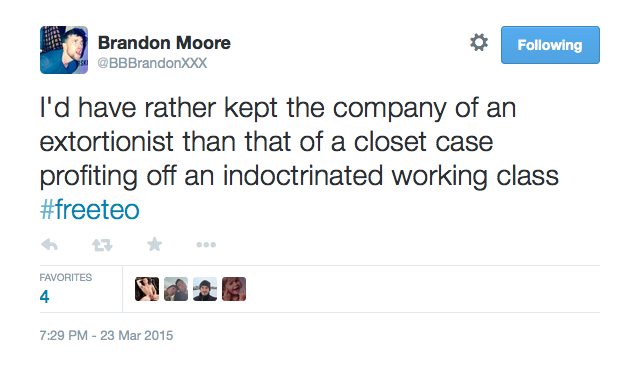 Wentworth allegedly received over $500,000 and an Audi valued at $180,000 from his victim before going back to him and demanding another $1,000,000 in cash, and a condo in Los Angeles. As greedy (not to mention insanely stupid) as that sounds, Billy Santoro sees it differently:
Other than the FBI agents, Wentworth, and the victim, no one is privy to the details of this case or what (if anything) the victim did to "deserve" being extorted. But if we're going to make presumptions, isn't it the most reasonable to presume that Wentworth and his victim are both fucking awful?
Diesel Washington, putting things into perspective: