EXCLUSIVE: Jarec Wentworth Arrested For Felony Extortion; Demands Included $1 Million, L.A. Condo
EXCLUSIVE: It's an exclusive you'll only read on Str8UpGayPorn, and it more than likely means the end of a career for former Sean Cody superstar turned Men.com exclusive Jarec Wentworth.
Str8UpGayPorn can report exclusively that Jarec Wentworth, whose legal name Is Teofil Brank, was arrested on March 4th by undercover FBI agents for felony extortion—a charge that could send Wentworth/Brank to federal prison for years. Upon his arrest in Los Angeles, a .357 Magnum revolver was found in his vehicle.
[Update 4/3/15: Read more about Brank's alleged victim, telecommunications executive and registered Republican Donald Burns]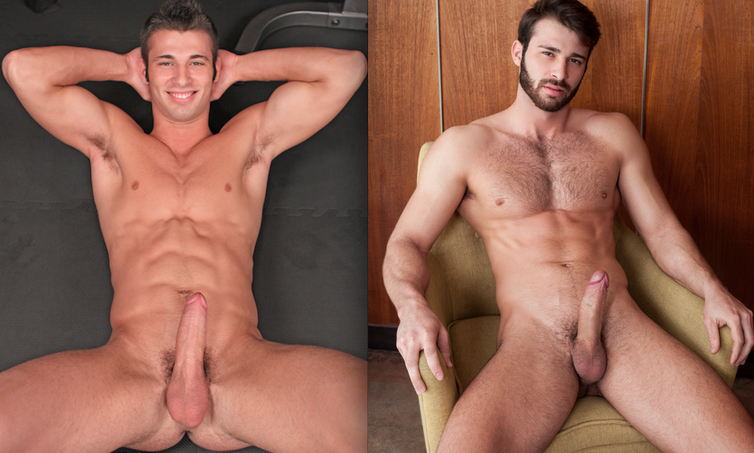 Brank, whose recent roles in gay porn have found him playing a detective and listening in on other people's thoughts, was put under FBI surveillance after allegedly extorting $500,000 and an Audi R8 from an unnamed (and extremely wealthy) victim. According to the FBI affidavit below, Brank threatened to expose details of the victim's embarrassing "sexual liaisons," and the victim apparently took those threats seriously. Before contacting the FBI, the victim had already wired Brank half a million dollars and given him an Audi valued at $180,000.
Brank allegedly made his threats via text message and promised to use his Twitter account (@JarecWentworth) to reveal damaging sexual information about the victim. Details from the FBI affidavit as obtained exclusively by Str8UpGayPorn:
Without getting into too much speculation, it's safe to assume that Brank's alleged victim was someone very rich and very famous (and considering this all happened in and around Hollywood, there are a number of closeted celebrities from which to choose).
[Update 4/6/15: Read the exclusive email Wentworth/Brank sent from prison, in which he claims his alleged victim Donald Burns raped him.]
Here are the threatening texts Jarec Wentworth/Teofil Brank is alleged to have sent, which might make you want to reconsider jerking off to him.
After contacting the FBI, the victim continued to exchange text messages with Brank. And on March 3rd, Brank allegedly decided to up his demands by asking for $1,000,000 in cash, and a condo!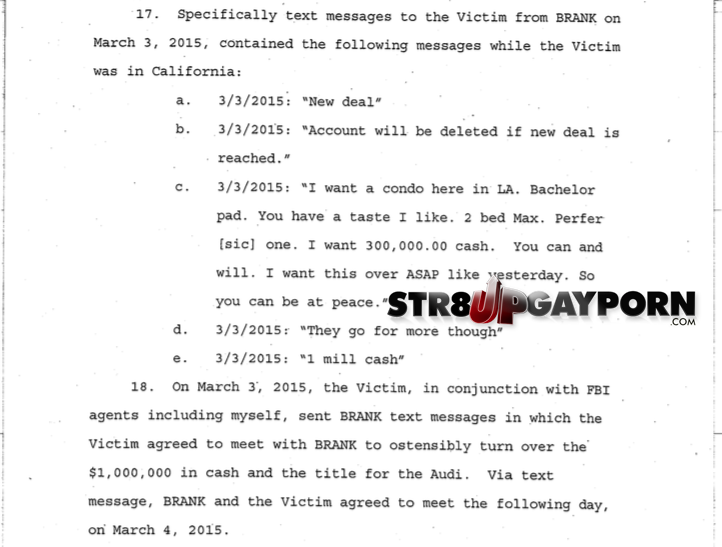 A lot of questions here, obviously. Why did Jarec Wentworth/Teofil Brank need so much money? Was it just pure greed? Having already allegedly received $500,000 and a nearly $200,000 car from the victim, $1 million dollars and a condo is the next logical demand, I guess. But, couldn't he have just asked Men.com for a raise?
Details of Brank's meeting with the undercover FBI agent and subsequent arrest read like something out of a bad Men.com script, only this one doesn't end with Jarec Wentworth being squirted with fake cum.
Jarec Wentworth/Teofil Brank was denied bail due to high flight risk and being a danger to the public. He remains in custody of U.S. Marshals, and is scheduled to be arraigned on March 26th in United States District Court in Los Angeles. At that time, official charges will be filed. Per the court's order, Brank will remain in federal custody until his trial. If convicted, he faces up to two years in prison, if not longer, due to the presence of the gun.
Teofil Brank/Jarec Wentworth is just the latest in a long, long, long line of Men.com models who have been arrested over the years. Most notably, Str8UpGayPorn exclusively reported on Johnny Rapid's arrest earlier this year, and before that, Cliff Jensen, Tom Faulk, Sebastian Young, and several other Men.com gay porn stars were arrested for a variety of crimes.
Jarec Wentworth has filmed nearly 70 gay porn scenes since starting his career with Sean Cody in 2010. His next Men.com scenes are set to be released tomorrow, March 23rd, and Thursday March 26th, the day of his arraignment in federal court.
Related Stories:
—All Of Jarec Wentworth's Gay Porn Scenes, Ranked From Worst To Best
—Jarec Wentworth Threatens To Quit Men.com If Johnny Rapid's Manager Isn't Fired
—Sean Cody: Jarek's Complete Filmography
—Men.com: Jarec Wentworth's Complete Filmography