EXCLUSIVE: MagicJack™ Millionaire Donald Burns Sought "Private Meetings" With Sean Cody Models—With Alleged Extortionist Jarec Wentworth's Help
Earlier this month, Str8UpGayPorn was tipped to several photos of legendary Sean Cody performer Ashton canoodling with multiple old, wealthy, white men at various high society charity events in Florida, New York, and California. The most newsworthy aspect of those photos (at the time) was that Ashton was photographed with Kip Forbes, the publishing magnate and brother to Republican presidential candidate Steve Forbes. Turns out, it's Ashton's other old, wealthy, white male companion who's a much more interesting fellow: Donald Burns.
That's Ashton on the left (obviously) and Forbes in the center, and the man on the far right is named Donald Burns. Ashton and Donald Burns' close friendship hasn't been a secret, as the two have traveled the world together and made public appearances at several high profile events over the last two years. Here's Ashton and Donald Burns at a charity gala in Florida, a trip to the Louvre in Paris, and a Grammys party in Los Angeles: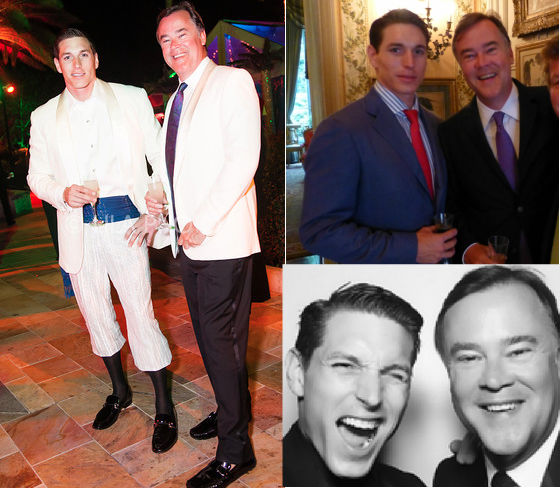 So, who is Donald Burns? In addition to being a very close friend of Ashton's, Donald Burns is a political activist, telecommunications executive, and multimillionaire who, with $25 million dollars, co-founded the VoIP and internet phone service magicJack. (You've no doubt seen their annoying commercials running over and over again during late night TV.) Before starting magicJack (where he is currently the Chairman of the Board), Donald Burns served as CEO and/or co-founded several other telecom companies, per his Bloomberg profile:
Mr. Donald A. Burns, also known as Don, served as the Chairman and Chief Executive Officer of VocalTec Communications Ltd. and was responsible for its day-to-day operations, leadership, and the financial integrity. Mr. Burns began his telecommunications career at ATX Communications, Inc. at its founding in 1985. Mr. Burns co-founded Telco Communications Group, Inc. in July 1993 and served as its Chief Executive Officer since April 1996, President since July 1993 and Secretary from July 1993 to April 1996. He has been the Chairman of magicJack VocalTec Ltd. since January 1, 2013. He served as Vice Chairman of Telco since April 1996 and has been its Director since July 1993. He has been a Director of magicJack VocalTec Ltd. since December 21, 2010.
Throughout his tenure as Chairman of the Board of Directors at magicJack, Donald Burns hasn't just used his wealth and influence to befriend Sean Cody models like Ashton; he's also donated thousands of dollars to political candidates, including John McCain, George W. Bush, Barack Obama, and Ralph Nader, as revealed in a 2008 Tampa Bay Times article:
When it comes to Republicans, he's given to both Rudy Giuliani and Sen. John McCain. He's a past supporter of President George W. Bush, former U.S. Rep. Mark Foley and Sen. Mel Martinez. In the 2004 presidential campaign, he contributed $1,000 to the Swift Boat group that attacked Democratic nominee Sen. John Kerry.

But that same year, Burns gave $2,000 each to Democrat John Edwards and Ralph Nader. He's given $2,300 to Sen. Barack Obama. And back in 2005, he gave $5,000 to the Gay and Lesbian Victory Fund, which funds openly gay political candidates.

Burns is a former chief executive of publicly traded Telco Communication Group, a discount long-distance service provider. It was sold in 1997 for $1.2-billion. In the decade since then, he's launched the Donald A. Burns Foundation, a Palm Beach charitable foundation to "promote educational and social institutions." Tax records show assets of $10.7-million in 2006.

Burns also owns the New York building where actor Heath Ledger died this year.
While Donald Burns clearly has diverse taste in his politicians, he's fairly vanilla when it comes to his taste in men, as they all come from Sean Cody. In addition to his relationship with Sean Cody's Ashton, Str8UpGayPorn can exclusively confirm that Donald Burns was also seeking to arrange "private meetings" with several of Sean Cody's most popular models, including Jamie, Curtis, and Randy, as seen below:
Str8UpGayPorn has verified that all of the below text messages were sent from Donald Burns' mobile phone, and these first two were received by Sean Cody gay porn star Curtis (referred to below as "Nicholas"):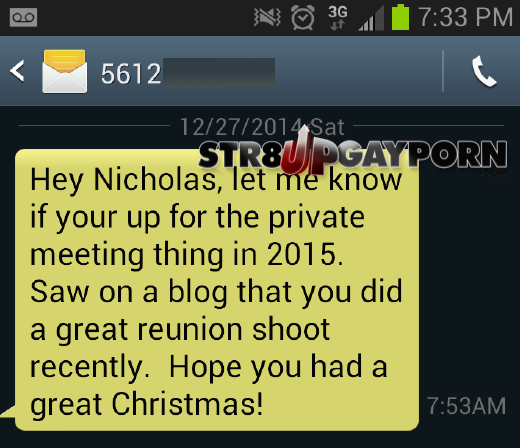 Maybe Donald Burns was referring to this 12/24/14 post about Curtis' Christmas creampie?
Donald Burns is nothing if not persistent, as he continued to solicit Curtis with "opportunities" just last month. In this next message, Burns sweetens the deal by offering to pay Curtis (referred to below as "Nick") an extra $2,500 "referral fee" if he can convince his horse-hung Sean Cody co-star Randy to join them (perhaps not coincidentally, Curtis and Randy's bareback fuckfest was released on February 7th, just one day before Burns sent this message):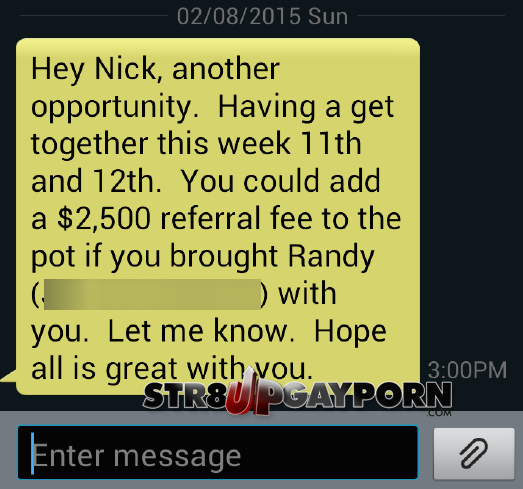 While the above messages don't reveal how Donald Burns was put into contact with Curtis, the below messages leave little doubt as to who was assisting him. In this string of text messages from last November, Donald Burns attempts to arrange a meeting with former Sean Cody model Jamie (referred to below as "Kyle"). According to Donald Burns, the person who suggested that Jamie would be "up for a trip" is none other than Teo (a.k.a. Teofil Brank, a.k.a. Jarec Wentworth, a.k.a. Jarek, Jamie's former co-star):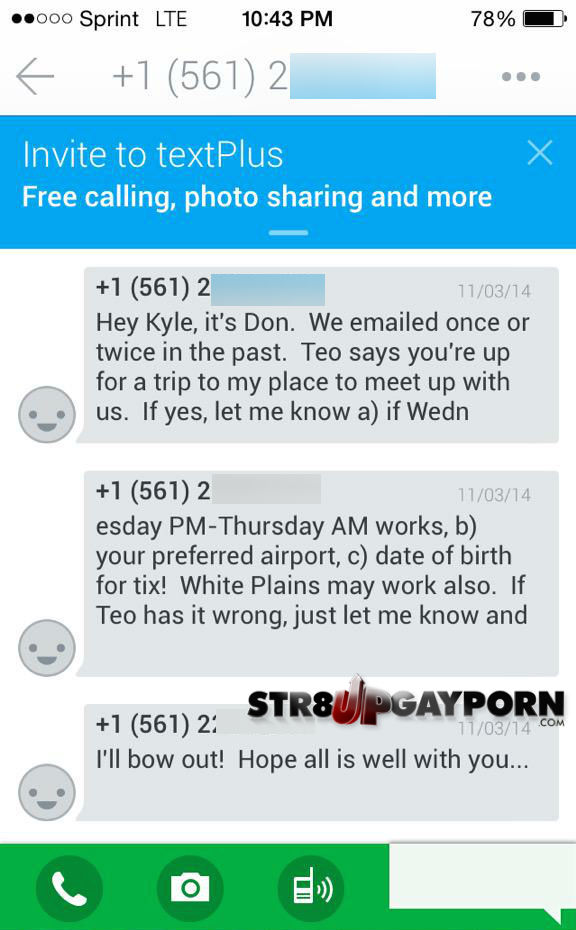 As of post time, Str8UpGayPorn can't confirm whether these "private meetings" did occur, but Donald Burns' public relationship with Ashton does indicate that the multimillionaire magicJack Chairman has been extremely successful at spending time with Sean Cody models in the past.
Donald Burns' apparent liaison to Jamie, Jarec Wentworth/Teofil Brank, was not available for comment on this story, as he remains in federal custody awaiting trial for allegedly attempting to extort $1,000,000 from an unnamed victim. According to the Grand Jury indictment filed in federal court last week, that victim's initials are "D.B."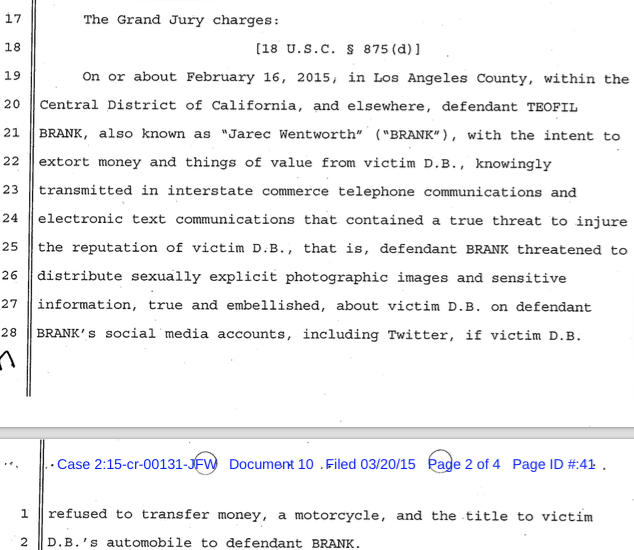 Related Stories:
Jarec Wentworth Arrested For Felony Extortion
What's Sean Cody's "Ashton" Doing With A Republican Presidential Candidate's Brother?
All Of Jarec Wentworth's Gay Porn Scenes, Ranked From Worst To Best
Sean Cody: Jarek's Complete Filmography
Sean Cody: Curtis' Complete Filmography
Sean Cody: Jamie's Complete Filmography
Sean Cody: Randy's Complete Filmography