Jarec Wentworth Trial Day 1: Donald Burns Takes The Stand
The first full day of the Jarec Wentworth extortion trial has just concluded at U.S. District Court in downtown Los Angeles. I'll be recapping the day's events each night this week in detail here, and in shorter observations on Twitter, as time permits during court recesses. The trial is expected to be over by Friday. For those of you who have no idea who Jarec Wentworth is or why he's on trial, you'll find a comprehensive recap here.
First, some good news for Jarec Wentworth (a.k.a. Teofil Brank): Yesterday, Judge Walter ruled in favor of the defense's motion to dismiss the seventh count charging Wentworth with possession of a firearm in furtherance of a crime. This is great news for Wentworth, as that charge carried a mandatory minimum sentence of five years. Of course, he's still facing six other extortion-related counts and faces up to 10 years in prison if convicted on all of them.
Here's a recap of everything that happened on Day 1 of the Jarec Wentworth trial:
Jury Selection
A jury of nine women and three men were selected this morning, all of whom appear to be engaged and listening closely to testimony and instructions. Despite the explicit sexual content of witness testimony and lawyers' opening statements, none of the 12 jury members showed any reaction or emotion. (Although, you can only imagine what they were thinking).
Opening Statements
The prosecution began their opening statement by loudly reciting one of Wentworth's texts to Donald Burns: "I can bring your house down, Don! I have a Twitter." The prosecutor went on to recap what we already know: Burns wired Wentworth $500,000 and gave him the Audi after Wentworth posted a tweet asking "how many porn stars know a man named Don"; Wentworth allegedly sent threatening texts to Burns promising to expose "embarrassing" sexual details about Burns if he wasn't given "a new car, a motorcycle, and both hands full of cash"; and that Wentworth eventually upped his demands to $1,000,000. The prosecution told the jury how Burns and Wentworth met, what their relationship consisted of (Burns paid Wentworth to have sex with him), and that Wentworth was procuring other porn stars for Burns to fuck. The prosecution's deliberately brief description of Burns' relationships with Wentworth and the other porn star escorts was confusing to follow, even for me. I doubt that jury members were able to comprehend the exact structure of all the relationships (Jarec and Don, Jarec and the other porn stars Don wanted to hire, Sean Cody and Jarec, Don and the porn stars referred to him by Jarec), and who was paying whom for what.
The defense's opening statement put all of the focus (and blame) on Donald Burns, as lead public defender Seema Ahmad told the jury, "The only reason we're here is because Donald Burns didn't want to make good on the promises he made Teofil Brank." The defense strategy, from what I can tell so far, is that Wentworth wasn't extorting Burns, but rather he was only asking for the things that were promised to him by Burns. The defense went on to reveal that Burns has a net worth of $138 million, and that he "groomed" all of the Sean Cody porn stars he hired to be his personal companions. According to the defense, Burns was manipulating Jarec Wentworth, and Wentworth was "only asking for the money that was promised to him."
Other details the defense revealed about Donald Burns during their opening statement: Burns spent over $200,000 on Sean Cody's Ashton. Burns invited Sean Cody production employees to his house in La Jolla for private parties. When Burns attempted to hire Sean Cody's Jamie for a pay-for-sex meeting, Jamie replied, "Thanks, but no thanks." Burns also attempted to hire Sean Cody's Stu, who simply replied, "No." In one of the first emails Burns sent to Wentworth, which contained a list of his 11 "most-wanted" Sean Cody models, Burns tempted Wentworth with a total referral payout of $22,000 ($2,000 for each model), and begged, "Please, Teo, I want the guys that nobody has ever cracked."
For context, the defense gave the jury a description of Sean Cody, stating that it featured "the elite of the elite…the most desirable, and the most handsome men" in the entire gay adult entertainment industry. The defense also revealed that most of the models who worked for Sean Cody were straight men, explaining to the jury of nine women and three men that "this is a phenomenon known as 'gay-for-pay.'" Who knew serving on a jury could be so educational?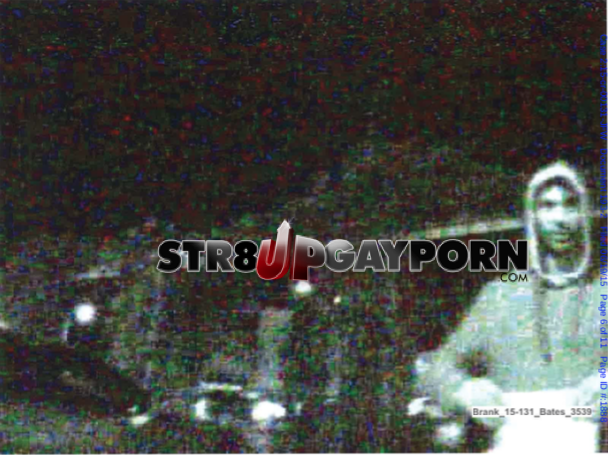 Prosecution Witness #1: Special Agent Sean Sterle, FBI
Sterle is the undercover agent who posed as an associate of Burns' and met with Wentworth at that El Segundo Starbucks. His testimony recounted how the sting operation was set up and executed, and also featured the video recording of Wentworth meeting him and subsequently being arrested. The video and audio quality was poor, but in the seconds after Wentworth was pushed to the ground and handcuffed, he can be heard asking, "What's going on? What happened?" When an arresting agent asked Wentworth his name, he replied, "Josh," but then quickly said, "No, it's Teo."
The defense's cross-examination of this witness only contained one question: "Was there a gun found on Teofil Brank when he was arrested?" The answer: No.
Prosecution Witness #2: Cell Phone Forensic Examiner M. Scott Saul, FBI
This witness provided extremely tedious testimony about how all of the data (text messages, tweets, emails, etc.) were extracted from Burns', Wentworth's, and Sean Cody model Taylor's phones (Taylor will testify tomorrow). Essentially, this expert witness was called upon to prove that all of the allegedly threatening text messages and emails being submitted as evidence were authentic.
Prosecution Witness #3: Donald Burns
This was somewhat of a surprise, as I thought the prosecution would save their victim for last. Burns looked thinner and more well put together than we've seen in photos here (obviously and unfortunately, I'm unable to take photos inside the courthouse, otherwise I would've gotten a shot of Burns), and he was a very well-rehearsed witness. He spoke clearly and methodically, indicating to me that he and the prosecution had probably gone through a practice run of his testimony at least two or three times. In short, it was pure theater and too polished. In my view, Burns came off like a pompous member of the 1% (he mentioned that he received texts from Wentworth while he was in Vancouver, Washington having his own "ship" built at least three times), and was completely unrelatable to the working class jurors.
Most of Burns' testimony consisted of him reading all of the allegedly threatening texts Wentworth sent him (including the demand for the Audi and the Audi title, the $500,000, etc.), with the prosecutor repeatedly asking Burns, "How did that make you feel?" Burns, in turn, repeatedly told the court that he felt "chilled" and "panicked," and characterized Wentworth's texts as "crazy" and "bizarre." (Apparently, Burns never felt "chilled" or had any anxiety for nearly two years when he was brazenly thumbing his nose at federal law by flying gay porn stars around the country and paying to fuck them?) The prosecutor and Burns continued this melodramatic pattern of Burns reading Wentworth's texts and then saying how he "felt" about each text for nearly an hour, but was the jury buying Burns' "defenseless victim" act? I don't know. Then, the prosecution switched gears to talk about the pay-for-sex meetings.
On the witness stand, Donald Burns admitted that he had "four or five" pay-for-sex meetings with Wentworth, and that he paid between $1500 and $2500 per meeting. Burns claimed that one of the times he had sex with Wentworth, in the Bel Air Hotel, was an unpaid sexual encounter. According to Burns, he served as a sort of "mentor" for Wentworth, and was even trying to help him pursue a mainstream modeling career with companies like Abercrombie & Fitch. Burns also admitted that he paid Wentworth $1500-$2500 in referral fees each time Wentworth sent him a Sean Cody model to fuck. The first pay-for-sex meeting included Burns and two Sean Cody models, and as these meetings progressed, they sometimes included Burns and up to four Sean Cody models all at the same time. Sounds like a party.
"Every three to six weeks, I would fly porn stars to my home," Burns told the court, "and I paid them in cash."
Burns and Wentworth had their falling out in January of this year when one of Wentworth's referrals canceled on Burns, and Wentworth didn't return Burns' $2000 referral fee.
When asked by the prosecution why he had spent so many thousands of dollars and gone to such great lengths to hire so many Sean Cody models to have sex with him, Burns explained that paying for sex was "a coping mechanism" after recently ending a long-term relationship, and it was an opportunity for him to have "sex without a commitment."
The prosecution then started to ask Burns about Rentboy—where he met his first Sean Cody model, Miles/Aidan—but the judge interrupted and called for evening recess. The trial will resume tomorrow at 8:00 a.m. with the remainder of Burns' testimony and the defense's cross-examination, which should be highly salacious given what they hinted at in their opening statement.
Stray Observations
—Jarec Wentworth wore a white dress shirt with gray stripes, buttoned all the way up. His hair is medium length (sort of like in the photo above) and was styled simply with no product in it. He's somewhat thin (probably not a lot of time for the gym in jail), but still handsome and fresh-faced. He actually looks healthier and better now than he's looked in some of his more recent porn scenes.
—Str8UpGayPorn was brought up during Donald Burns' testimony, when he read one of Wentworth's texts telling him that "Str8UpGayPorn favorited" his tweet about Burns.
—Three plainclothes U.S. Marshals are escorting Wentworth to and from court, and he is not handcuffed at any time in front of the jury. There are no bailiffs or visibly armed officers in the courtroom.
—In addition to Sean Cody's Ashton, the defense has subpoenaed another high profile witness: The Vice President of Sean Cody. He's scheduled to testify late tomorrow or Thursday.
—I spoke briefly with Sean Cody's Taylor (Justin Matthews) in the witness holding room, where he told me that he was not nervous about testifying for the prosecution (which should happen tomorrow).
—Jarec Wentworth has no family in the courtroom. Say what you will about him and his alleged crimes, but it's hard not to have sympathy for someone who is, essentially, completely alone and without the support of any loved ones. That said, one female friend of Wentworth's was in the court room, and she made friendly gestures to him throughout the day. At one point before the jury had come back from a break, she pointed at me (I was sitting in front of her) and mouthed/whispered to Wentworth, "This is Zach [from Str8UpGayPorn]," and Wentworth smiled at me in an "Oh, great" kind of way, which ultimately felt friendly. I smiled back.