Jaxton Wheeler's Explanation For Why He Told August Ames To Take A Cyanide Pill: "It Was A Forceful Way To Say 'Suck A Bag Of Dicks'"
As reported last week, straight porn star August Ames took her own life two days after publicly announcing that she had pulled out of a shoot due to her male co-star having previously performed in gay porn. Even though Ames' male co-star on the straight porn shoot would undergo the same STD testing as her prior to filming, Ames said she didn't know what men who perform in gay porn "do in their private lives." This comment was rightly called out and questioned by many, including Str8UpGayPorn.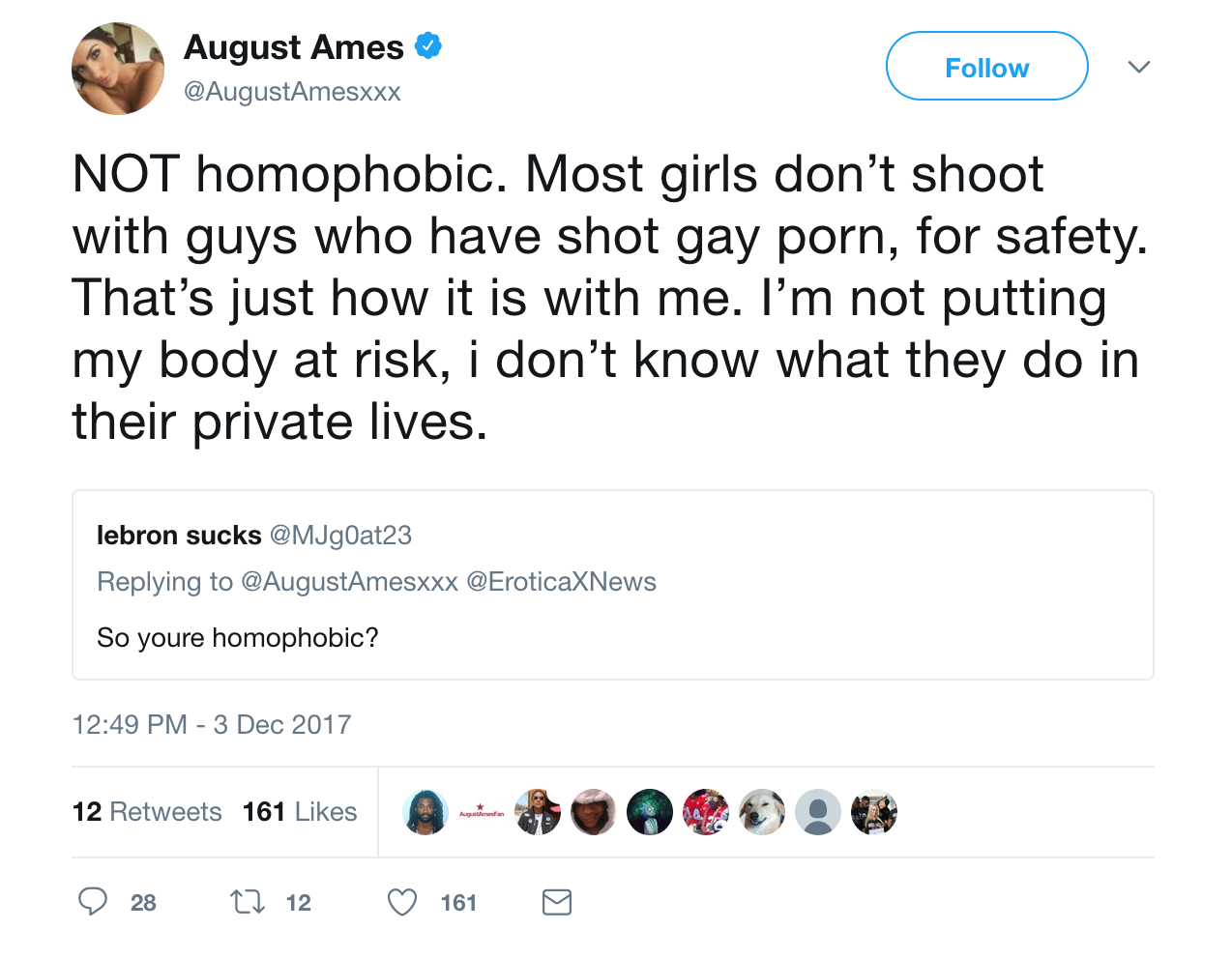 While most of the ensuing arguments between porn industry performers and Ames—who launched this debate after taking to Twitter and implying that promiscuous gay men would give her STDs—were the kind of heated arguments reasonably expected after someone provokes a controversial discussion on social media, one performer crossed the line of "discussion" with a useless and inflammatory tweet telling Ames to "swallow a cyanide pill." That performer, as most already know, was Jaxton Wheeler:
Following news of Ames' actual suicide, the condemnation of Wheeler's tweet was swift and relentless (there's an entire article on Newsweek about him and his tweet), and he locked his Twitter account after receiving a barrage of angry tweets. But now, four days later, Wheeler has given an interview to The Sword to defend his remarks.
While Wheeler's statement to The Sword begins with an acknowledgement of Ames' passing, he then explains that he used "an unfortunate choice of words" when responding to her on Twitter:
I am saddened a fellow model is gone. My intention was to bring about a conversation about the stigmas and issues talent like myself deal with every day. I acknowledge that I responded with emotions and an unfortunate choice of words.
Wheeler goes on to explain that what he really meant by "take a cyanide pill" was for August Ames to "suck a bag of dicks":
The Sword: Given that, what did you mean when you said, "take a cyanide pill?"
Jaxton Wheeler: To me, it was a forceful way to say, "suck a bag of dicks." I regret expressing it that way. That will haunt me the rest of my life, but it was never, ever, in any way meant to be an actual course of action.
Wheeler also tells The Sword that he's disappointed his cyanide tweet is "distracting from [his] original issues," and that he would like the social media "abuse" and "threats" to end—"particularly" if that abuse and those threats are directed at him:
As a matter of public record, my comment was posted after August had chosen to take her life. I am disappointed my comments have been used to distract from my original issues and devastated they have inappropriately been attributed as the reason August chose to take her life. My heart goes out to her friends and loved ones, and to all affected by this. Hopefully, this allows us to reflect on the choices we make on social media. It may be anonymous, but real harm can be done. I am pleading with people on both sides to put to an end to the verbal abuse and threats made so freely every day, and in particular, those directed at me right now. This serves neither her memory or any of others we have lost this year.
Also, Wheeler, as prompted by The Sword, "absolutely" believes that the condemnation he's received is attributable to the larger national conversation being had over sexual harassment, and Wheeler thinks he's been labeled a villain who "everyone wants to hang in the public square."
The Sword: The country is having a national conversation right now about sexual harassment. Do you think it made people feel more comfortable and virulent about calling you out?
Jaxton Wheeler: Absolutely. Before they knew she had hung herself and didn't take a cyanide pill, both our tweets were posted, and I was blamed as the de facto cause. I do understand everyone wants a villain to hang in the public square for the tragic death of this sweet, beautiful girl. While she is indeed the victim here, I am not the villain.
Ames—who hanged herself in a public park—reportedly suffered from bipolar depression and other mental health issues, and her suicide note made no mention of the tweets she received. Regardless, I don't see how this interview is going to help Jaxton Wheeler.