Joey Mills Bukkake: Who Came The Most? Who Came The Least? Ranking Each Of The 6 Cum Shots In "Joey's Hungry Bukkake"
It's a dream come true for Joey Mills (not to mention all of Joey Mills' fans) at Men.com today, because the most award-winning twink in gay porn is taking not one, not two, not three, not four, not five, but SIX motherfucking loads to the face in an epic bukkake scene that's appropriately titled "Joey's Hungry Bukkake."
I can't recall Men ever releasing a bukkake scene like this, so this is a historic moment for cum-drenched Joey and his six nut-busting tops. Well, they aren't actually tops since this is an oral-only scene with no fucking, but you know what I mean. The six men cumming on Joey's face are a mix of big-dicked muscle hunks, twunks, twinks, and daddies, and they are (from left to right, below): Clark Reid, Jake Preston, Greg Dixxon, Kane Fox, Spikey Dee, and Alpha Wolfe.
Here are each of the six loads in chronological order, beginning with Alpha Wolfe, who expertly shoots a nice load directly into Joey's mouth: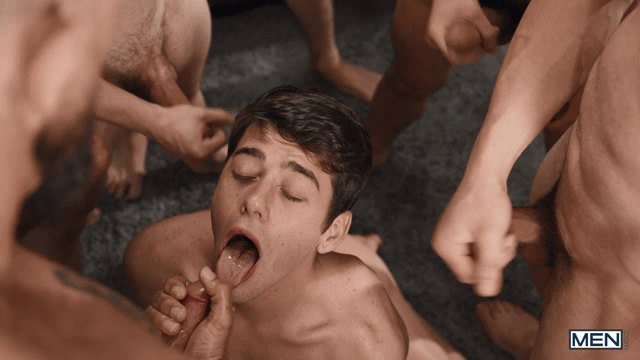 Next up, Clark Reid and Kane Fox shoot almost simultaneously, with Clark kind of hitting Joey's chest/neck/shoulder, while Kane aims for the mouth/chin: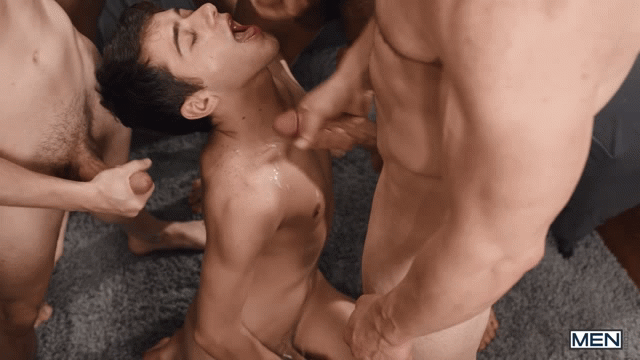 The filming of these two loads isn't great. For example, Kane Fox's ejaculating cock is barely in the top of the frame while he's cumming. Good grief. Also, I know there can be variations, but I associate bukkake with cumming on the face, so Clark cumming on Joey's shoulder and neck bothered me. Next up, Joey swivels around to drink Jake Preston's load:
Complaints about camera angles aside, it's hot to eventually see so much fresh and creamy cum splattered all over Joey Mills (most of it from Kane Fox), with jizz flying everywhere as Joey sucks on the cocks.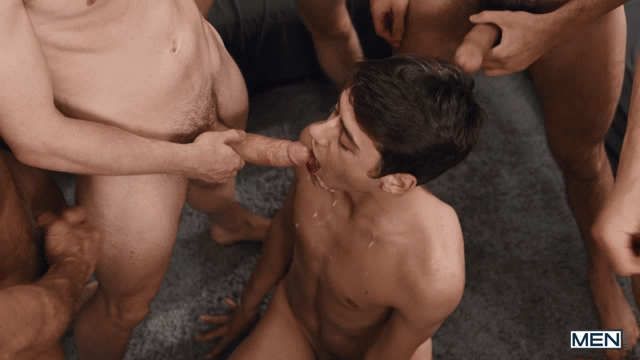 There was an edit at this point, because we then cut to Greg Dixxon's load, and there's obviously less cum on Joey's face. Also, some of the cocks surrounding him have gone soft. Greg busting: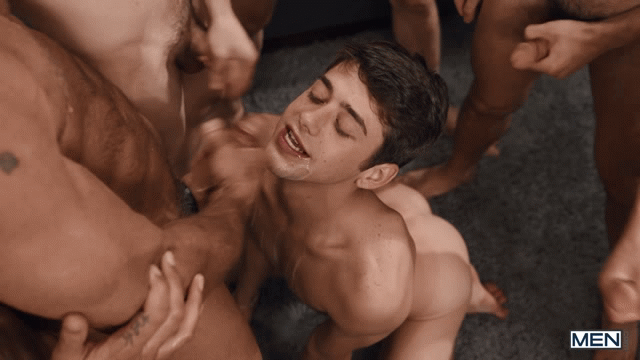 Last but not least, the final cum shot comes from Spikey Dee, and while they filmed this one from the right angle, it's sort of a light cum misting, and not the crazy cum shower one might expect for the final load in a bukkake scene:
Ranking the bukkake cum shots:
6/5: Both Greg Dixxon and Jake Preston didn't cum very much at all. We're talking a few drops.
4: As noted earlier, Clark Reid cumming on Joey's shoulder didn't sit right with me for some reason.
3: Spikey Dee's was decent, but a little weak. Kind of like shooting from a spray bottle.
2: Alpha Wolfe's load was large and perfectly delivered, but Joey Mills swallowed most of it.
1: Kane Fox had the best traditional bukkake cum shot with the most cum pumped onto Joey's face, even though it wasn't filmed from the best angle.
When Joey Mills turns around and prepares to take Jake Preston's load, you can see a thick collection of nut on his chin and tongue, which is from Kane Fox (Kane is also still cumming a little bit even after Joey turns away, and some jizz gets on the back of his head lol):
It's a decent bukkake and everyone did what they needed to do, but given the star power involved, I wish it were filmed a little bit better. I also wish some of the guys busted bigger nuts, because a few of them just sort of dribbled. It's like, come on, this is a bukkake scene. A few photos, and the trailer down below: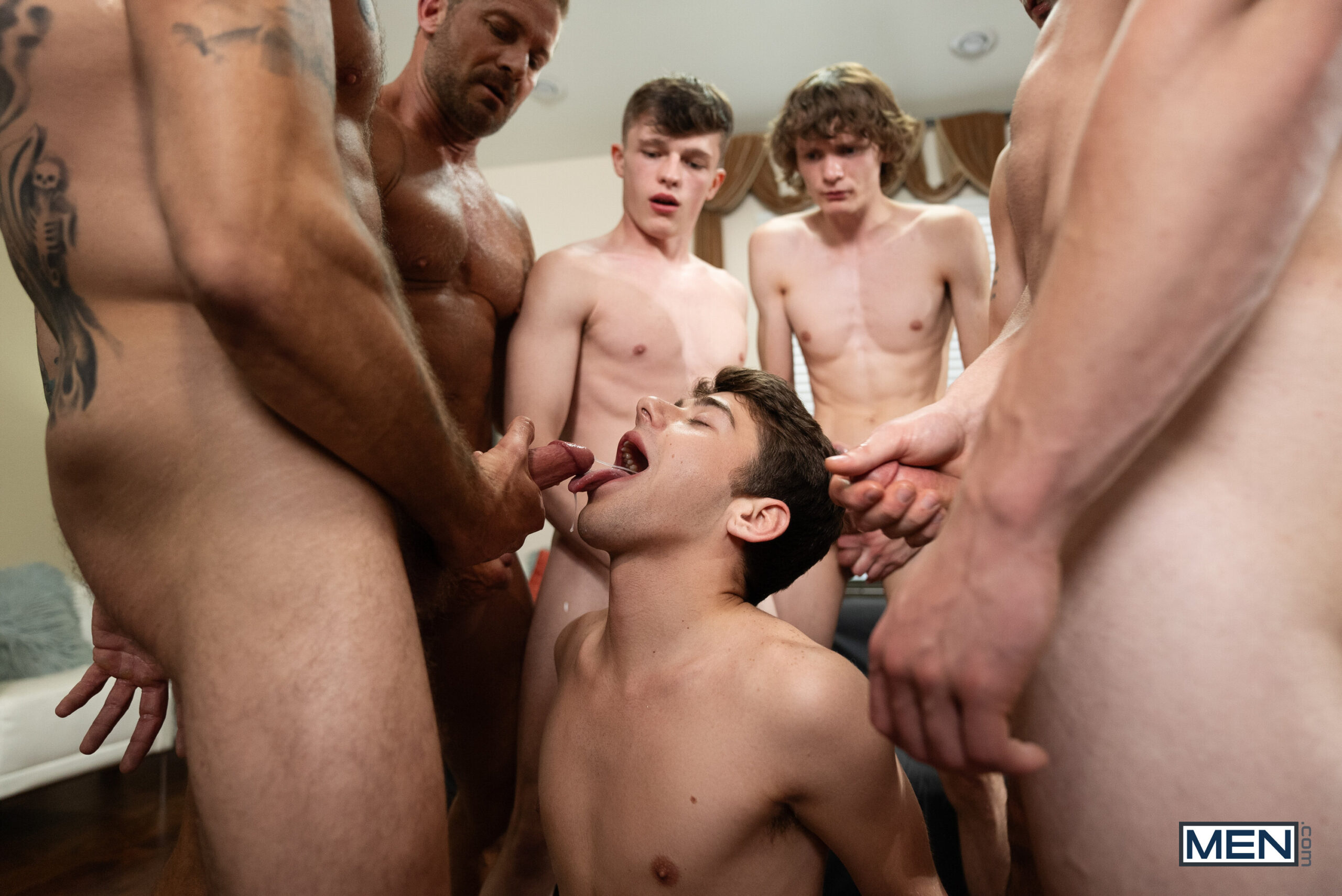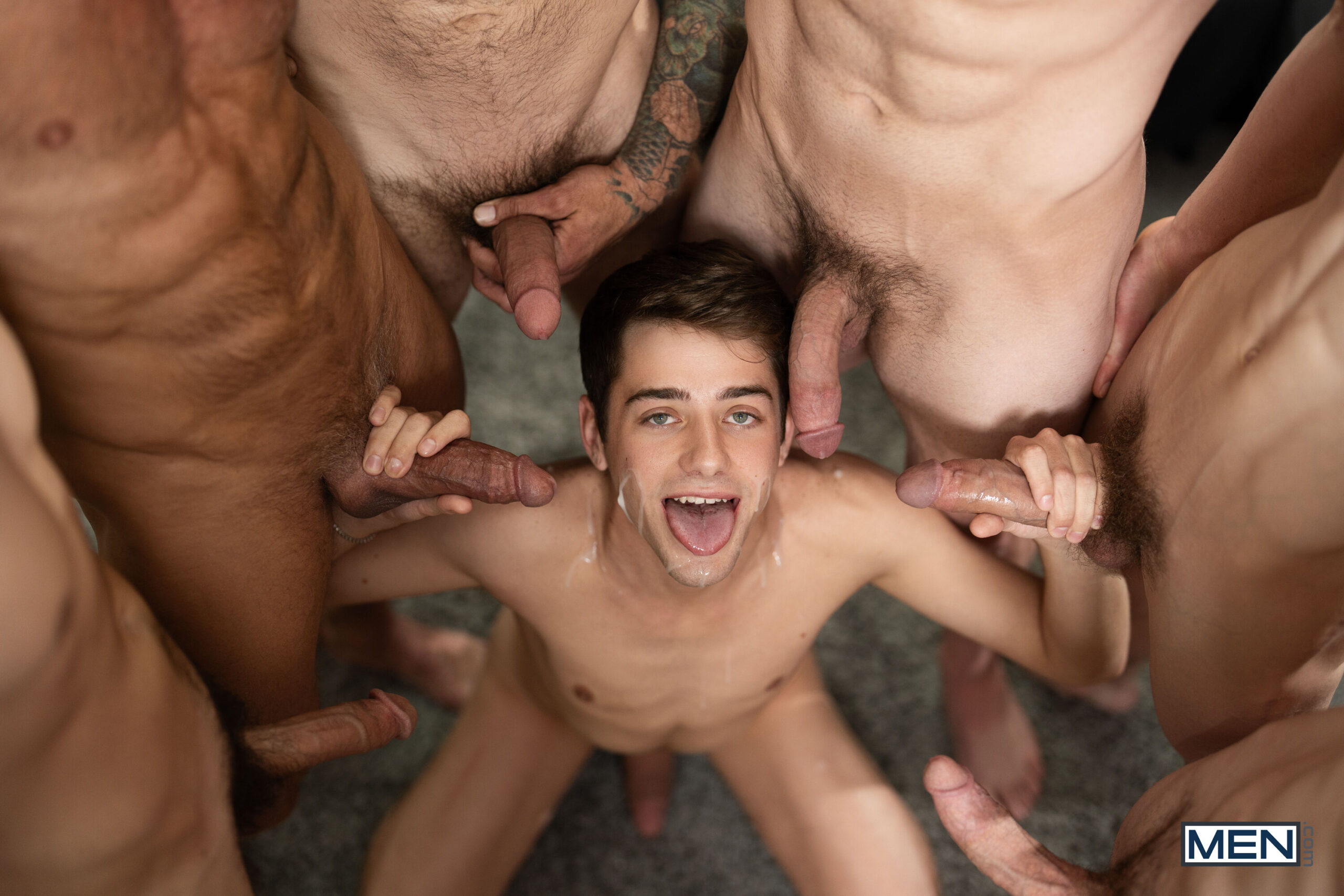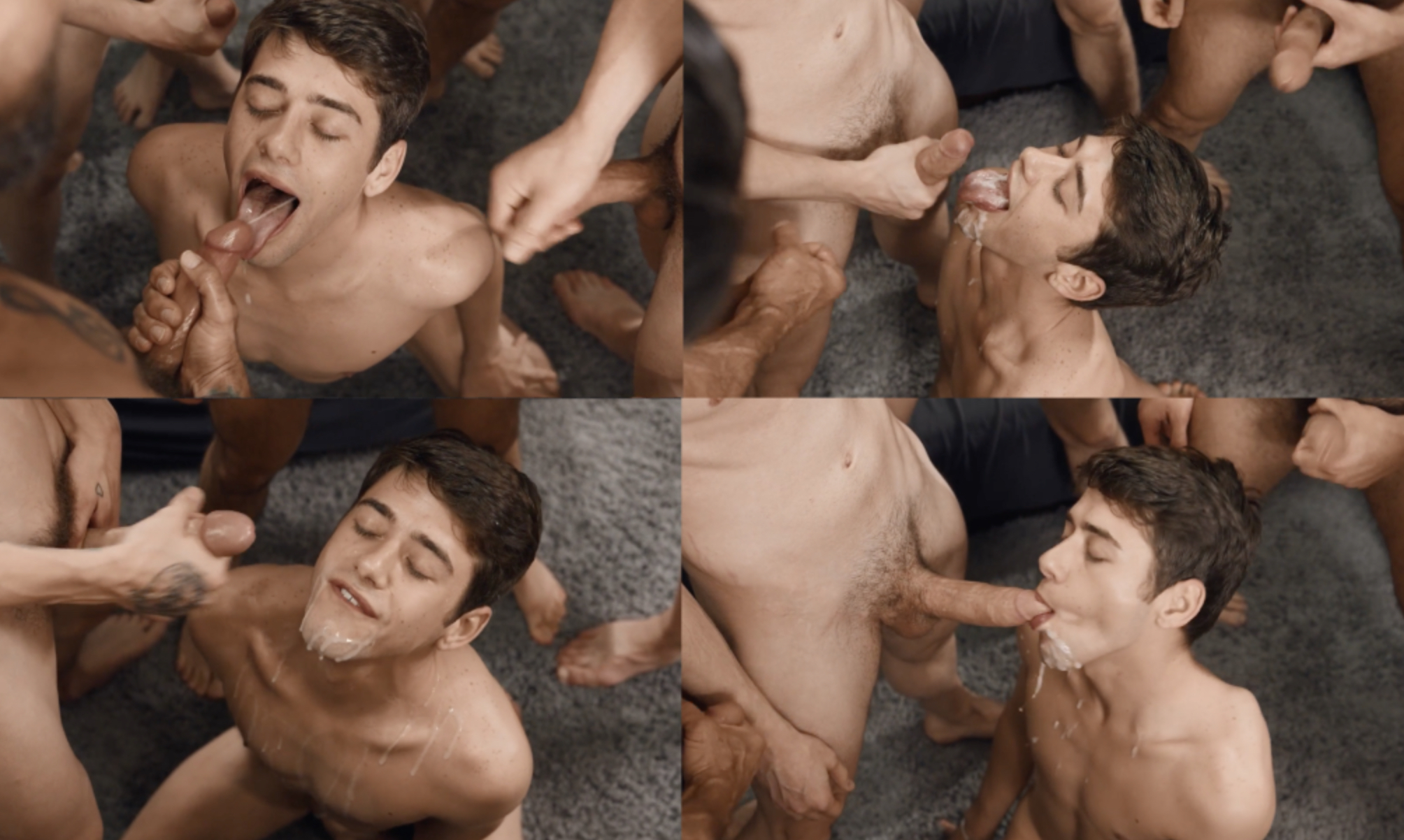 Trailer (watch full scene here):
[
Men.com: Joey Mills Bukkake With Clark Reid, Jake Preston, Alpha Wolfe, Spikey Dee, Kane Fox, and Greg Dixxon
]