Joey Mills And Angel Rivera Play Boyfriends Who Fuck At An Open House In "Prime Real Estate"
We may never learn the full story or the true extent of Joey Mills and Angel Rivera's alleged relationship following Angel's break-up with Ben Masters (for his part, Angel has denied ever cheating on Ben with Joey), but we are getting the fictional version of a Joey and Angel romance in today's Helix scene, and this fantasy might be just as good as (if not better than?) the real thing.
There's a lot more dialogue and plot than usual in the first couple minutes of this scene, as Joey plays a real estate agent's assistant who's holding an open house for his boss. Apparently, it's Bring Your Hot Boyfriend To Work Day, because Joey has invited Angel to join him at the open house, and after giving him a full tour of the home, well, you'll never guess what happens next…
Somehow, Joey's cock looks even bigger than usual in this scene, and I don't think I've ever seen Angel suck someone so well. Then, Angel wildly fucks himself on Joey's giant dick, and it's easily Angel's hottest, best bottoming performance to date. The visual speaks for itself: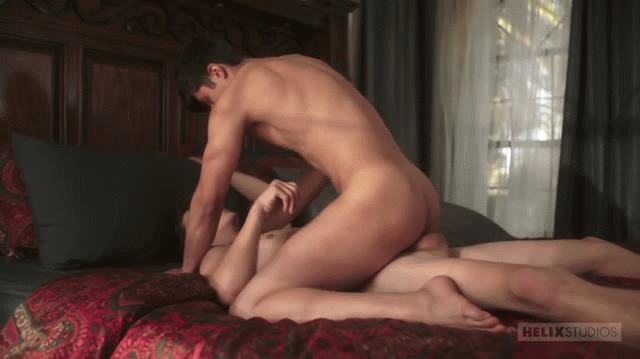 The little bit of cute plot just prior to the sex works really well, with Joey and Angel proving to be naturals who are great at acting, in addition to being great at fucking.
Trailer (watch full scene here):
[
Helix: Joey Mills Fucks Angel Rivera Bareback
]