Kink Lawyer Says Gay Performers Are STD Tested, Which Isn't True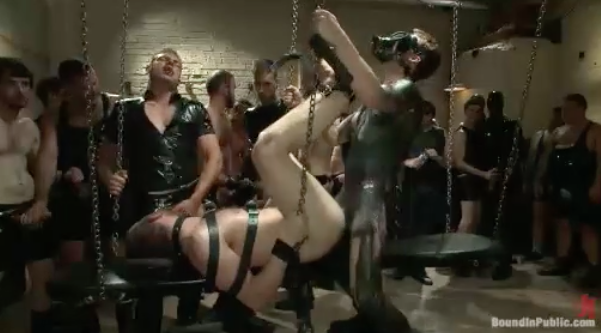 Last week, an unidentified gay porn performer filed a civil suit against Kink.com claiming that he contracted HIV while performing oral sex on "dozens of men" in a 2013 orgy scene. The performer's case (which was likely crafted by AIDS Healthcare Foundation) is virtually impossible to prove, but it does shed light on Kink's confusing and conflicting policies when it comes to STD testing (they test straight performers in straight scenes but not gay performers in gay scenes). Kink's attorney, Karen Tynan, has accurately explained that condoms are mandatory on the studio's gay sets, but her statement to AVN yesterday regarding STD testing at Kink is extremely misleading:
Many of [Doe's] claims are either misguided, or flat out wrong. He suggests that gay performers are pressured to work without condoms, despite the fact that condoms are mandatory on gay sets. At other times, he claims performers aren't tested, when in fact they were. We're very serious about safety at Kink, and we follow industry protocols on both gay and straights sets.
Unless Kink changed their policy and performed STD testing on all 50 men in the plaintiff's gay orgy, Karen Tynan is being dishonest. (I've reached out to Tynan for clarification, but there's been no response as of post time.)
It's common knowledge that Kink does not test its gay performers in gay scenes. And looking through the roster of Kink's gay models over the past two years, there have been several who are openly HIV positive, meaning they obviously weren't tested before working in a scene. Tynan is saying that all 50 of the men in Doe's orgy were STD tested, but if that were true (it's not), why wouldn't they just go bareback, like Kink's straight performers (who do undergo STD testing)?
"Industry protocols on gay sets" is an interesting choice of words, seeing as there are no industry-wide protocols on gay porn sets. Some gay porn studios use condoms and do STD testing. Some do STD testing and don't use condoms. Some use condoms and don't do STD testing. Some don't use condoms and don't do STD testing. John Doe's case will never make it to trial, but at the very least, it should make Kink rethink their own conflicting policies.