Kyle Dean Offers To Suck Dick In Exchange For Amazon Wish List Gifts, Then Asks For Money On Periscope With His "Manager"
Last week, gay porn star Kyle Dean was asking fans for Uber rides and offering Skype shows in exchange for $75. Today, he's taking a more direct approach by going on Periscope and asking people to send him MoneyGrams and Amazon gift cards. Also, he's now decided to offer himself sexually in exchange for money, despite previously threatening to block people "immediately" if they asked him to escort.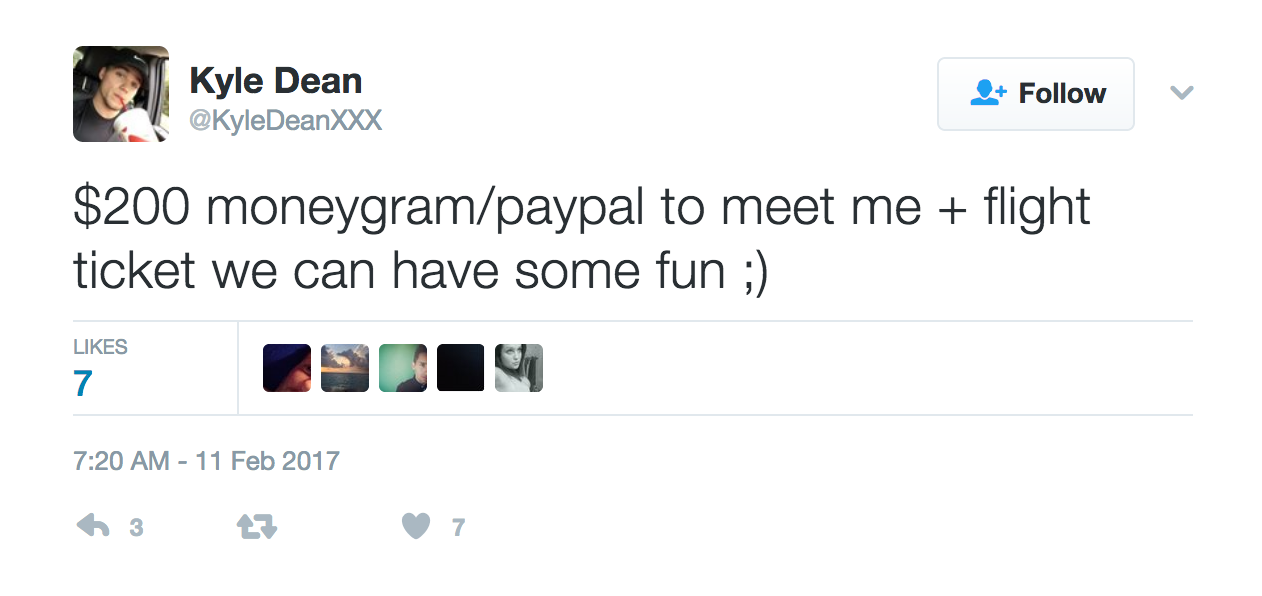 A few days ago, Kyle Dean reminded fans that they can just make donations via Paypal or SquareCash.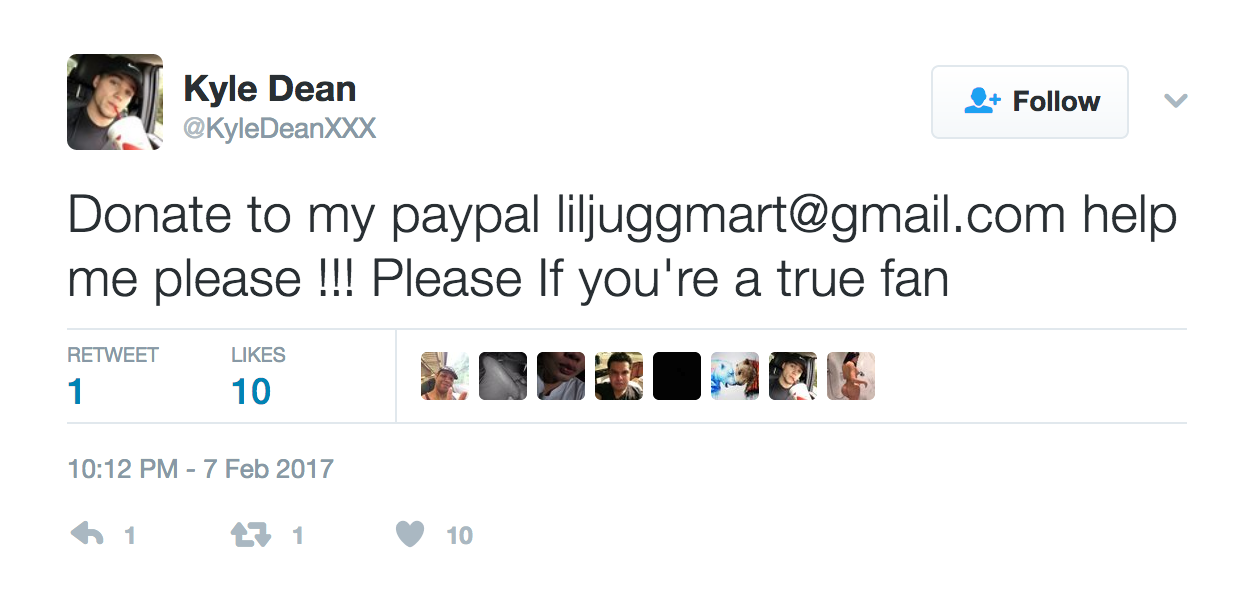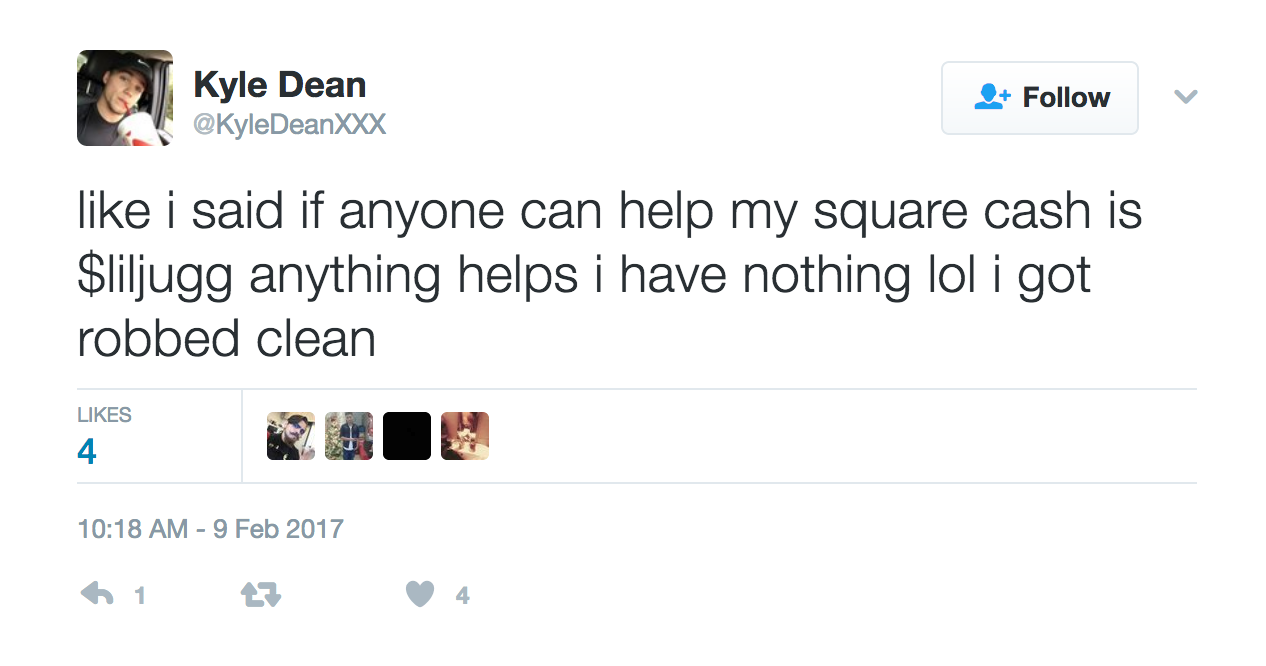 Side note: Kyle Dean got robbed. Luckily, I'm sure the police have been notified and a full investigation has been launched.
Also, Kyle Dean—who started his career at GayHoopla before abruptly leaving them and moving over to Corbin Fisher—is willing to suck your dick if you buy him something from his Amazon Wish List:
There are only a handful of modestly priced clothing items on Kyle Dean's wish list (the most expensive being a $200 sweatshirt), so this is actually a fairly good trade, assuming he actually would suck your dick if you bought him something from the list.
He continued the gift card and wish list requests throughout the day.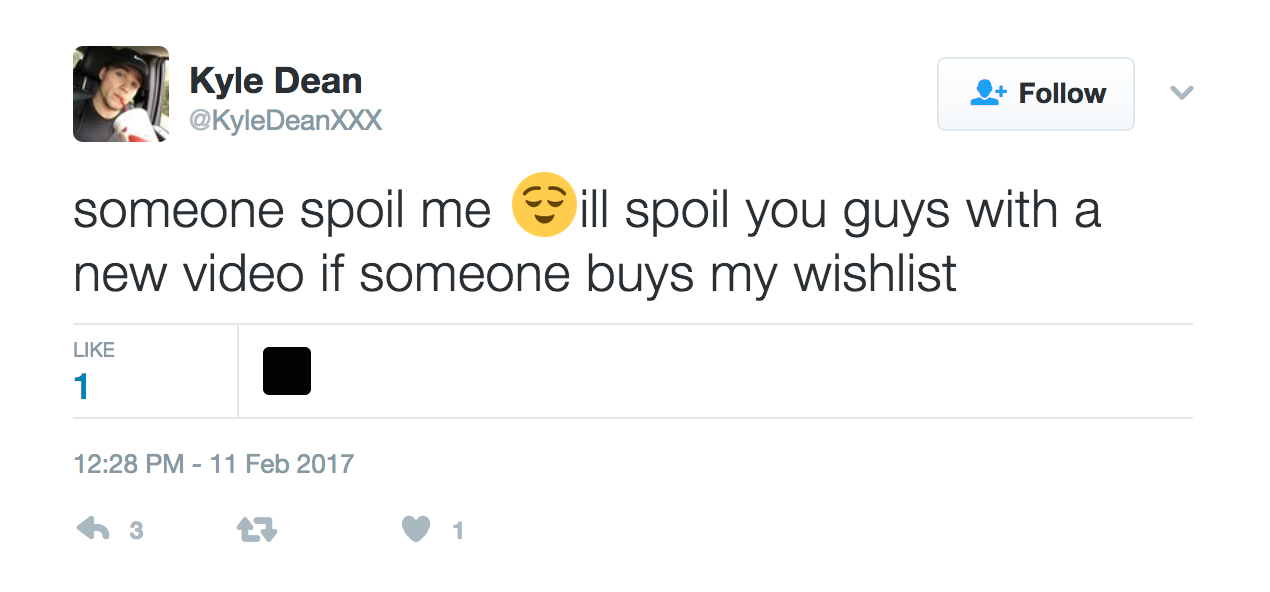 Finally, earlier this evening, Kyle Dean took to Periscope to again ask fans for gift cards, MoneyGrams, and Amazon Wish List gifts, and he announced that he'd be filming with GayHoopla next week, despite the fact that the studio has indicated they'd never shoot Kyle Dean again, given that he bailed on them for Corbin Fisher. The below video features a fun cameo from Kyle Dean's best friend, David, who reveals that he is actually Kyle's "manager," and that they'll be "releasing more scenes in, like, February," which is technically, like, right now. Manager David also asks Kyle Dean's fans for Amazon gift cards for "new clothes," because they're "about to move."
I appreciate that Kyle Dean has so many different ways for fans to show their support (Amazon, MoneyGrams, cash donations, gift cards, SquareCash, Paypal, blowjobs). Unfortunately, I only donate to gay porn stars who have GoFundMes, so until he launches one of those, I won't be able to lend my support to Kyle Dean.