Michael Lucas Claims "All Terrorists Are Muslims" Following Paris Terror Attacks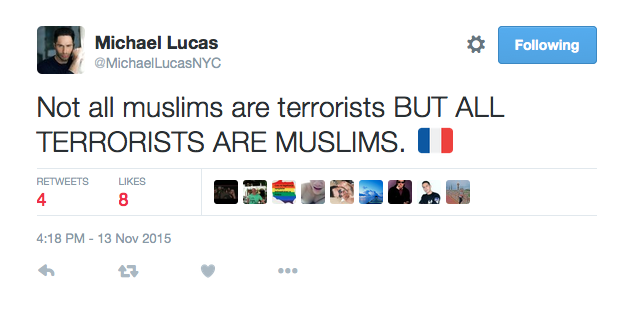 Unfortunately, this comes as no surprise, considering Michael Lucas's long history of racist and xenophobic public statements. Apart from being demonstrably false, the bareback gay porn actor's tweet labeling Muslims as terrorists is remarkably insensitive, even for him, as hundreds of bodies and victims—some of whom could easily be Muslim—are still being accounted for following today's attacks in Paris.
The best way to marginalize and ultimately silence bigots like Michael Lucas is with your wallet. Don't buy his products (not that the overwhelming majority of you do anyway), and don't support the models, companies, press, or industry members who do any business with Michael Lucas or Lucas Entertainment.